In one word: jihad. It is the Mohammedans waging war against the Hindu majority. It is not "marginalisation" or that "a hijab ban violates religious freedom".
It is Mohammedan warfare under false pretenses. The Al Jazeera article linked is the usual agitprop & grievance theatre.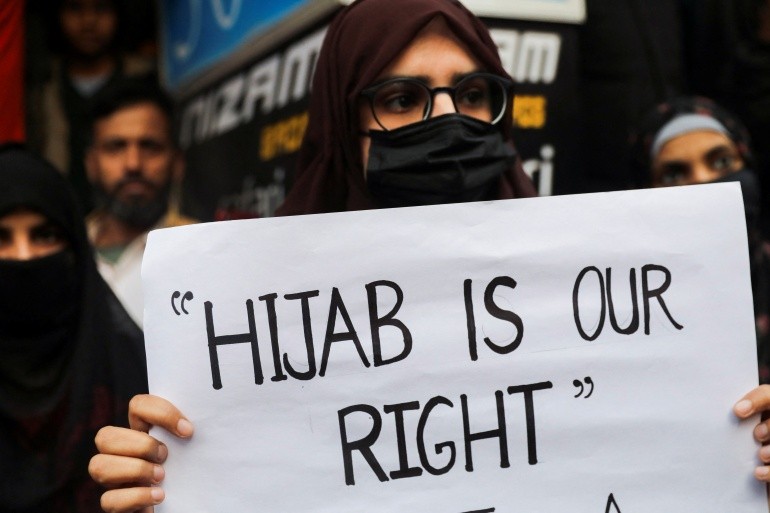 India #HijabBan violates international law obligations to uphold the right to express religious beliefs and the right to education without discrimination. pic.twitter.com/l41Q4dMPV6

— meenakshi ganguly (@mg2411) February 11, 2022
Note that by "international law" the Mohammedans actually mean sharia enforcement.
Hijabbery & jihad terror
Rape is part of Mohammedan warfare against the rest of the world. 
Malala Yousafzai is at it again. A true rent-a-cause activist, just like Greta Thunberg.
That's what Mohammedans mean when they babble about "choice" & "we can't tell women what to wear".

Rashad Hussain is America's embedded Islamo agitprop thanks to Hussein Obama, who subverted every three letter agency with his nefarious agenda.
Read the  whole thing below the fold.
India govt won't buy Pfizer, Moderna vaccines amid local output -sources
India doesn't fall for the vaccine racket
NEW DELHI, Sept 21 (Reuters) – India's government will not buy COVID-19 shots from Pfizer (PFE.N)/BioNTech (22UAy.DE) and Moderna (MRNA.O), three government sources told Reuters, mainly because domestic output of more affordable and easier-to-store vaccines has jumped.
That essentially means the globally popular vaccines, which their makers have pledged not to sell to private parties during the pandemic, will not be available for now in the world's two most populous countries – China and India.
The Indian government has also declined to meet the U.S. companies' requests for legal protection over any side-effects from the use of their shots, which are currently made only in the United States or Europe, two of the sources said.
No company has received such protection in India.
"Earlier, there was a shortage, there was a need," said one of the sources, referring to India's appeal to the companies in April for vaccines when infections exploded and shots were in short supply.
"Their price will be high. Why should we take on their conditions?"
A second source said: "The government will not buy Pfizer and Moderna vaccines. They are free to have private tie-ups after necessary regulatory clearances. But sovereign indemnity is clearly something we can't give".
A Pfizer spokesperson in India said discussions were ongoing and it remained committed to bring the vaccine to the country.
The company reiterated that "during the pandemic phase, it would supply the COVID-19 vaccine only to central governments and supra-national organisations".
Moderna and India's health ministry did not immediately respond to requests for comment.
Moderna, through its Indian partner Cipla (CIPL.NS), already has emergency-use authorisation in India for its vaccine, which, like the Pfizer one, needs ultra-cold storage – facilities that much of India lacks.
Both vaccines cost several times more than India's main shot, Covishield, a licensed version of the AstraZeneca (AZN.L) drug.
India's monthly domestic output has trebled since April and will reach 300 million doses in October, according to Health Minister Mansukh Mandaviya, who on Monday announced a restart of India's vaccine exports from the October quarter. read more
The government, however, is expected to buy locally filled and finished doses of Johnson & Johnson's (JNJ.N) vaccine, Reuters reported on Monday. read more
****
Back to the hijab row:
Women and girls should be able to choose what they want to wear! In Karnataka, India, a hijab ban is violating the right to express religious beliefs. pic.twitter.com/XONnbMQ8iB

— Human Rights Watch (@hrw) February 15, 2022
This hapless f*kcwit from the corrupted "HUman Rights Watch" babbles stupidly about "women's choice". That simply doesn't exist. Under Mohammedanism, women do not have rights to "wear what they want".
Muslim countries that have religious freedom are as rare as hen's teeth. Islam is built around the denial of religious freedom. The cry of "Allahu Akbar" is based on religious supremacy through ethnic cleansing. While the targets in that case were Jews, the same has gone for Christians, Hindus, and any other religious group unlucky enough to be caught up in the fires of the Islamic conquests.
But the Biden administration insists on carrying on Obama's work. And that means pursuing a Jihad against any country or culture that, according to Obama, ought to have no future because they don't submit to Mohammed and his hateful campaign.
This was December of last year.
Rashad Hussain has become America's new ambassador-at-large for international religious freedom, after the US Senate voted 85–5 last night in favor of his historic nomination as the first Muslim to hold the position.

Previous IRF ambassador Sam Brownback praised the decision and its bipartisan majority. "Religious persecution is rampant around the world, and the international community looks to the United States for leadership that can make a difference," he stated.
Rashad Hussain didn't take long to jump into action in defense of the Islamic repression of women.
After the US's ambassador at large for international religious freedom criticised the Karnataka government for not allowing Muslim women to choose their attire, India on Saturday, February 12, dismissed the tweet as "motivated comments".

"The Indian state of Karnataka should not determine permissibility of religious clothing. Hijab bans in schools violate religious freedom and stigmatize and marginalize women and girls," he posted.

"Motivated comments on our internal issues are not welcome," said the MEA spokesperson.
A number of Indian media outlets and politicians have criticised the United States for this attack even though Rashad Hussain represents America almost as much as Barack Hussein Obama.
But at least the United States and its foreign policy are once again at the disposal of those who believe, like Obama that, "The future must not belong to those who slander the prophet of Islam."