NWO, social credit score: it's all happening in Canada, with lighting speed and very little resistance. Canada is, like Sweden, Moonbat Central. For much too long, Canadians have been ignorant like cows in the field, while their government was subverted by socialist insurgents. The disaster is now complete. There's no one there to stop the Titanic before it hits the iceberg.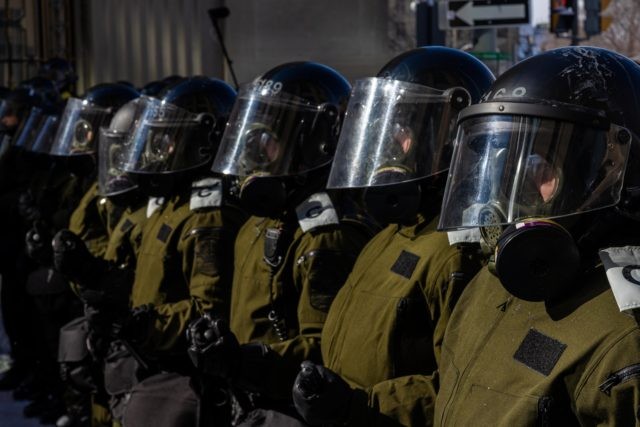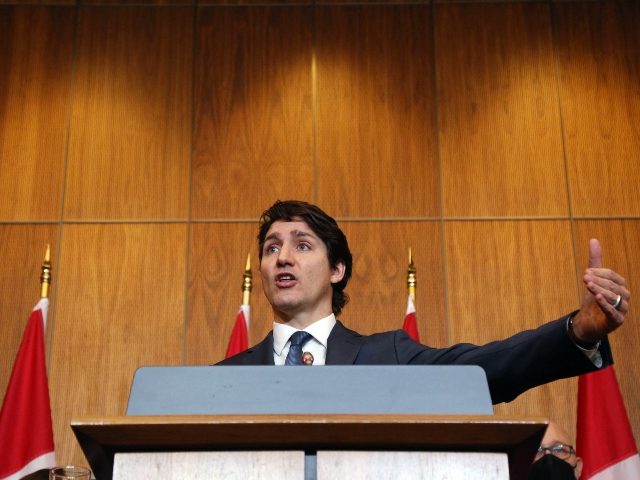 Canadian Prime Minister Justin Trudeau insisted at a news conference on Monday that his government still needs the unprecedented emergency powers he demanded this month even though police violently removed the Freedom Convoy protesters from Ottawa and no active Freedom Convoy protests are currently occurring.
Democracy Dies in Canada: Trudeau Government to Make Some of Their New Authoritarian Measures Permanent
How predictable was this? On Thursday, Robert Spencer wrote an article comparing Trudeau's Emergencies Act to Adolf Hitler's Enabling Act that established his dictatorship and pointed out that while Hitler's Act was supposed to be temporary, when it came up for renewal, his opponents had all been outlawed, imprisoned, or killed, and there was no one left to raise a dissenting voice. Trudeau's invocation of the Emergencies Act was supposed to be temporary as well, but on Friday, Canadian Deputy Prime Minister Chrystia Freeland announced the Trudeau regime's intention to make some of their new authoritarian powers permanent. This, my friend, is how democracies die.
Canadian Speaker Blames "Poor Audio," Cuts Member's Feed When He Asks Why Klaus Schwab Is "Bragging" About the WEF Successfully "Infiltrating Half of Canada's Cabinet" – (VIDEO)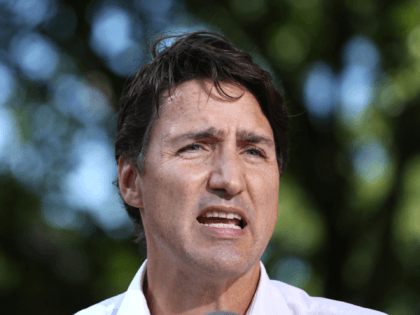 How Klaus Schwab embeds his operatives in all governments:
Maajid Nawaz leaves Joe speechless by explaining how the WEF is infiltrating governments around the world https://t.co/dZcUMifcDZ pic.twitter.com/7WBYN4q1oY

— NS (@inspired2bfree) February 20, 2022
Listen to this, the cat is out of the bag. https://t.co/dFtY1AchNp

— Take Note (@takenoteofthat1) February 20, 2022
It might be time we treat the #WEF #villains as such, before they completely destroy our freedom….Here are a few to start with. pic.twitter.com/rqxGYvSi9x

— BaconBits8654 (@BaconBits8654) February 20, 2022
When the Emergencies Act was first invoked on Feb. 14, Freeland explained that the Freedom Convoy's bank accounts would be frozen: "As part of invoking the Emergencies Act, we are announcing the following immediate actions: First: we are broadening the scope of Canada's anti-money laundering and terrorist financing rules so that they cover crowdfunding platforms and the payment service providers they use. These changes cover all forms of transactions, including digital assets such as cryptocurrencies."
In order to strangle the protests financially, Freeland declared: "As of today, all crowdfunding platforms, and the payment service providers they use, must register with FINTRAC [Financial Transactions and Reports Analysis Centre of Canada] and they must report large and suspicious transactions to FINTRAC. This will help mitigate the risk that these platforms receive illicit funds; increase the quality and quantity of intelligence received by FINTRAC; and make more information available to support investigations by law enforcement into these illegal blockades. This is about following the money. This is about stopping the financing of these illegal blockades. We are today serving notice, if your truck is being used in these illegal blockades your corporate accounts will be frozen."
Freeland said even on Feb. 14 that "the government will also bring forward legislation to provide these authorities to FINTRAC on a permanent basis." On Friday, she doubled down on this, saying, with the arrogance, semi-coherence, and logorrhea that is common to so many Leftist schoolmarm authoritarians: "Uh, in terms of the financial instruments which our government is using right now to act against these illegal blockades and illegal occupation, uh, we reviewed very, very carefully the tools at the disposal of the federal government, uh, and we used all the tools that we had prior to invocation of the Emergencies Act, and we determined that we needed some additional tools. Now, some of those tools, uh, we will be putting forward, uh, measures to put those tools permanently in place. Uh, the authorities of FINTRAC, I believe, do need to be expanded to cover crowdsourcing platforms, uh, and, uh, payment platform — and their payment providers. Uh, so that's, that is something that we need to do, and we will do, and that needs to be in place permanently." What that means is that the Trudeau regime will seek to put its ability to seize dissidents' bank accounts on a permanent basis. Yes, my friend, once again, that is how democracies die.
There is more. Read the rest here.