That calls for riots against the infidel nation state:
Shocking video footage has emerged of the moment a teenage boy was run down on the streets of Montpellier as Moroccan fans riot following their World Cup semi final defeat to France.
The boy, 14, was part of a large group of what appeared to be Moroccan supporters marauding down Rue de la Mosson in the southern French city when they happened upon a white hatchback with a French flag flying out of its window.
The group descended on the car, attempting to rip the flag away from its owner, when the driver panicked and performed a hasty U-turn to cross into the oncoming lane and make a quick getaway.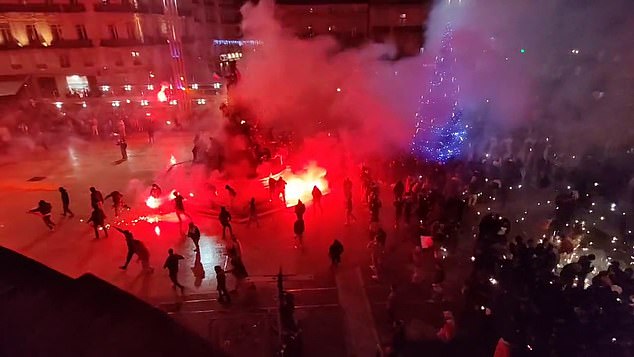 France and Morocco fans clash in the southern French city of Montpellier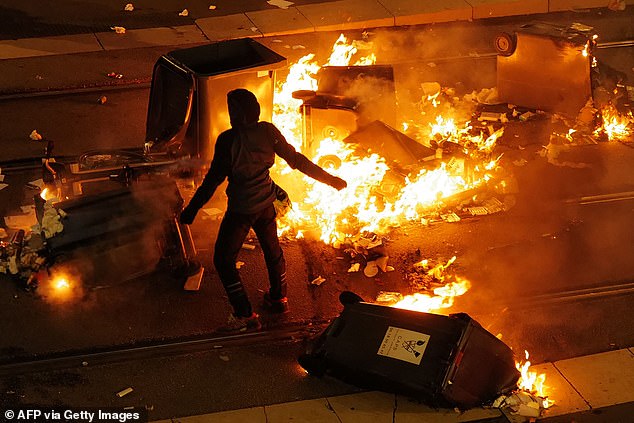 A man stands next to burning trash containers, after France's victory over Morocco in the Qatar 2022 World Cup semi-final, in Nice on December 14, 2022
For Europeans, it's ballgames & entertainment. For Mohammedans, it's a jihad.
10,000 police officers were mobilized in France, not because of the World Cup game between France and Morocco…

They were called in because of the massive threat
Moroccan "cultural enrichers" pose:
From Brussels to Paris, people took to the streets after Morocco's victory over Portugal in the World Cup, but perhaps the largest gathering featured 20,000 people ot the Champs-Élysées in Paris, with celebrations eventually devolving into running street battles with police.
In videos seen by hundreds of thousands on social media, crowds of revelers are seen throwing bricks and bottles and shooting firework mortars at police, who were forced to don riot gear and charge the crowd to restore order. In the videos, police strike rioters with batons and deploy tear gas.
Crowds turned quickly into rioters on the Champs-Élysées, attacking the police with bricks, bottles, and firework mortars. The police had to put on riot gear in order to charge these crowds of Arabs running amok, using tear gas and batons to subdue them. This violence got little coverage outside France, with the international media preferring to paint a picture of crowds of Arabs happily, peacefully, celebrating Morocco's victory. The throwing of bricks and bottles by revelers who had turned into rioters, the tear gas and batons the police needed to subdue them – none of that was mentioned.
Thousands of Morocco fans have been left devastated today after Qatar suddenly banned last minute flights set to carry them to Doha to watch their country's hotly anticipated World Cup semi-final clash with France.
Morocco are the first African or Arab national team to reach this stage of a World Cup, beating giants Spain and Portugal on the way, and they play France in Doha on Wednesday night.
Euphoric supporters have booked plane tickets from Casablanca to Doha, and many have already arrived, but without match tickets, which they have told AFP they were supposed to receive on arrival.
But in Doha there will be no riots. Because it is already Islamic. And Mohammedans know how to deal with their own.