In the dictionary, under 'gaslighting', you'll find a picture of Robert Reich.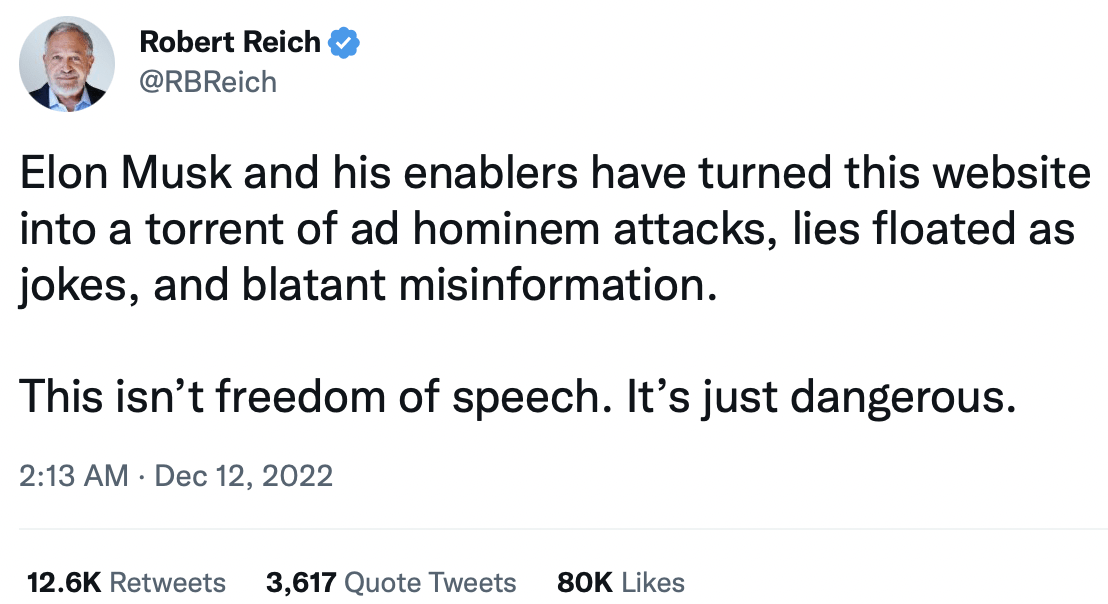 "Freedom of speech is dangerous". Can you imagine?
This is a tenured commie prof poisoning the minds of gullible students.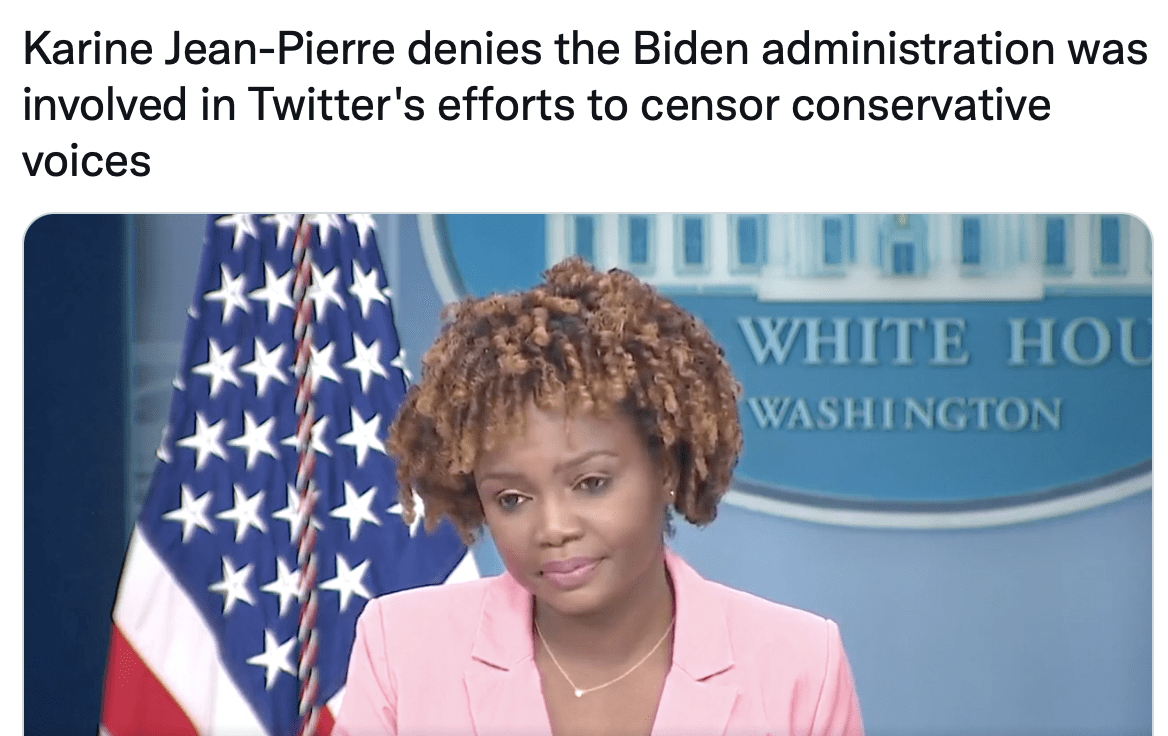 Flashback:
JULY 2021: Jen Psaki says the Biden administration is "flagging problematic posts" for social media companies to censor. pic.twitter.com/dQ76fI8PoQ

— RNC Research (@RNCResearch) December 9, 2022
I attempted to ask Fauci several times on what he personally did to demand answers into the origins of COVID-19.

I always come with honest answers that Americans want to know.

That's why the White House refuses to call on me, and then calls ME "disrespectful." https://t.co/B3zWrYaEEF

— Diana Glebova (@DianaGlebova) November 22, 2022
This "expert" will be dearly missed by the Biden regime: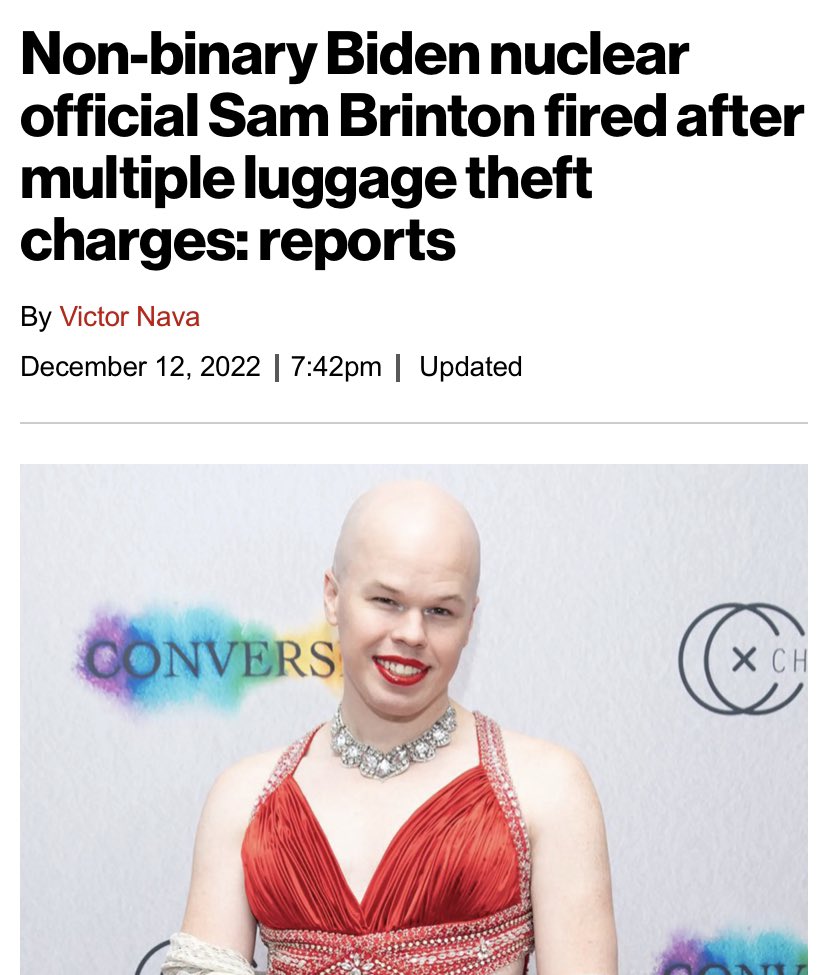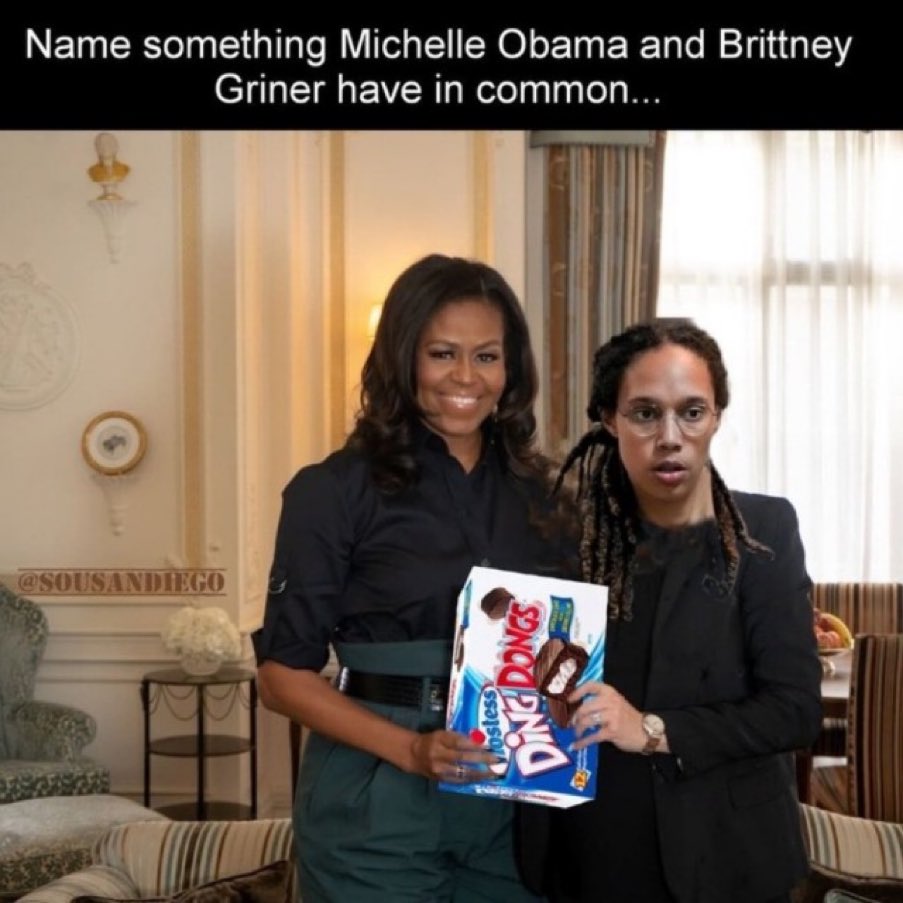 "As the President said this morning, he will never stop working to secure Paul's release and return home, and he will not give up," she continued before championing Griner as an "important" role model to LGBT Americans and black women.
KJP: "The choice was bring Brittney home or no one. The president will never stop working to secure Paul Whelan's release. On a personal note, Brittney is an important role model, an inspiration to millions of Americans particularly the LGBTQI+ Americans and women of color" pic.twitter.com/ClbGi6ysbq

— Greg Price (@greg_price11) December 8, 2022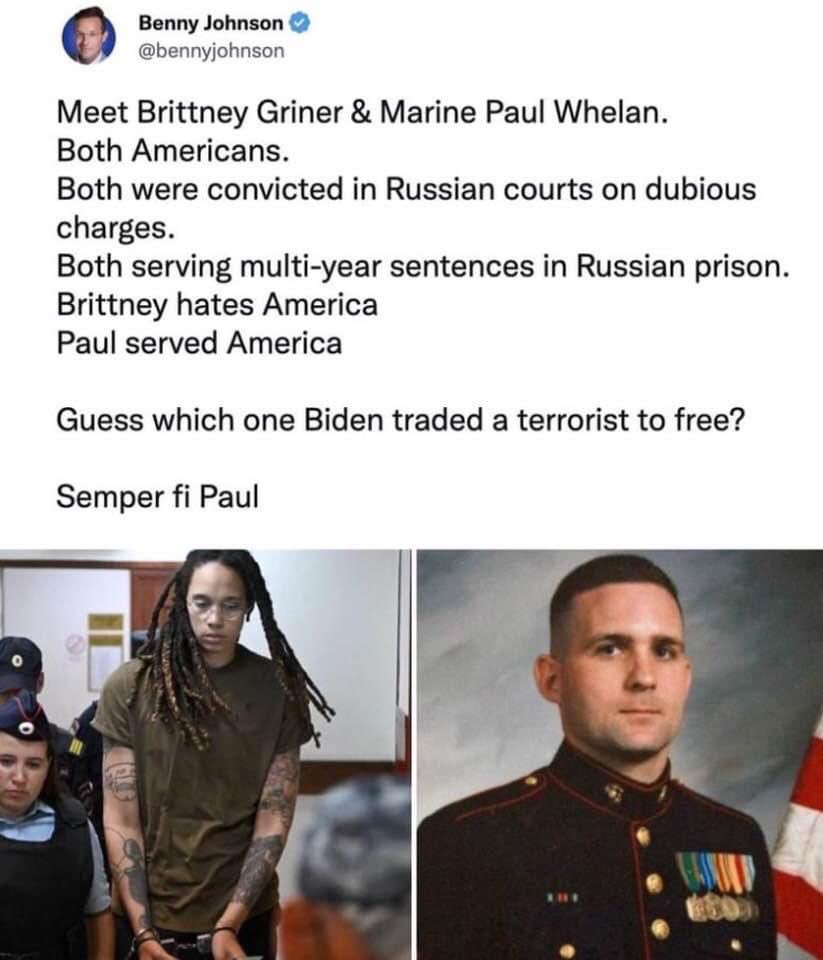 "What kind of a deal is it to swap Brittney Griner, a basketball player who openly hates our Country, for the man known as 'The Merchant of Death,' who is one of the biggest arms dealers anywhere in the World, and responsible for tens of thousands of deaths and horrific injuries," Trump asked. 
"Why wasn't former Marine Paul Whelan included in this totally one-sided transaction? He would have been let out for the asking. What a 'stupid' and unpatriotic embarrassment for the USA!!!" he exclaimed. 
Oops!
pic.twitter.com/Chu40yLPRJ

— 🇺🇸🤟🏻 (@esoryelsnya) December 11, 2022
Brittney Griner is a black lesbian who plays in the WNBA, where she has refused to stand for the national anthem for leftist reasons. With those credentials, she would never be left to rot in a Russian prison, despite smuggling illegal drugs into the country, no matter how much it cost us to spring her. The price was Viktor Bout, a.k.a. the Merchant of Death:
The one-for-one swap was a surprise given that U.S. officials had for months expressed their determination to bring home both Griner and Paul Whelan, a Michigan corporate security executive jailed in Russia since December 2018 on espionage charges that his family and the U.S. government has said are baseless.
Whelan is just a US Marine and a white guy to boot. So he stays in Russia, as would be the case with you or me or Marc Fogel:
The president made no mention of American Marc Fogel of Oklahoma, a teacher who is also detained in Russia on marijuana-related charges.
As for Bout, described by the Justice Department as one of the world's most prolific arms dealers,
Bout, whose exploits inspired a Hollywood movie, was serving a 25-year sentence on charges that he conspired to sell tens of millions of dollars in weapons that U.S officials said were to be used against Americans.
The movie reference is to Lord of War, starring Nicholas Cage.
Former DEA Chief of Operations Michael Braun describes Bout as "one of the most dangerous men on the face of the earth":
The U.S. could release convicted Russian arms dealer Viktor Bout to secure the freedom of Brittney Griner and Paul Whelan, according to a CNN report.

In 2010, 60 Minutes reported on how DEA agents captured Bout, who's been called the "Merchant of Death." https://t.co/7AjXGCy080 pic.twitter.com/qaLUuiUmEU

— 60 Minutes (@60Minutes) August 1, 2022
Here's more from 60 Minutes' 2010 report on Viktor Bout. https://t.co/7AjXGCy080 pic.twitter.com/q1i5v5bFBJ

— 60 Minutes (@60Minutes) August 1, 2022