Islam doesn't sleep. Whenever there is an opening, the push for sharia continues. Two examples here; one from Indonesia, the other one from Malaysia.
Thousands protest as Indonesia set to pass law punishing sex outside marriage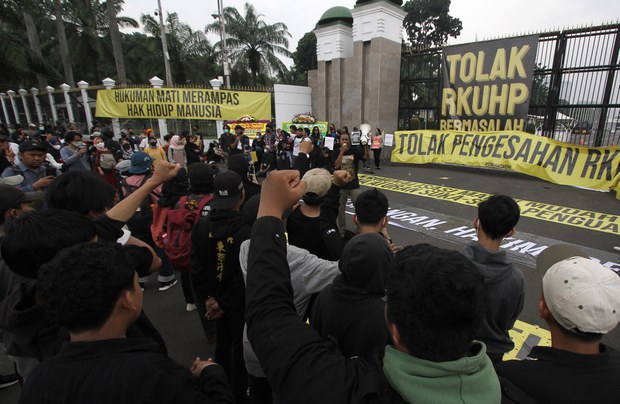 Demonstrators protest outside the Indonesian Parliament building in Jakarta against a potential new criminal code they say curtails civic freedoms, Dec. 5, 2022.
Thousands of people rallied across Indonesia on Monday against the impending passage of a new criminal code, saying its provisions violate civic freedoms such as by punishing sex outside marriage with a year in prison.
The House of Representatives is expected to pass the revised criminal code bill into law Tuesday, and the law is expected to come into effect in three years.
"We will continue to voice our opposition," said Citra Referandum, director of the Indonesian Legal Aid Institute, who joined the rally outside the parliament complex in Jakarta.
"We will mobilize a bigger crowd at the House of Representatives tomorrow," Citra said, as she stood near protesters who carried placards that said "Criminal code bill controls women's bodies."
Malaysia's Terengganu state has passed new laws that will punish Muslim women for out-of-wedlock pregnancies and for behaving and dressing like men.
The state, governed by Parti Islam Se-Malaysia (PAS), has dictated women be punished by a fine of up to 5,000 ringgit (approximately $1,130), a three-year jail term, six lashes or any combination of the three for donning men's clothing and for conceiving a child when they are not married to their partner, according to the state religious official Satiful Bahari Mamat.

I hope the injunction against 'behaving and dressing like men' will not affect the Malaysian Ladies Cricket team; they came 7th in the Women's Asia cup this year but have the potential to do better.