Blackrock CEO Larry Fink refuses to answer simple questions when walking the streets of Davos at the annual WEF conference.
But they got pretty close to Pfizer's Bourla:
Wow. Awesome. You gotta watch these Rebel News "real" journalist's relentless grilling of Pfizer CEO on his unsafe Vax. https://t.co/s5XFO8CB4M

— Juanita Broaddrick (@atensnut) January 19, 2023
The WEF is now the place where independent media confronts corrupt bureaucrats who would otherwise face ZERO accountability from media. This is the new WEF. They can no longer hide. This is no longer their safe space. Incredible work @RebelNewsOnline
How the hell did Big Pharma buy nearly every government in the world?
The WEF is often described as group of super villains, but they're also hilariously idiotic. Not just evil, buffoonish. And by the way, they know it. https://t.co/xUwgtcVp2B pic.twitter.com/bWvK1lg3cS

— Tucker Carlson (@TuckerCarlson) January 19, 2023
Covid was a scam and the vaccines were a danger.
 Ukraine is a gigantic scam,  the WEF is a menace and "climate change" is a power grab. Pay attention.
Tony BLiar is a crook who ruined the UK forever.
Former Prime Minister Tony Blair at Davos telling the WEF:

We need a global database of all who's vaccinated & who isn't pic.twitter.com/R1yHpGWotC

— Sebastian Gorka DrG (@SebGorka) January 19, 2023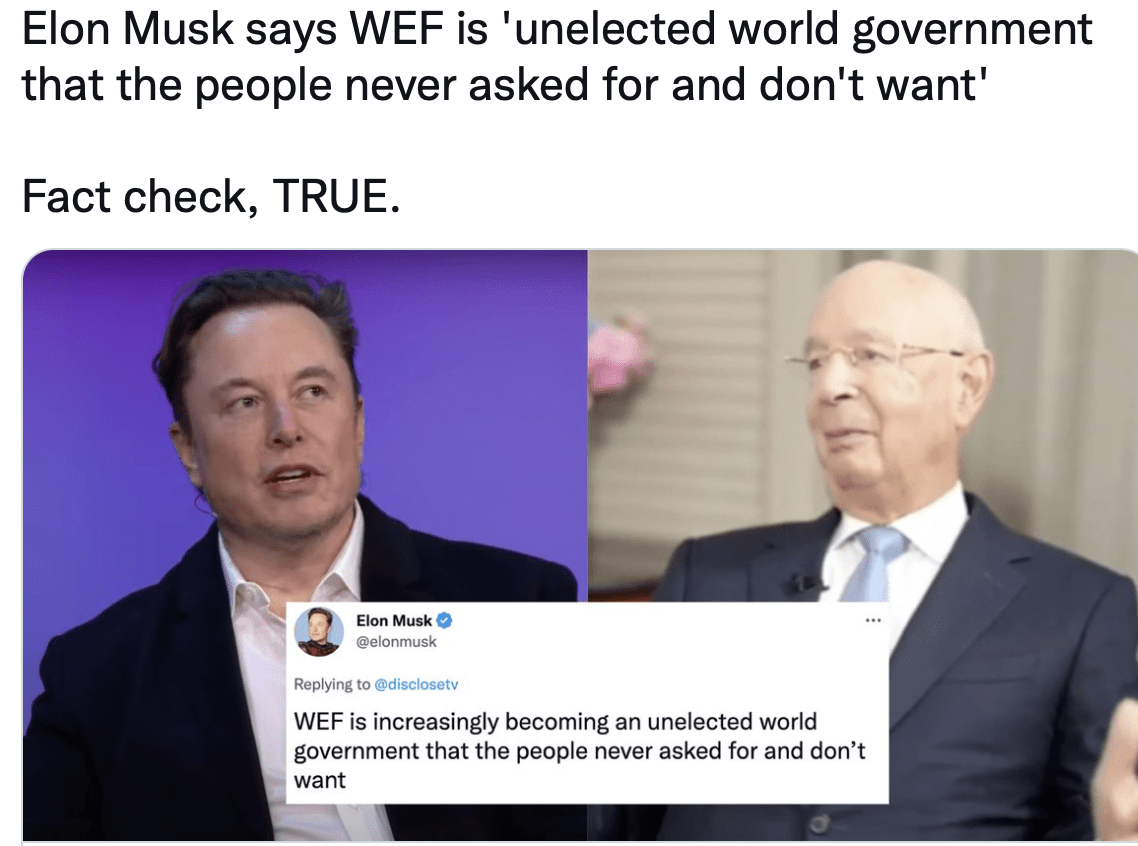 Dr. Robert Malone: The WEF should be shut down and all young global leaders and globalist should be removed from office.
If 'died suddenly' was rampant amongst the unvaccinated, the mainstream media would be having a field day.
Flashback:
Conference: I Will Answer Questions of the 'Accredited Media' Only (Nov. 2021)

Man: "Why is the vaccine not working in Israel? … 39% efficacy … and you are still pushing it."

Ardern: "Sir, I will shut down the press conference if you do not cease." pic.twitter.com/ZxS0Mlzsk1

— Timjbo 🇦🇺🇹🇭 (@Tim_jbo) January 19, 2023