These 'viruses' are NOT coming from animals or 'Climate Change'…as the UN/WHO/WEF are creating these 'viruses' themselves. Wake up…this is a Biological War.
Everyone knows that double-leg amputation is a common risk associated with "forms of the flu", right?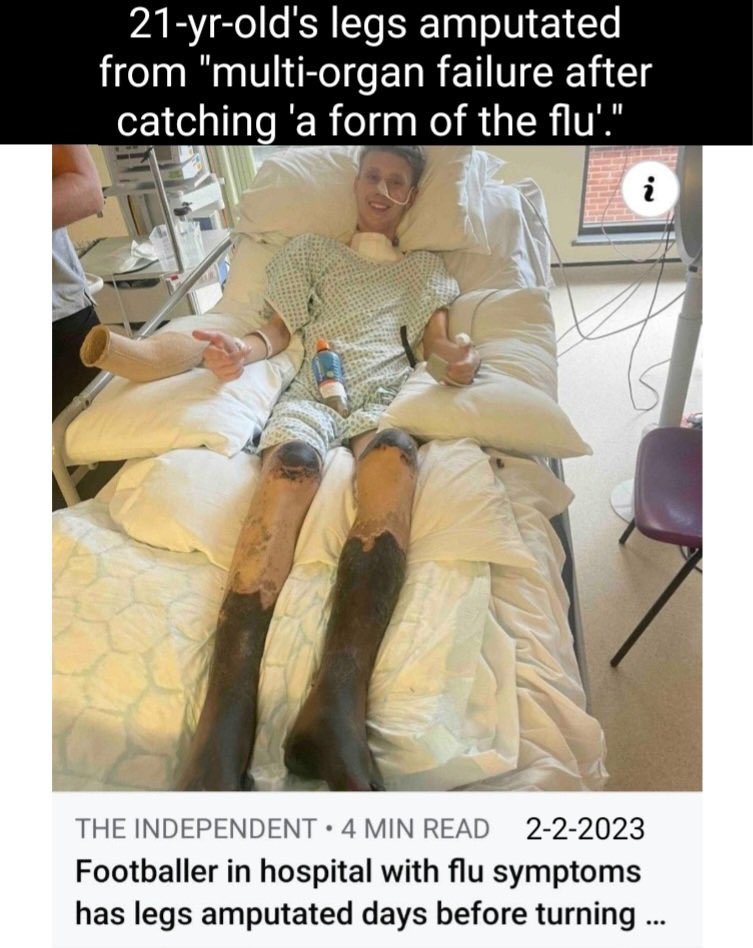 Sure. It is all just normal stuff. All the fit, trained athletes, heart attacks, strokes, unexplained deaths being much higher than normal. Let's ask the Dept. of Defense and DARPA. They must know the answer, right?
Is the tide turning?
When even The Today Show speaks out against the unsafe & ineffective jabs – it's game over for the fanatics.
"Fit and Healthy People are Dropping Down with Heart Issues" – Fed-Up Aussie Journalist Says He's 'Done with COVID Vaccines' on Live TV (VIDEO) https://t.co/UNNJ27cqXu

— The Gateway Pundit (@gatewaypundit) February 9, 2023
WHERE DID YOU GO TO MEDICAL SCHOOL?

EXCUSE ME?

THAT'S WHAT I THOUGHT! https://t.co/9tCoMZoBk2

— Lioness Deb (@LionessDeb19) February 9, 2023
Another one blatantly admits to seditious treason & receives a get out of jail free card.

Justice doesn't grind slow; it doesn't grind at all. pic.twitter.com/05aNRAW2re

— ( ͡• ͜ʖ ͡• )Douglas ✝ 🕎 🗽 ⚖ 🇺🇸 (@DougsJourney2) February 9, 2023
When is @Ofcom going crack down on dis-and-misinformation on our TVs?
Like claims the Covid-19 vaccines Are 'safe and effective'
Stop transmission
 Reduce illness  
Can't be linked to the rise in excess deaths?
What is the benefit for kids?
Dr. Kimberly Biss (OB/GYN) says since the COVID vaccine rollout there is s 50% decrease in fertility numbers. A 50% increase in miscarriages. A 25% increase in abnormal pap smears and cervical malignancies in her area. pic.twitter.com/6Beb9rrLYC

— Dr. Anastasia Maria Loupis (@DrLoupis) January 24, 2023
This must never happen again. The media are complicit in the biggest crimes against the people. Get your cards without taking the vaccine and stay safe. A word to a wise is sufficient. Join this community on telegram and thank me later. https://t.co/FOkaPBwnTA

— Anette Panarella (@AnettePanarella) February 9, 2023