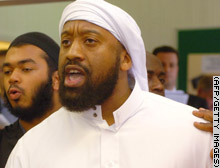 *British born 'extremists' like Omar Brooks say they are prepared for Jihad
* Omar Brooks is usually in cohorts with Anjem Choudary of the radical group Al Ghurabaa
*Christiane Amanpour:
*With knowledge comes understanding*
Unfortunately for her, she lacks knowledge and she doesn't understand. She doesn't know what's in the Koran or in the sunnah, she doesn't know about the psychology of the musulman.
*
Listen to Abu Izzadeen:
*
We are the Muslims," said Omar Brooks, an extremist also known as Abu Izzadeen. "We drink the blood of the enemy, and we can face them anywhere. That is Islam and that is jihad."
*
You see, Omar Brooks understands his religion. He is a 'good muslim'- he follows the Koranic teachings. The 'moderates' don't have a leg to stand on.
What does she know about Jiziyah and dhimmitude? She ignores the 1350 years of relentless jihad-warfare against the west and the attitudes of the primitive muslim masses:
http://www.jihadwatch.org/dhimmiwatch/archives/014896.php

Christiane Amanpour is confused (or is she deliberately confusing her audience?)Â  didn't she learn about the 164 jihad verses in the Koran? She goes looking for 'grievances'-Â  she provides a forum for soft spoken, cunning, cool and noisy Jihadists, she presents the never ending litany of Muhammedan grievances-, from 'Islamophobia' – (a much maligned and too often repeated word;) she tells us 'we need to listen to them'- and she keeps looking to find the elusive 'moderate muslims'-. But since they don't exist, she finds some ignorant muslims who may or may not back the jihad ideology and the wholesale slaughter of infidels and Jews, but since they are not 'real' muslims, her efforts are in vain.
Here's the link from CNN, expect to be disappointed.