Big W joins Aldi in ditching 'racist' T-shirts
Madness. There is no end to this. When will we start feeling sorry for ourselves?
 One of the T-shirts Big W has pulled from its racks: 

ninemsn
Big W has confirmed that it has taken two styles of shirts with the words "Australia Est. 1788" off their racks this morning.
A spokeswoman said the department store would not be commenting further on its decision to ditch the shirts and that the reason for the move should be obvious.
"We've removed the shirts from sale this morning," she said.
Have you seen other Australia Day garments with the same or similar slogan? Let us know by emailingnews.feedback@ninemsn.com.au.
Big W's decision comes after Aldi yesterday announced it would remove its range of T-shirts and singlets following claims they were racist and a torrent of backlash on social media.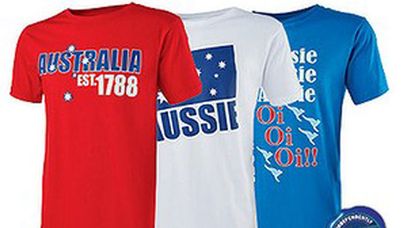 A photo from the Aldi webpage advertising Australia Est. 1788 T-shirts. (Supplied)
It was revealed this morning that the shirts had been approved by the federal government before going on sale this week in the lead up to January 26.
Twitter users slammed the design as racist and culturally insensitive to indigenous Australians, who inhabited the continent for thousands of years before Europeans arrived.
The seven designs had been approved by the Department of Prime Minister and Cabinet in July last year, after passing strict guidelines regarding products bearing the Australian flag.
A department spokesman told Fairfax that staff had been concerned with the representation of the flag, not external elements. ''In this case, the department provided approval on the basis that the flag was reproduced completely and accurately.''
The online furore forced Aldi to apologise on Twitter for "any offence taken" before the company announced it had "decided to remove one of its Australia Day special buy products, the Adults Australia Day T-shirt and Singlet from retail".
The decision to remove the garments was "taken following comments by a limited number of concerned customers", an Aldi spokesperson said in a brief statement.
The remainder of the range is still available for purchase in-store.