Despite all the outrage, Zaky Mallah was just what the government needed: an object of hate that justifies almost any conceivable "national security" measure and makes their aggression a virtue, writes Waleed Aly.
Infidels have no right to protect themselves against Mohammedan subversion. Wally and Wacky Zacky are brothers in arms. They may differ in the modus operandi; but in the end they both work towards bringing Australia under Islamic law. That's why one is as undesirable as the other.
Comment: The debate over citizenship laws is now so charged, even the slightest form of resistance is interpreted as seditious, writes Waleed Aly.
.
Fasten your seatbelts: here's one of the usual suspects with extremely sympathetic offerings:
.
The ABC's Jonathan Green now says Zachy Mallah had a "fair point" in claiming that what turned young Muslims to extremism was … the Abbott Government.
Yes, seriously:
Wally gets help, like you knew he would. Here is the hyperventilating deviant   Richard Ackland:
The hysteria over Zaky Mallah on Q&A would make Joseph McCarthy proud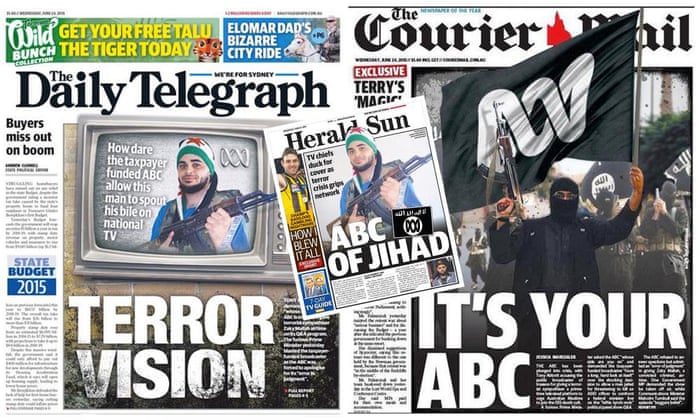 'Predictably, the Murdoch newspapers over-indulged in a bout of hyperventilation.' The front pages of The Daily Telegraph in Australia, The Herald Sun in Australia, and The Courier Mail in Australia on 24 June 2015. Photograph: Newscorp
Zaky Mallah zhooshed up an otherwise tepid Q&A by questioning proposed new citizenship laws. We should be more hysterical at the silly answer he received |
Richard Ackland
"Heads should roll" at the ABC, says Abbott
Andrew Bolt
I asked below what Tony Abbott would do about the ABC, after using a Muslim extremist to ambush a government Minister. His reply now follows:
The Abbott government has today launched its own investigation into Mallah's appearance on Q&A last Monday, arguing internal ABC inquiries have often resulted in "virtual whitewashes" of wrongdoing.
The Prime Minister said the broadcaster's decision to rebroadcast Monday night's program in full yesterday was "utterly incomprehensible".
"Here we had the ABC admitting a gross error judgment and then compounding that terrible mistake – that betrayal, if you like, of our country by giving a platform to this convicted criminal and terrorist sympathiser – they compounded the mistake by rebroadcasting the program," Mr Abbott said in Canberra.
"Now, frankly, heads should roll over this. Heads should roll over this. I've had a good discussion with the Communications Minister, Malcolm Turnbull, I know he has made a very strong representation to the ABC.
"We've announced that we are not satisfied with an internal ABC inquiry because so often we've seen virtual whitewashes when that sort ever thing happens. There is going to be an urgent government inquiry with recommendations, and frankly the ABC ought to take some very strong action straightaway."
Some on the Left will no doubt mock the "heads should roll" line, given the topic is the ABC's decision to give a platform to a Muslim hothead. But if the ABC continues its astonishing recruitment of extremists, the time may come when heads indeed do roll.