Tim Blair
Following the Brussels bombings, Mark Steyn observes:
We have untold battalions of tilty-headed wankers wielding hashtags and candles and flowers and teddy bears and unending reprises of "Imagine".
We also have dumb Swedish chicks in hijabs, who for the time being are allowed to wear them voluntarily. For the time being. All of this softheaded solidarity doesn't seem to be working:
The French Interior Minister has said an arrest in a Paris suburb this morning has thwarted a fresh attack on the capital.
Minister Bernard Cazeneuve has told local media that an anti-terror operation sealed a section of General Delambre Boulevarde in Argenteuil. Residents were evacuated as masked police swarmed the area.
One person 'with ties to a terror organisation' has been arrested. 
Another six were arrested overnight in Brussels.
Turnbull says multi-culturalism and tolerance will defeat terrorism.
Good one. And  lollipops will stop armed robberies. And rainbows will defeat North Korea.–
Read More
Another deep thought from the Canadian Prime Minister
Again, she mindlessly repeats whatever Huma whispers in her ear….
Democratic presidential frontrunner Hillary Clinton presented a speech on counterterrorism at Stanford University on Wednesday.
BREITBART.COM
.
 STOCKHOLM SYNDROME 
hence the reputation/stereotype DUMB BLONDE
What will the pope kiss next?
Here's the Pope now, helpfully feeling himself subdued.
"'Children of the same God': Pope Francis washes the feet of Muslim migrants," by Elahe Izadi, Washington Post, March 25, 2016:
The One-Stop Shop for All Your Terror-Sentimentalizing Needs
by Mark Steyn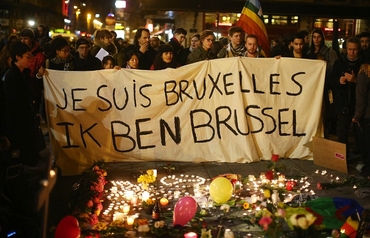 Earlier this month, some, er, high-spirited youths got a bit out of hand in Melbourne and Andrew Bolt wrote about it under the following headline:
Why Did We Import This Danger?
That could be the headline on every one of these stories: Brussels, and Paris, and Copenhagen, and the Cologne rapes and Charlie Hebdo and all the rest. But no matter how high the pile of corpses climbs the question never gets asked – nor does the natural follow-up: Why do we continue to import it?
Instead, as Douglas Murray writes in a blackly brilliant piece, we react to mass slaughter by asking only "questions that address no major points":
So in the UK the government's Communications Data Bill will get quite a lot of mentions… Everywhere on the media people will start to talk of 'radicalisation' as though it is something you can get from the water, and experts will claim insight into the 'paths to extremism'. Nicky Morgan will announce that the Prevent agenda should be extended to encompass pre-kindergarten. A year later she will close some Quaker-run nursery.
But neither Mrs Morgan (Britain's Education Secretary and "Minister for Women and Equalities") nor anyone else who matters ever asks the obvious question: instead of creating vast expensive bureaucratic regimes to monitor and attempt to ameliorate all of this "radicalized extremism", why not import less of it? By comparison with "the Prevent agenda", importing less sounds relatively affordable – and effective. After all, while David Cameron and John Kerry and all the rest assure us that terrorism is nothing to do with Islam, you can't help noticing that, in Europe, the less Islam, the less terrorism:
Central Europe, chiefly Poland, Hungary and the Czech Republic, remain largely safe from the terror threat, despite the former in particular being a Nato player in the Middle East. It is precisely because the reasons for this are so obvious that they cannot be mentioned. Poland is 0.1 percent Muslim, most of whom are from a long-settled Tartar community, Britain is 5 percent, France 9 percent and Brussels 25 percent, and those numbers are growing.

For all the goodwill shown by the vast majority of people in Europe, Muslim and non-Muslim, and for all those things that shouldn't have to be said – that most Muslims hate this monstrosity – these statistics correlate to terrorism risk.
But don't worry. All we have to do is keep an eye on the teensy-weensy percentage of that quarter of Brussels' population who might be at, er, risk of extremism. And how difficult can that be?
There is no intelligence solution to this problem. Although more funds and better information sharing will surely help prevent some terrorism—and especially catch terrorists after they kill innocents—the threat is now so great, with Europe possessing thousands of homegrown radicals bent on murder, that mere spying cannot prevent all attacks "left of boom" as the professionals put it.

Maintaining 24/7 human and technical surveillance on just one target requires something like two dozen operatives, and even the larger European security services can effectively watch only a few handfuls of would-be terrorists at one time.
So, on that operatives-to-extremist ratio, Belgium can either get bombed or go broke – or most likely both. Indeed, at this point, it's worth asking how hard it would be for the "radicalized" "youths" of Molenbeek to overthrow the Belgian state:
At the Cold War's end a generation ago, its army had seven brigades with 18 infantry battalions, plus some 30 more battalions in the reserve. Today, Belgium's army has only two brigades and six infantry battalions, some 3,000 bayonets in all. That tiny force would have trouble exerting control over even one bumptious Brussels neighborhood in the event of serious crisis.
That can't be right. Surely it's Belgium's notoriously aggressive interventionist militarist foreign policy that's the reason it got hit in the first place…
Oh, well. Who needs bayonets? We have untold battalions of tilty-headed wankers wielding hashtags and candles and flowers and teddy bears and unending reprises of "Imagine". Canadian reader Maryann writes:
Mark ,

Upon hearing about Brussels, and how the big European landmarks have been lit up in honour of the tragedy (barf) I came up with a great new business idea. I will open a PR/ Advertising agency geared soely to post terrorist attack sentimentality stunts, like you know designing the colours banners,lighting effects hashtags etc.

A country or city simply hires us and we take care of all that stuff even hiring mimes or piano players to play 'Give peace a chance', 'Let's stand together' type songs in public squares etc.. Make a killing!

Maryann
Burlington, Ontario
Want an avatar but you're unsure about the tricolor of whichever European country's been bombed today? Need a quickie illustration of Tintin, Manekin Pis, Asterix, Topo Gigio, the Little Mermaid, the blonde from Abba, etc, with their heads at an angle and a tear running down? Maybe a Belgian chocolate melting from a broken heart, or a frite in mayonnaise tinged with regret? How about the all-in-one hashtag that instantly updates to each new slaughter? #JeSuisParis, #JeSuisBruxelles, #JeSuisYourTownHere! Call Sad-Mart, the one-stop shop for all your useless solidarity gestures! #NousSommesEverywhere!
More on this from Michelle Malkin.
You can't say our enemies don't have our measure. A new ISIS poll:
What colour will the Eiffel Tower be next?
Meanwhile, back in the real world:
Following the attacks at the airport and subway station in Brussels Tuesday morning, the Jewish community has cancelled its Purim celebrations at the behest of the police…

Rabbi Menachem Margolin, Head of the European Jewish Association, told Ynet that the decision to cancel the events was done at the request of the police due to the police's fear of additional terrorists in the area.

"The police said that they are unable to protect the event while the city is in a state of war," he said.
That's because in the Low Countries the police are too busy cracking down on Tweeters who stray from the #JeSuisTiltyHeaded&Singing"Imagine" narrative. Like yoga instructor Ivar Mol:
Politie op stoep bij yogaleraar na tweet over 'applaudisserende moslimkinderen'
In English:
Police call on yoga teacher after Tweet about "Muslim schoolchildren cheering" [the attacks].
This was in Breda, just across the Dutch border, where the police are nothing if not vigilant. Four hours after Ivar Mol's Tweet, no fewer than three officers were dispatched to Mr Mol's doorstep:
3 politie-agenten op de stoep nav mijn tweet vanmorgen. Of ik dat voortaan liever niet meer wil doen… #Brussel #aanslag #zaventem
They said they'd been sent by the mayor and advised Ivar Mol to cut it out. The burgemeester now says he "regrets" the incident.
As for the Belgian constabulary, they may be too stretched to protect Jews but at least they get nights off:
The Belgian police have also been hampered by bizarre rules. According to Belgian Justice Minister Koen Geens, just two days after the Paris attacks Abdeslam was "likely in a flat in Molenbeek." But because of the country's penal code, which prohibits raids between 9 p.m. and 5 a.m. unless a crime is in progress or in case of fire, police were ordered to wait until dawn to pursue him. By then, Abdeslam was nowhere to be seen.
~Speaking of Michelle Malkin, many readers enjoyed the re-post of Part One of her timelier-than-ever interview with me re a certain highly prescient bestseller. So here's Part Two of our conversation on Europe, Islam, jihad and demography:
For parts three and four, see here.
Pope Francis washes feet of Muslim migrants, says we're all "children of the same God"
Apparently if we're all "children of the same God," we're racist, bigoted and Islamophobic to be concerned about jihad terror committed by Muslim migrants, and certainly have placed ourselves beyond the pale of the Catholic Church, which apparently would prefer the West to commit suicide rather than defend itself.
The Pope has washed the feet of Muslims before. What does he mean by it? If he means simply to imitate Christ's action of extreme humility at the Last Supper, and to demonstrate that no one is beyond the pale of God's mercy, no Christian could object to that. However, coming at a time when Muslim persecution of Christians is escalating worldwide, and when there is very serious concern about the Catholic Church's apparent determination to accommodate Islamic supremacism at all costs, and not speak up for the persecuted Christians, this foot-washing can unfortunately be interpreted as meaning that the Church is surrendering and bowing down to its new Islamic overlords. As Christians in the Middle East are being slaughtered on a massive scale by Muslims, this looks more like surrender and submission than charity.
If the Pope really meant by washing these Muslims' feet that Catholics and Christians in general should not defend themselves and their loved ones and their homelands against the global jihad and Islamic supremacism, then his gesture is not only lamentable, but in contradiction to centuries of Church teaching about the right and even the duty of defending oneself. It is also worth noting, if any of the Muslims whose feet he washed were women, that if the Pope had dared to touch and kiss a Muslim woman's feet in Saudi Arabia or Iran, he would have been immediately killed.
Above all, his act of humility would not have been received in the spirit in which it was intended. Among all too many Muslims worldwide it will be seen as his, and the Church's weakness. Nor will it be reciprocated by any Muslim authority, in any way, shape or form.
As for being "children of the same God," what would Pope Francis make of these Qur'an verses, were he to know about them (as he almost certainly does not):
Christians have forgotten part of the divine revelations they received: "From those, too, who call themselves Christians, We did take a covenant, but they forgot a good part of the message that was sent them: so we estranged them, with enmity and hatred between the one and the other, to the day of judgment. And soon will Allah show them what it is they have done." — Qur'an 5:14
Jesus is not the Son of God: "O People of the Scripture! Do not exaggerate in your religion nor utter aught concerning Allah save the truth. The Messiah, Jesus son of Mary, was only a messenger of Allah, and His word which He conveyed unto Mary, and a spirit from Him. So believe in Allah and His messengers, and say not "Three" – Cease! (it is) better for you! – Allah is only One Allah. Far is it removed from His Transcendent Majesty that He should have a son. His is all that is in the heavens and all that is in the earth. And Allah is sufficient as Defender." — Qur'an 4:171
"It is not befitting to (the majesty of) Allah that He should beget a son. Glory be to Him! when He determines a matter, He only says to it, 'Be,' and it is." — Qur'an 19:35
Those who believe that Jesus is God's Son are accursed: "The Jews call 'Uzair a son of Allah, and the Christians call Christ the son of Allah. That is a saying from their mouth; (in this) they but imitate what the unbelievers of old used to say. Allah's curse be on them: how they are deluded away from the Truth! " — Qur'an 9:30
Jesus was not crucified: "And because of their saying: We slew the Messiah, Jesus son of Mary, Allah's messenger – they slew him not nor crucified him, but it appeared so unto them; and lo! those who disagree concerning it are in doubt thereof; they have no knowledge thereof save pursuit of a conjecture; they slew him not for certain." — Qur'an 4:157
Muslims must wage war against and subjugate Christians: "Fight those who believe not in Allah nor the Last Day, nor hold that forbidden which has been forbidden by Allah and His Messenger, nor acknowledge the religion of Truth, of the People of the Book, until they pay the jizya with willing submission, and feel themselves subdued." — Qur'an 9:29