More than 7000 in the last 2 days landed in Italy: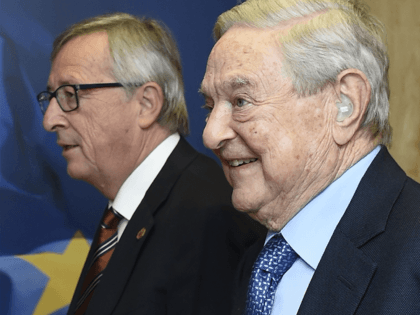 The billionaire Hungarian-American open borders advocate George Soros has said Angela Merkel provoked the migrant crisis with her open-door policy, which brought "chaos" to the continent. However, the investor and left wing activist also accused the "xenophobic" UK Independence Party
The Turks don't like it:
Brexit gives anti-EU parties wings
France, the Netherlands, Sweden and Italy all are home to influential political leaders calling for EU referendums
While the news of the impending Brexit was received with shock and disappointment by all major European governments, the continent's increasingly popular anti-immigration and Eurosceptic parties rejoiced, calling for EU referendums in their own countries.
These strong calls to leave the EU, or at least vote on it, have picked up solid momentum throughout Europe over the past few years, causing some to wonder if Britain's decision to leave has been the first step in unraveling the entire European project.
France, the Netherlands, Sweden and Italy all are home to influential political leaders calling for EU referendums.
In other news:
– 'Frarewell'
"For all the patriots, for all those who love freedom, this day is one of joy," said Marine Le Pen, leader of France's far right National Front during a press conference on Friday. "It is not Europe that has died, it's the European Union that is shaking and it is a rebirth of nations."
Le Pen has declared herself to be "Madame Frexit" and earlier this month in Vienna, she promised to call a referendum on France's EU membership if elected.
"France possibly has 1,000 more reasons to want to leave the EU than the English," she said.
Her far-right, anti-immigration party has skyrocketed in the polls and performed well in local elections, moving from the fringes to become one of France's most influential parties.
In 2007, the party led by Le Pen received 10 percent of the vote. A poll published by French daily Le Monde earlier this month suggested Le Pen was at 28 percent support, ahead of all other political leaders, which would be enough to guarantee her a spot in a presidential election run-off  in 2017.
French citizens did not want to leave the EU at this point, according to an Ipsos Mori poll from May, but the poll did suggest that 55 percent of French people wanted their own referendum.
A French exit would likely be messier than the Brexit. Unlike Britain, France is not only one of the founding countries but it has also adopted the euro currency.
– A Dutch goodbye
Like France, the Netherlands are linked to Europe through the euro currency, have elections in 2017 and have witnessed a strong surge in popularity for Geert Wilder's far-right, anti-Muslim Party for Freedom.
"We want be in charge of our own country, our own money, our own borders, and our own immigration policy. If I become prime minister, there will be a referendum in the Netherlands on leaving the European Union as well," said Wilders in a statement on Friday.
Recent opinion polls in the Netherlands suggest there is strong support for an EU referendum and a Nexit in the Netherlands, a founding member of the EU. A survey by television channel EenVandaag this week said 54 percent wanted a referendum, although a poll two weeks ago by RTL Nieuws suggested 53 percent of Dutch residents thought the referendum was a bad idea.
Dutch voters will go to the polls before March 15, 2017 and the most recent polls have suggested Wilders is leading the race, although it is unlikely that he would gain the support to form a majority government.
– Ciao, Italia
Italy, currently led by Matteo Renzi's center-left government, is not due to go to general elections until 2018, but they could come earlier if Renzi fails to pass his own referendum on the Italian constitution in October.
The anti-establishment, populist and Eurosceptic Five Star Movement was founded in 2009 by Beppe Grillo, a popular comedian and blogger. Within seven years, it has risen to become Italy's second most popular party.
While Italian referendums cannot change international treaties, the Five Star Movement has called for a non-binding referendum on whether or not the country should leave the eurozone. The movement's leaders have not come out in support for Italy leaving but are strong proponents of what they call "direct democracy".
Further to the fringes, but also surging in the polls, lies Italy's far-right Northern League party, whose leader, Matteo Salvini, outwardly celebrated the Brexit.
"Hooray for the courage of free citizens," tweeted Salvini, the outspoken Donald Trump supporter.
"It will be the Dutch peoples turn, then the Swedes turn, then next year it will be the French," said Salvini, according to Euronews. "The League offers Italians the hope not to be the last ones to notice that the house is burning."
– Scandinexits
Far-right anti-immigration parties have also witnessed a sharp rise in polls in Scandinavian countries like Sweden and Denmark.
Polls conducted this spring by Sifo suggested that Swedish voters would be much less likely to remain in the EU with Britain out.
The Sweden Democrats party with roots in Nazism, hailed the Brexit as a triumph.
"Congratulations to Britain's people on choosing independence! Now we are waiting for a #swexit," the party tweeted on Friday.
The Sweden Democrats have insisted that they have separated from a racist past but have been campaigning against what they deem to be their country's generous immigration policy. In the 2014 elections, the party received 12.9 percent of the vote, but since then has seen a sharp rise in support with some polls calling it the most popular. Sweden will hold elections in 2018.
In Denmark, the Danish People's Party has also risen to power on an anti-immigration platform. In the 2015 elections, it became the official opposition party for the first time in its history.
While none of these parties currently govern, they clearly have momentum as seen in their growing popularity and the success of the Brexit campaign.
Regardless of whether or not they manage to call their own EU referendums, one thing is certain: the EU will be the subject of fierce political debate throughout Europe in the coming years.