Chief Commissioner Graham Ashton said police had been watching the alleged plotters for some time, and believed they were preparing a multi-mode attack.
He said the alleged would-be terrorists were inspired by ISIS.
"These are self-radicalised … (but they were) inspired by ISIS and ISIS propaganda".
Absolute rubbish, the Islamist terrorists were inspired & radicalised by Islam. This has everything to do with religion.
"We believe it was certainly going to involve an explosive event," Mr Ashton said.
Prime Minister Malcolm Turnbull urged Australians not to let alleged terrorists "frighten of divide" following plans of a Christmas Day attack.
WTF is "frighten of divide?"
✔@SkyNewsAust
.@DanielAndrewsMP: we must cherish the diversity that makes us a stronger community
Look at the face of dopey Dan. We must cherish what? Diversity? Diversity doesn't make us stronger. It weakens us. Unity makes us stronger, because united we stand, and Mohammedanism seeks to divide us. Wake up, people. "Diversity" is no value at all. Lets get this trash out of positions of power!
Prime Minister Malcolm Turnbull has urged Australians not to let alleged terrorists succeed in frightening and dividing the nation, after Victoria Police and Australian Federal Police foiled a proposed Christmas Day terrorist attack.
"It has been thwarted. Thwarting the attack, an Islamist terrorist plot inspired by Daesh or ISIL… speaks volumes for the professionalism of our police agencies," Mr Turnbull said at a press conference in Sydney.
"What these criminals seek to do is kill. But also, to frighten us and to make us abandon our Australian way of life. We will not let them succeed.
"We will continue to go about our daily lives as we always have."
Chief Commissioner Graham Ashton (left) and Victorian Premier Daniel Andrews at today's press conference. (AAP)
The prime minister's message comes after heavily armed police raided homes across Melbourne's north-west overnight and this morning, arresting seven people who allegedly planned an attack on Flinders Street Station and Federation Square on Christmas Day.
Chief Commissioner Graham Ashton said police had been watching the alleged plotters for some time, and believed they were preparing a multi-mode attack.
Related:
"We believe there was an intention to attack  on Christmas Day."
He said police believed the alleged attack being planned was going to involve "the use of explosives" and possibly knives and a firearm.
"Over that last fortnight that has accelerated," Mr Ashton said.
Victoria police and Premier Daniel Andrews said a Christmas terror threat in Melbourne has been 'neutralised' following raids across the city's north-western suburbs.
Police believed the threat had been neutralised through the raids, he said.
Premier Daniel Andrews said there will be extra police on the streets on Christmas Day to ensure the public feel safe.
"(These alleged planned attacks) were not acts of faith – they were in their planning, acts of evil," Mr Andrews said.
Mr Ashton said police believe the plotters planned to use an explosion and other weapons in the attack.
"We believe it was certainly going to involve an explosive event," Mr Ashton said.
Seven people were arrested in total. Four of them were born in Australia, while a fifth is an Egyptian-born Australian citizen.
A 24-year-old man from Meadow Heights, a 26-year-old man from Dallas, a 22-year-old man from Campbellfield, and two 21-year-old men from Flemington and Gladstone Park respectively remain in police custody.
A 20-year-old woman and a 26-year-old man, both from Meadow Heights, have been released without charge.
"These are self-radicalised… (but they were) inspired by ISIS and ISIS propaganda," Mr Ashton said.
"If this had got under our guard this would have been a significant attack."
Five properties in Gladstone Park, Flemington, Meadow Heights, Dallas and Campbellfield were raided, including this apartment building in Flemington. (9NEWS)
Homes were raided in Flemington, Meadow Heights and Dallas as part of the operation involving Victoria Police, the Australian Federal Police and ASIO.
Mr Ashton said police had gathered evidence in the raids that the plotters were planning to use explosives in their attack.
"We gathered the makings of an improvised explosive device," Mr Ashton said.
"A substantial number of people could have been injured in the attack, from what we've seen.
"Certainly potential for quite a number of people to be injured or killed in this attack."
About 400 police officers were involved in the raids, which started late last night.
"In relation to this particular plot we think we've got everyone who was involved," Mr Ashton said.
Mr Andrews said people should go about their business safe in the knowledge that Victoria Police is protecting them.
"What was being planned was not an act of faith, was not an act of religious observance, it was instead in its planning, an act of evil, a criminal act," he said.
The community should continue to go about their daily business and report any suspicious activity to triple zero (000), Crime Stoppers on 1800 333 000 or the National Security Hotline on 1800 1234 00.
Read more at http://www.9news.com.au/national/2016/12/23/07/19/police-raids-underway-in-melbourne-suburb#jKzFdMR4Xs3ERpbY.99
Out with this trash!
Nothing to do with Islam? Not again, Dopey Dan?
Chris Ashton The Spectator Australia 23 December 2016
Victorian Premier Daniel Andrews thinks that a man can say he's a woman, and that makes it so. Recently, his diversity tsar launched a "guide" to "assist" public servants in using the meaningless language of gender theorists.
But this morning Andrews himself resorted to the meaningless language of terrorism apologists. He promised, with all the certainty of a hate preacher, that the acts planned as part of the foiled Islamic terror plot in Melbourne are "not acts of religious observance, not acts of faith, in fact the opposite of that."
Nothing to do with Islam, of course. Does he think the perpetrators are atheists? That there is no religious motivation? Or is he just so learned in Islam that he's able to quickly identify this sort of behaviour as completely outside the pale of orthodoxy?
The Premier went on to say that his "message to Victorians is that we should cherish the diversity that makes us a stronger community." Diversity has its limits, Mr Andrews, and the call to cherish it is limited to cases where the police actually get to the terrorists before the bombs go off.
There is not a single person in Australia who thinks that all Muslims harbour apocalyptic caliphate fantasies, but to make unqualified theological statements that defy reality — and the understanding of most Muslims — makes you look defensive, dishonest, and obtuse.
Politically correct language is bad enough when it comes to pretend gender pronouns, but terrorism is serious. Please Premier, not this again.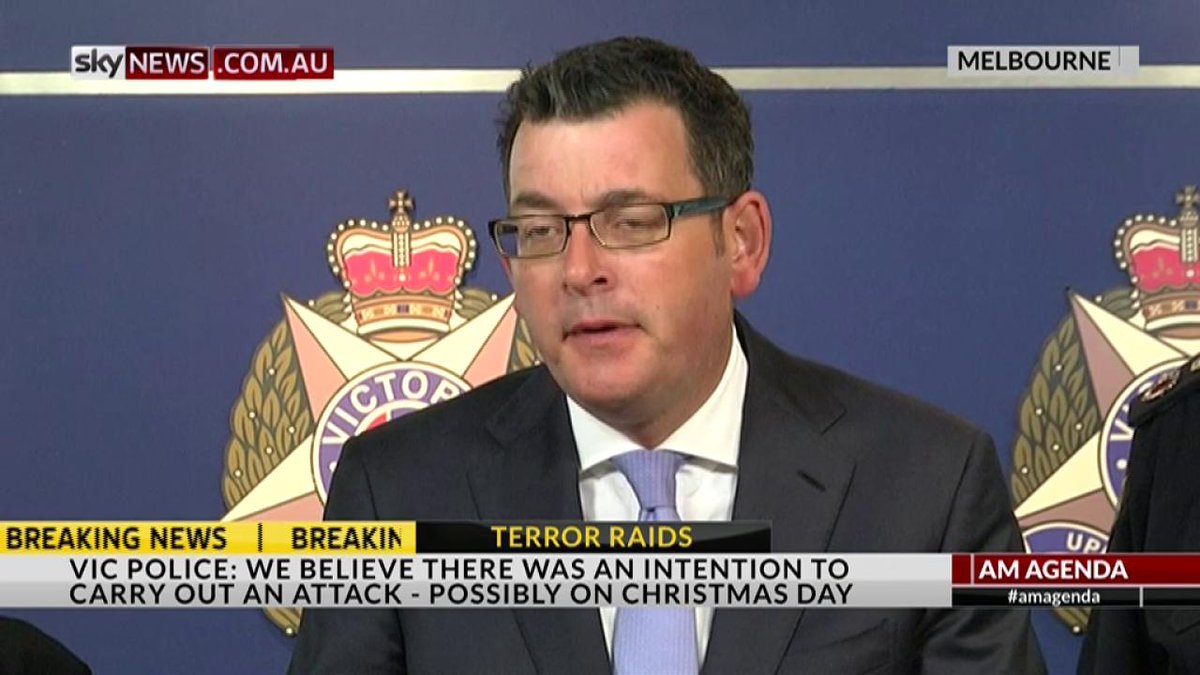 Update:
One Nation leader Pauline Hanson hit out at Mr Andrews for not linking the terror plot to religion as she attributed the planned attack to "Muslim extremists".
"I was disgusted by Premier Andrews," she tweeted. "After the terrorists were foiled he should have said what this truly was, an act of evil faith."
Former Liberal minister and speaker of the House Bronwyn Bishop also slammed the "socialist state of Victoria saying that it's nothing to do with belief or religion".
"(To say) it's just evil – what rubbish. You have to say what is evil and it's clearly an Islamist attack," she told Sky News.
Liberal senator Eric Abetz pointed to the Lebanese ethnicity of four of the five men arrested over the foiled attack, saying the nation had to deal with the "preponderance" of that community in terrorism-related activity.
His comments echo those of Immigration Minister Peter Dutton, who last month caused uproar within the Lebanese community and the left of politics after suggesting Malcolm Fraser made a mistake in allowing Lebanese Muslims to migrate to Australia in the 1970s.
"It is a sad matter of fact that out of the 38 arrests in Australia, 26 are of a particular ethnic background and, as I understand it, of the latest five, four are of a particular ethnic background," Senator Abetz said.
"This is a difficult conversation but nevertheless a conversation we need to have to ensure that we can protect Australian society and people of every ethnic origin.
"There is this preponderance of the Lebanese community that we do need to deal with and of course we seek the support of the Lebanese community in dealing with that."
Threat removed 'in its entirety'
Australian Federal Police commissioner Andrew Colvin said authorities believed they had "removed the bulk of this particular cell", which had been self-radicalised and inspired by Islamic State or Daesh.
He said this event had concerned him "more than any other" over the past few years.
"They had moved very quickly from an intention to a capability and developed capability, including quite progressed plans, we will allege," Mr Colvin said.
"We've heard about Federation Square, we've heard about the Flinders Street train station and St Paul's Cathedral. We believe that they were narrowing down exactly what their plan was, but that's all in one very small part of Melbourne's CBD."
Mr Colvin said Australians should expect an enhanced police presence across the country that would be "noticeable" but not "intrusive".
"I've spoken to a number of my police commissioner colleagues in the last few days, and there's been a range of meetings with senior officials to make sure we're aware of each other's activities. Obviously each event around the country requires different security detail and overlay," he said.
Mr Colvin said the threat posed by this group to Victoria and the broader Australian community had been removed "in its entirety".
"This is a significant disruption of what we would describe as an imminent terrorist event in Melbourne, Victoria," he said.
"Community safety will always be the number one priority for our law enforcement agencies and we've acted as soon as possible with the best evidence and the best material and the best intelligence available to us to make sure that community safety was being protected."
Mr Colvin said there were "obvious" public events over the next week that police were concentrating on but would not devolve other security concerns.
"We have very well-tried and tested plans in this country. You've heard Chief Commissioner Ashton already talk about the carols, he's talked about the Boxing Day test, and obviously New Year's Eve is a big focus as well. Expect to see police, but please, get about doing your business, be assured of your security," he said.
Intelligence agencies 'excellent'
Justice Minister Michael Keenan said the disruption of what would have been a "horrendous attack" that could have caused "very significant casualties" showed the "excellence" of Australia's police and intelligence agencies.
"Australia is currently living through the most difficult security environment in our history. Since the middle of 2014, we've had four terror attacks on our soil and the events in Melbourne overnight is the 12th disruption that our agencies have had in the past two-and-a-half years," Mr Keenan said.
"But this disruption is amongst the most serious in terms of its intent and in terms of the capability of the people who have been disrupted."
'Don't stop living your lives'
Bill Shorten said Australians should have "a lot of confidence in our police and security agencies this Christmas and every day of the year" and urged people to go about their lives as normal.
He said the nation's police and security agencies were not "infallible" but were "amongst the best in the world".
"You can't stop living the lives that you were going to live because of fear of some of these reports and matters. The few extremists in our community who would wish to disrupt the Australian way of life – they win when we give up," the Opposition Leader said.
"We have got great police and security services. I'm very privileged in the position I'm in to see perhaps some of the reports and the professionalism with which they conduct themselves. I've seen the quality of our ADF men and women in Iraq just last week.
"We are well-served by our defence Forces, by our police and our security agencies. I certainly encourage Australians to go about their business as usual."
No change to MCG security
There will be no change to security arrangements at the Melbourne Cricket Ground following the foiled terror plot.
Melbourne Cricket Club communications manager Shane Brown said they would hold discussions with Victoria Police and "take their advice as to the appropriate course of action".
During last year's cricket season, a "ring of steel" was trialled at the MCG, where patrons passed through a security checkpoint set 25m from the ground entrance.
"At this stage there is no change to the security arrangements being planned for the Boxing Day Test," Mr Brown said.
"As they did during the AFL season, and at the one-day international two weeks ago, MCG patrons will undergo bag checks and wanding prior to entry on Boxing Day, and we encourage fans to allow extra time for that to occur.
"These checks will occur at the entry gates, not set back from the building as was the case last cricket season."
According to the 2015-16 Melbourne Cricket Ground Trust annual report, a "safety master plan" is being developed for the MCG, as part of a "necessity to tighten security in the wake of experiences overseas".
In NSW, a police spokesman urged people to "go about their business as usual and to enjoy the festive season".
"There has been no specific threat in NSW and the public can be assured police have security plans in place for events across the Christmas/New Year period," the NSW Police spokesman said.
"However, in light of overnight developments in Victoria and recent events overseas, it is clear the need for community support and vigilance remains crucial.
"We are urging anyone with information to contact the National Security Hotline on 123 400. If you see something, say something."
Additional words: Rick Wallace, Geoff Chambers
Update:
The Qur'anic imperative to strike terror into the hearts of believers still applies during the Christmas season in Western countries: "We shall cast terror into the hearts of those who disbelieve…" (Quran 3:151) It is almost certain to get worse, given the nonchalant response of Western leaders to the growing menace of jihad terror.
"Australian police say they thwarted planned Christmas bombings", Associated Press, December 22, 2016:
Police say they have arrested seven suspects who allegedly planned a series of bomb attacks in the heart of Australia's second largest city on Christmas Day.
Victoria state Police Chief Commissioner Graham Ashton told reporters on Friday the seven had been inspired by the Islamic State group and had planned attacks on Melbourne's Flinders Street train station, neighbouring Federation Square and St. Paul's Cathedral.
Ashton says police had been watching the alleged plotters for some time, and believed they were preparing to use explosives and other weapons…….