The Sydney Invasion Day rally just turned violent. Cultural Marxism is taking its toll. Muslims may not be directly involved, but leftist propaganda is doing the dirty work for them. Which reminds me of this: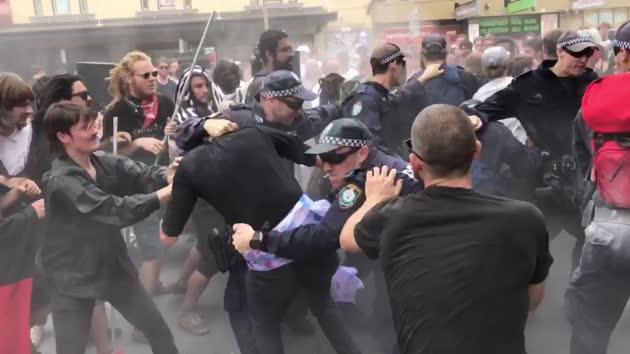 The Ikhwan [Muslim Brotherhood] must understand that their work  is a kind of grand Jihad in eliminating and destroying the Western civilization from within and "sabotaging" its miserable house by their hands and the hands of the believers so that it is eliminated and Allah's religion is made victorious over all other religions. …
Violence and flag-burning at 'Invasion Day' protest in Sydney
THE "Invasion Day" rally in Sydney today erupted into violence with a police officer hospitalised and a protester sprayed with a fire extinguisher after he tried to set a flag on fire.
A woman was also injured during the clash just after 1pm in Ultimo.
"A participant tried to ignite a flag in the crowd," a NSW Police spokeswoman told news.com.au. "Officers used a fire extinguisher to put out the fire and ensure the safety of the crowd.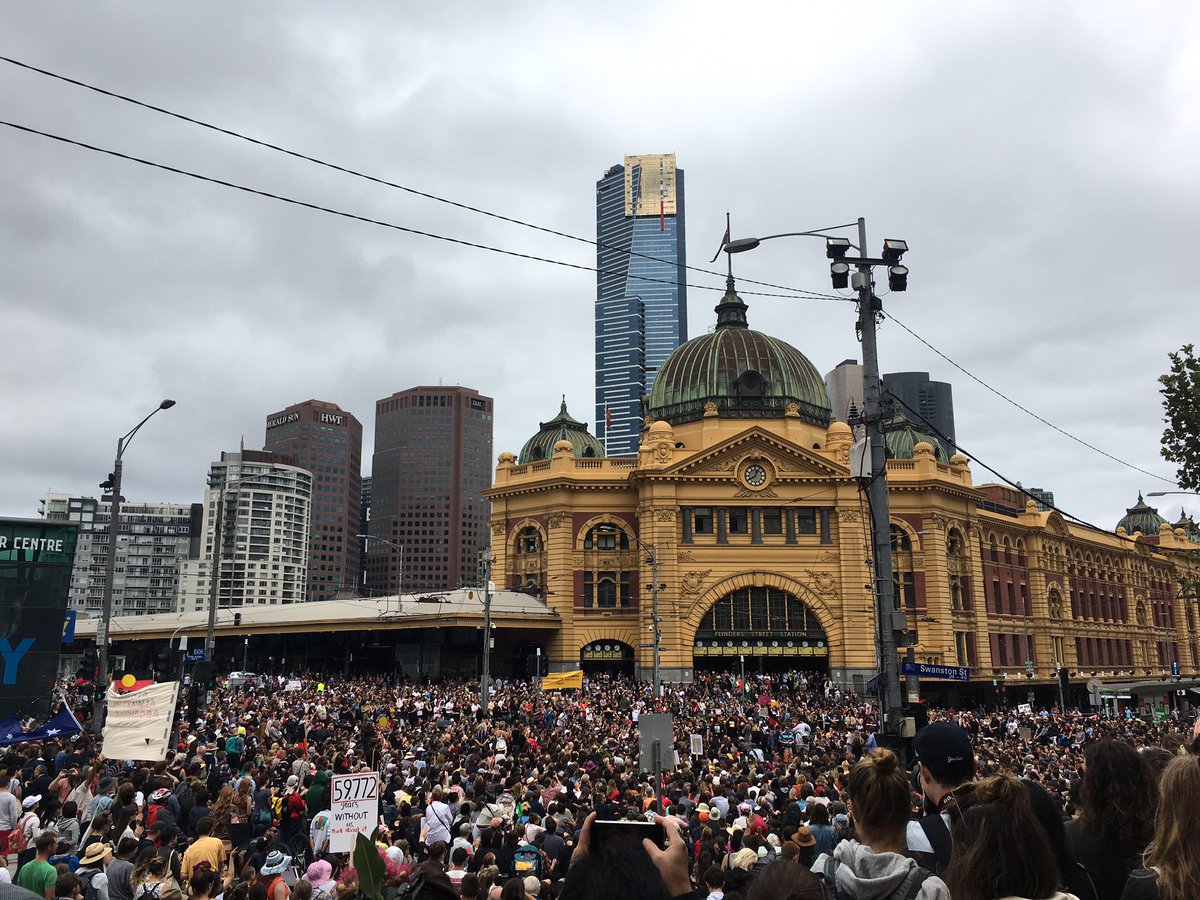 "A brief struggle ensued in which an officer was injured and he has been taken to hospital.
"A woman sustained minor injuries and was treated by paramedics at the scene and taken to hospital as a precaution.
"A 20-year-old man was arrested and taken to Redfern Police Station to assist police with their inquiries."
She described it as an "isolated incident" during an otherwise peaceful protest.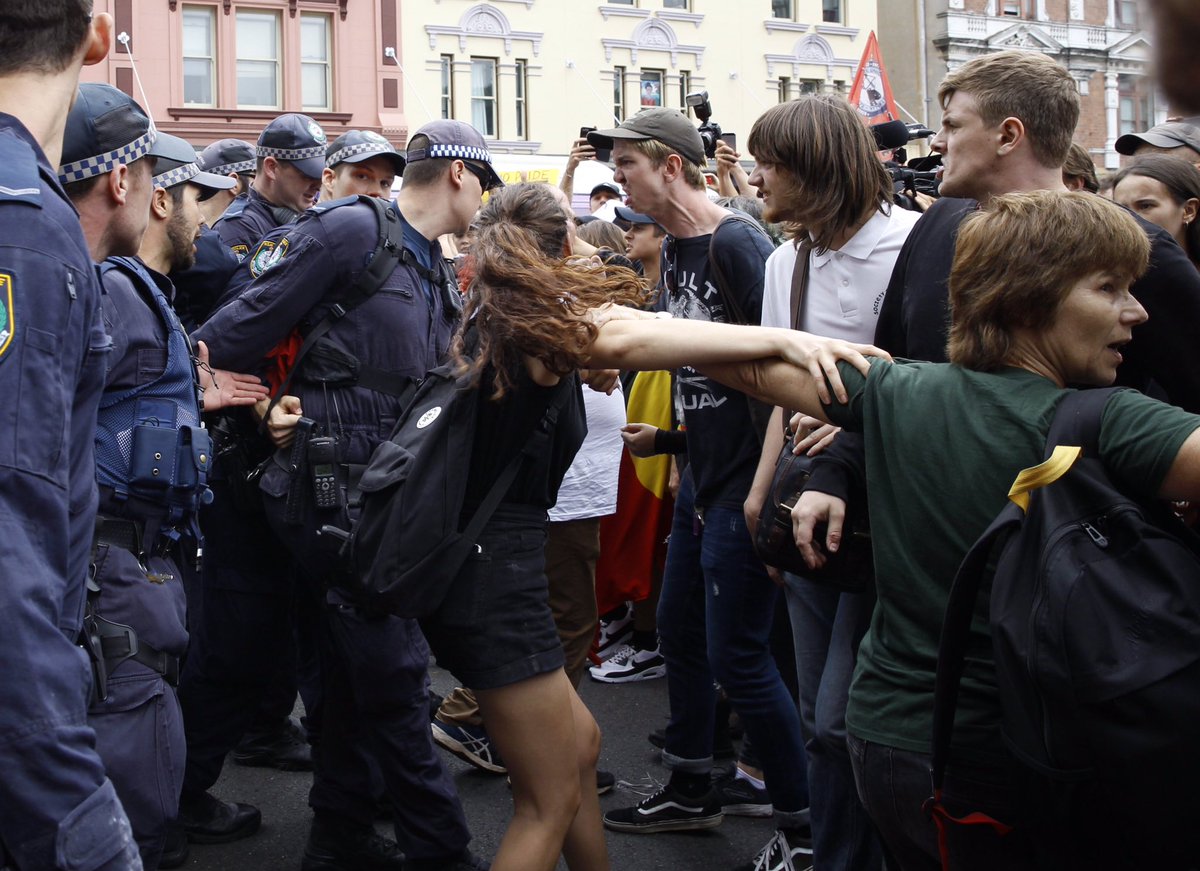 Thousands of demonstrators marched through the city on Australia Day, to protest against the treatment of Aboriginal people and the celebration of Australia Day on January 26 because it marked a "day of killing" rather than the birth of a nation.
The crowd, many draped in Aboriginal flags, gathered at The Block in Redfern for speeches denouncing the celebration of the arrival of the First Fleet in 1788.
"It is a national disgrace to have a holiday on Australia Day — a day which marked the beginning of genocide", organiser Dave Bell told the crowd.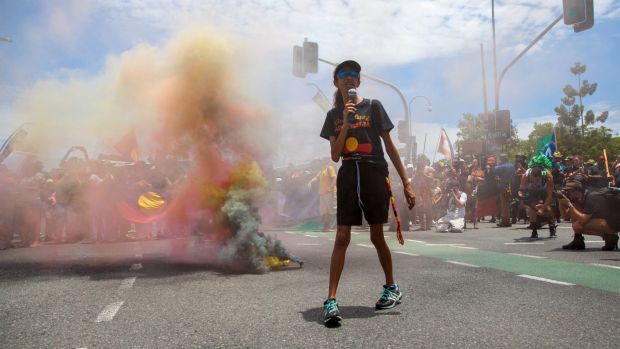 Brisbane:
An estimated 1000 people from different age groups and backgrounds gathered outside Parliament House encouraging unity and promising further demonstrations.
"You're all welcome in our country … (but) you have to pay the rent," said Aboriginal activist Sam Watson.
Ken Canning, one of the organisers of the Invasion Day rally, said people were waking up to the scam of Australia Day. Mr Canning said numbers joining the march had grown from 300 in 2015 to thousands this year.
"(Today) we'll have thousands marching with us under the banner of Invasion Day," he said.
Mr Canning said it was a scam to have a big celebration on January 26 when within two years of the arrival of the First Fleet, more than 70 per cent of the Eora people were killed by either disease or direct warfare.
"That is not a day to celebrate," Mr Canning said to a cheering crowd. "This was an invasion and it's still going on today."
Mr Canning said despite the debate about moving the date, he wouldn't chose any day to celebrate genocide.
"We've got to start looking at what is right or wrong in this country and it's totally wrong to celebrate the massacres of our people."
He added that he "couldn't care less" about reports of a young activist burning the Australian flag and that it should be put in perspective. He said the death rate of Aboriginal people had doubled since the Royal Commission into Aboriginal Deaths in Custody and there had also been an increase children being stolen since former prime minister Kevin Rudd's apology in 2008.
"If you want to criticise something, criticise that," he said.
The rally was also supported by a Muslim family, introduced as Armed and Lydia, who said they stood in solidarity with the Aboriginal people but also recognised their own privilege as people who had benefited from the invasion of the country.
"It is so distressing that in Australia we can still have an argument about whether it's appropriate to celebrate massacres, rapes, forced removal of children, the dehumanisation of people," Lydia said.
"That's not something that I want to celebrate and it's certainly not something that the Australian Muslim community wants to celebrate either."
Armed agreed with Mr Canning that Australia Day should be cancelled. He said there should be proper reconciliation first and a treaty with the Aboriginal people before any talk about a new date. "There's a lot that needs to be fixed before we have a date," he said.
Greens NSW MLC David Shoebridge pointed out that it was a "young crowd" that had turned up for the rally and a crowd that was "talking about the future".
"This is a crowd that coming in solidarity and being honest about our history," he said.
He backed calls from other speakers that people should continue to come out in support of Aboriginal people and future rallies including one planned for February 13.
He also pointed out that Aboriginal kids in NSW were being taken from their families at more than five times the rate they were before the Bringing them Home report, and more than double the rate before Mr Rudd said sorry about The Stolen Generation.
"It's not a thing of the past," he said.