"FAKE NEWS: Daily Beast Falls for Quebec Mosque Attack Hoax, Blames 'White Supremacists,'" by Charlie Nash, Breitbart, January 30, 2017, thanks to Robert Spencer:
Apologies for the earlier internet canard. If its any consolation, the establishment propaganda media has jumped on the Quebec mosque shooting as an incidence of Trump-inspired "Islamophobia." This hoax furthered their narrative, so the Daily Beast jumped on it. Meanwhile, back in the real world, the killers screamed "Allahu akbar," and one of them was named Mohamed, making this likely to be a case of Muslims killing other Muslims whom they deemed insufficiently Islamic, in accord with Islam's death penalty for heresy and apostasy.
Quebec City court clerk Isabelle Ferland named the suspects as Alexandre Bissonnette and Mohamed el Khadir.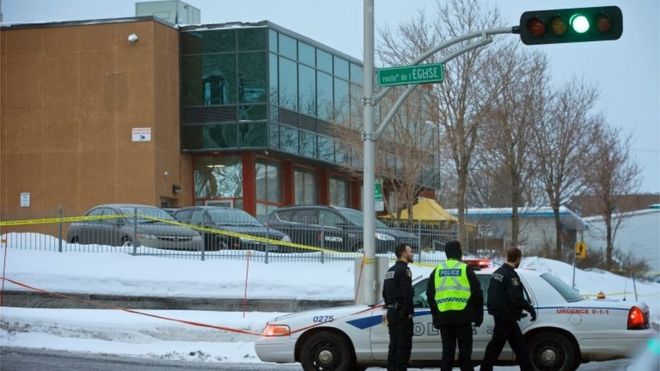 Image copyrightEPA
Image captionOne of the two suspects called police to give himself up, police say
Canadian police have named the two suspects who were arrested in connection to a deadly shooting at a mosque in Quebec City, Canada.
Quebec City court clerk Isabelle Ferland named the suspects as Alexandre Bissonnette and Mohamed el Khadir.
The two men allegedly opened fire at the Quebec Islamic Cultural Centre on Sunday night, leaving six people dead.
One suspect was arrested at the scene and a second suspect called 911 to give himself up, police said on Monday.
A Muslim leader in the city says he is not surprised by the attack
Update:
In light of the witness statement that they screamed "Allahu akbar," it is likely that Bissonnette is a convert to Islam, and that this was, as I suggested last night, a case of Muslims firing upon other Muslims whom they deemed heretical: a Sunni-Shia dispute, or adherents of the Islamic State versus opponents of it, or Sunnis firing upon Ahmadiyya — depending on what kind of mosque it is. But there is no basis at this point for the widespread assumption that this was an "Islamophobic" attack carried out by deranged Trump supporters who wandered north of the border.
The second suspect was apprehended in his car on a bridge leading to Orleans island, according to police.
Police have yet to give a motive for the shootings, citing an ongoing investigation.
Canadian authorities said they did not believe there were any additional suspects and they were confident that the threat was "under control".
---
'Peace must stand' – Jessica Murphy, BBC News, Quebec City
The streets around the mosque are mostly deserted except for the police investigators milling on the scene around the cordoned-off site.
Noemie Roussel Paradis is standing alone across from the empty mosque holding a Quran. She is a proud convert to Islam and came to pay her respects after "this murder, this attack, this act of terrorism", even though this was not the mosque where she prays.
"This is Allah's home, and there was blood spilled on the floor," she said.
She said it's likely that she shared a Ramadan meal with one of the people who was in the mosque during the attack. "The only thing we can do now is cry and hope that Allah will make those responsible face their actions," she said.
Nearby, Martin St-Louis is holding a large wooden board, its painted message carrying a call for peace.
"Where terror stands or walks, peace must stand," he said. "I'm no philosopher or priest, but for those people who fall, we have to stand."
---
The two men, believed to be in their 20s or early 30s, had no prior police record before the incident, authorities said.
Police are also investigating reports that the two men were students at a local university.