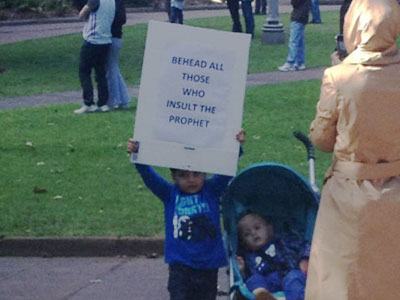 "If you have a problem with that, you are the problem"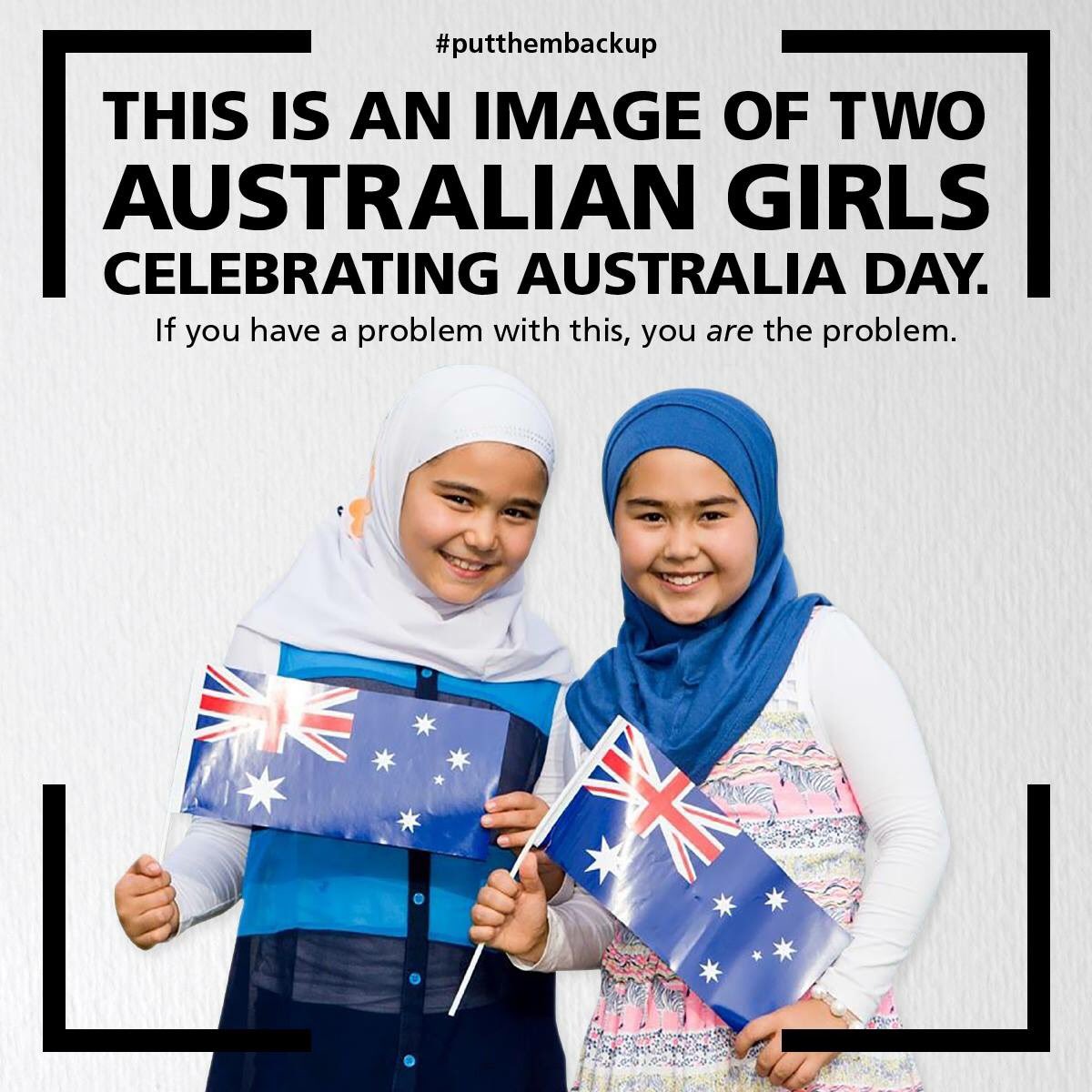 There is none. Both images are used to spread Islam. The first one is a full frontal attack on the infidel nation state by Mohammedans, who use children for propaganda and  jihad, and the second one is a more insidious form of  Islam promo used by leftist useful idiots and Mohammedans alike  to rub Islam right in our face for Australia Day.
The usual suspects are trying to milk it for all its worth:
The leftist -marxist -muslim plan is to get our national days abolished b/c they're too "divisive".
Islamo-agitprop (Iranian corruptocrat) Sam Dastiary  sticks a fork in it:
STOP PICKING ON LITTLE GIRLS
Australia is better than how these girls have been treated.
STOP PICKING ON LITTLE GIRLS
I'll take the two kids celebrating Aust Day over the angry aggressive thugs any day.
Hundreds of people give money to fund an advertising campaign featuring two girls in hijabs, after an Australia Day billboard which used their photo was taken down…   ABC.NET.AU
.
Veiszadeh is jubilant. Go to her twitter page. She is busy!
.
Critics of Australia Day billboard unrepentant, as families fear backlash could reach young girls
"Backlash" is the Mohammedan war cry after every terrorist attack. Curiously, no backlash ever materialises.  But the journaille immediately sides with the killers and blames infidels for planning something worse for the poor little Muslims. Disgraceful and outrageous.  Unfortunately,  this is the rinse and repeat ever since 9/11 and the 30.000 jihad attacks that followed.
THE families of two young Muslim girls who featured on an Australia Day billboard withdrawn after a hate campaign are desperately trying to preserve their anonymity, amid fears they could become targets.
The picture of the two friends was taken at Melbourne's Australia Day Festival last year and used without their prior knowledge. It was one of a series of images advertising this year's event.
It was hastily removed after an Islamophobia-fuelled social media backlash from members of far right groups, which prompted a number of threats to outdoor advertising company QMS.
The billboard was slammed as "un-Australian" by Facebook commenters, whose general consensus was that images of beaches, barbecues and beer were the only true way to reflect our sacred national day.
"Good. Should have had a BBQ at the beach scene instead. That's more Australian," said one commenter celebrating the withdrawal of the billboard.
"The problem with the billboard is it isn't representative of the Australian community," another said.
Islamophobia Register Australia founder Mariam Veiszadeh said while the image of the two girls had been widely circulated, their families were trying to keep their identities quiet, to prevent further backlash being directed their way.
"The families had not expected that their photos would up on a billboard 12 months later, nor had they anticipated such a backlash," she said.
"The girls are very conscious of what's happening and have been following the coverage.
"They couldn't quite understand why their images had been removed.
"How does one explain Islamophobia to a young Australian Muslim?"
The photo was one of several chosen to advertise this year's Australia Day Festival and to reflect the country's diversity.
Members of far right social media groups have been unrepentant in their criticism of the image, despite learning it was two young girls, not two women, who featured in the billboard.
"Good riddance to that horrible sign," one woman posted on a Facebook post celebrating its removal.
"Those hijabs are offensive to me because of what they stand for."
"They deserve abuse & threats," wrote another.
"I hope it was directed at the incompetent idiot scum bag who designed this absolute lie and insult to real Australian's (sic)."
"Good, should have never been put up there in the first place, it doesn't represent Australia Day or Australia in the slightest. In a way it was advertising a religion and religion has nothing to do with Australia Day," said another commenter.
But while the far right groups were celebrating their victory, others were calling for the billboard to be reinstated.
A crowd-funding campaign raising funds to employ another media company to reinstall the sign attracted a remarkable sum of more than $21,000 in just four hours.
Campaign co-ordinator Dee Madigan said she "just wanted to see these two Australian girls put back up on a billboard about Australia Day".
"The same groups who complain 'Muslims don't assimilate', complained about the photo OF AUSTRALIAN MUSLIMS CELEBRATING AUSTRALIA DAY," she wrote.
"And due to this pressure the billboard was removed.
"If you or your business thinks this is not OK, please help us fund a billboard and print campaign featuring these two girls promoting Australia Day."
A group based in the City of Casey, the municipal area where the billboard was placed, has started an online petition to have the image reinstated.
It has attracted more than 4000 signatures in less than 24 hours.
"Muslims are Australians too! We demand the reinstatement of the Cranbourne billboard featuring two girls wearing hijabs," the petition states.
"In removing the billboard, QMS has allowed right wing extremists to dictate what and who is Australian.
"Cranbourne is a suburb in the City of Casey, in Melbourne's outer southeast. Just like the rest of Casey, Cranbourne is a proud multicultural suburb.
"We will not stand by while our Muslim friends, neighbours and workmates are denied their legitimate place in our society, including on its billboards!"
Media company QMS removed the image, apparently after receiving threats to do so.
Politicians including Greens senators Richard Di Natale and Sarah Hanson-Young and Labor's Sam Dastyari also condemned the social media backlash.