Starbucks Tells U.S. Veterans Why Company Will Hire Refugees Instead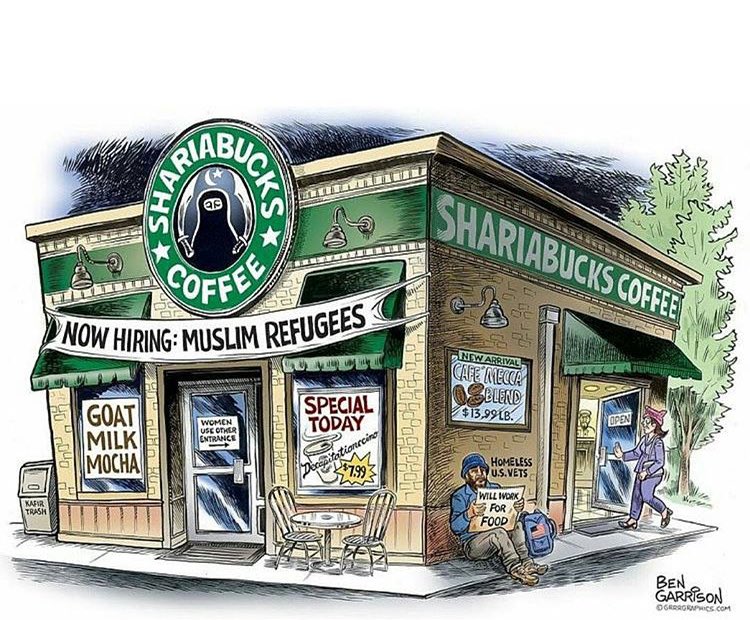 On the heels of a statement by coffee giant Starbucks that it intended to hire "10,000 refugees" instead of America's out of work veterans, the company issued a second statement to explain to veterans that the company doesn't actually hate them.
Starbucks made its pledge to hire 10,000 refugees as a politicized response to President Donald Trump's temporary moratorium on travel from a small list of terror-torn nations.
The move immediately sparked a #BoycottStarbucks movement, as critics of the liberal coffee house deluged social media with complaints. Many wondered why the company has refused to hire 10,000 military veterans if they had so many job openings ready to fill with foreigners.
Now the company is apologizing to veterans and making an attempt to "set the record straight" and explain away its newest refugee policy.
In its latest explanation from The Men and Women of Starbucks Armed Forces Network (AFN), the company claimed it has "hired over 8,800 veterans and spouses and counting" and insisted that the company's CEO, Howard Schultz, was the main backer of that program.
The statement goes on to express how shocked it was that so many were accusing the company of ignoring veterans in its politicized push to hire "10,000 refugees."
"We respect honest debate and the freedom of expression. Many of us served to protect that very right. Some of our brothers and sisters died protecting it," the statement reads. "But to those who would suggest Starbucks is not committed to hiring veterans, we are here to say: check your facts, Starbucks is already there."
The open letter ended pleading for military veterans to return as customers and praising their service.
This isn't the first time the coffee seller has had to scramble to apologize to veterans. In November of 2015, the company put out a press release offering veterans new perks after many felt the company had tuned its back on America's vets.
In its press release announcing that new veterans policy, the company then pledged to hire more former members of the U.S. military.
Islamic Advocates Celebrate Uber Quitting White House Panel Over Immigration Reform