Protecting Islam at what a cost?
As muslims chop off girls clitoris across Europe the EU revokes Marine Le Pen's immunity for showing isis killings.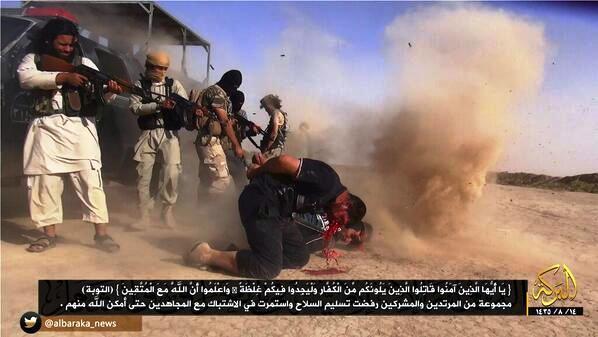 Here you can see how a law against Islamic terror propaganda is being perverted to go after a  politician who threatens to take real action against the global jihad.
Here's some inside info:
In France, the Socialist Party faces irreparable defeat, and the virulent racism of the anti-racists becomes undeniable. The absentee government of Hollande has proven itself to be a good thing, at least as far as providing ample evidence of the morally corrupt State is concerned. If the election were held tomorrow, Marine would win, because the others have proven themselves to be at best chameleons, pathetically groveling for votes, when they are not blatantly dangerous to the survival of the country and its people. If Marine does win you can be sure there will be violence in the streets, since it has been promised by Muslim activists and their multiculturalist allies in the French media/government. 
MEPs revoke Marine Le Pen's immunity over violent Isis images
Committee waives protection, paving way for French prosecution of Front National leader after she tweeted pictures of killings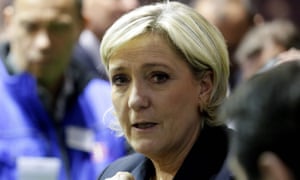 MEPs have voted to lift Marine Le Pen's parliamentary immunity to allow French prosecutors to take legal action against the far-right leader for tweeting gruesome images of killings by Islamic State militants.
Members of the European parliament's legal affairs committee voted on Tuesday by an overwhelming majority to waive Le Pen's immunity, after a request from the prosecutor of Nanterre in west Paris.
The prosecutor opened an inquiry under a French law banning the distribution of violent images or those inciting terrorism.
The Front National leader, an MEP since 2004, tweeted three uncensored pictures of Isis killings in December 2015, after a spat with a journalist who had compared the FN to Isis, known by the Arabic acronym, Daesh.
"Daesh is THIS!" Le Pen said in angry tweets showing the killings, posts that drew revulsion and criticism from bereaved families and French politicians across the political spectrum.
The decision to end Le Pen's immunity has still to be confirmed by MEPs at a European parliament plenary session on Thursday, but this is seen as a formality after the approval of the specialist committee.
On the legal affairs committee, 18 MEPs voted to lift immunity, three opposed and no one abstained.
Under French law, the maximum penalty for distributing violent images is three years in prison and a fine of up to €75,000 (£64,000).
The case is not expected to be concluded until long after the French presidential elections, in which Le Pen is expected to be in the runoff.
Tuesday's vote was unrelated to a separate investigation into her alleged misuse of EU funds.
The European parliament and French authorities have launched inquiries after allegations that FN workers had "fake jobs" paid from EU funds. French police raided FN headquarters at Nanterre last week.
MEPs enjoy immunity to protect their freedom of speech, but the right is linked to their work in the European parliament and can be lifted after a request from a national authority.
European parliament sources state that lifting immunity is not a guilty verdict but simply allows prosecutors to act.
Immunity for MEPs is also tied to the parliamentary privilege that protects national deputies.
British MPs and MEPs enjoy a narrower immunity: they can speak freely in parliament without worrying about criminal charges or libel laws, but do not have the broad protection enjoyed by politicians in other EU countries.
Ukip's Jane Collins discovered the limits of parliamentary privilege last year, when her plea to the European parliament for immunity in a slander and libel case was turned down.
The MEP for Yorkshire and the Humber was ordered to pay £355,000 in damages and courts costs earlier this month, after alleging that three Labour MPs knew about child abuse in Rotherham but had done nothing.
Refusing to withdraw her comments, Collins had turned to the European parliament in the hope of protection from the high court.
Her request for immunity was turned down in October, because MEPs deemed her remarks to be related to national politics, rather than her role in Brussels and Strasbourg.