Only Muslims are 'humans', Islam 101. Readers of this blog have seen Islamic supremacist attitudes documented  like this many times.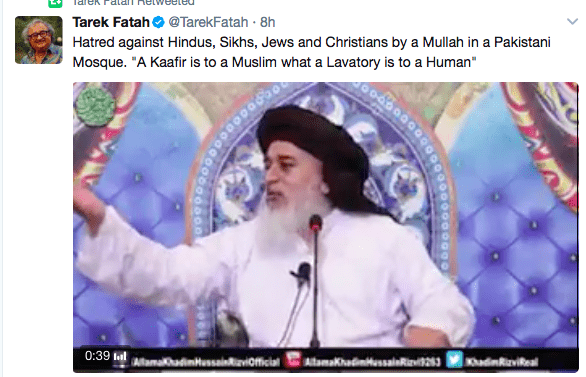 "We cannot coexist"
Funny that. They know, and they are quite upfront about it. But we are not supposed to say or do anything about it.
.
EGYPTIAN ISLAMIST IN EXILE WAGDI GHONEIM: CHURCHES ATTACKED BECAUSE COPTIC "CRUSADERS" SUPPORTED "DESPICABLE-SISI"
Turkey-based Egyptian Islamist Sheikh Wagdi Ghoneim said that the April 9 bombings in the Coptic churches in Tanta and Alexandria were Allah's punishment because "the Crusaders in Egypt supported Despicable-Sisi," whom he called "that worn-out shoe on Trump's foot." The video was posted on Sheikh Ghoneim's YouTube channel a day after the bombings.   Wagdi Ghoneim: "This is my commentary on the bombing of the two churches in Egypt, in Tanta and in Alexandria.   […]   "My commentary is bas…View Transcript Page
Has Pope Francis lost his moral compass?
I don't think he ever had one….
Pope Francis has compared conditions in overcrowded facilities, used to house asylum seekers, to those that were in concentration camps of the Nazi German era. He reprimanded Europe for turning back on the plight of migrants by sealing borders with a refugee deal.
The Pope was leading a prayer service for martyrs who fell victim to Nazism, terrorism and totalitarian regimes across the world, when he shared athe story of a Muslim refugee from a Middle Eastern country he met during a visit to a detention camp in Lesbos last year.
The man said his Christian wife suffered for her faith, as the terrorists slit her throat after she refused to throw her crucifix on the floor.
The asylum seeker and his three children were forced to flee the village and eventually made it to the Greek island of Lesbos, where they were resettled to a prison-like detention facility, visited by the Pope.–RT.COM
Calling the slain woman "another crown" among the modern martyrs, Francis used the occasion to decry the squalid conditions in migrant reception centers where people fleeing persecution and war found themselves to be locked and waiting for months while their applications are being processed by overstretched officials.
"I don't know if he managed to leave that concentration camp, because refugee camps, many of them, are of concentration [type] because of the great number of people left there inside them," the Pope said, as he was delivering a Liturgy of the World from the Basilica of St. Bartholomew in Rome on Saturday.
The remark has promptly drawn criticism from the American Jewish Committee (ACJ), one of the leading Jewish advocacy organization in the world, with its head, David Harris, urging the Pope to "reconsider" what he described as a "regrettable choice of words."
While saying that awareness should be raised about the difficulties migrants face in Europe, he argued that likening the shelters they live in to concentration camp is an unwarranted exaggeration.
"The Nazis and their allies erected and used concentration camps for slave labor and the extermination of millions of people during World War II. There is no comparison to the magnitude of that tragedy," he said, as cited by Reuters.
While the Pope's comparison of Greek refugee facilities to concentration camps may seem to be a stretch, it is not the first time such allusions have been used. The now-closed Idomeni camp that housed 8,000 people in a Greek village on the northern border with Macedonia, was once labeled a "modern Dachau" by Greek Interior Minister Panagiotis Kouroumplis.
READ MORE: 'Give Rome back to Romans': Far-right rally blasts EU 'tyranny' ahead of union celebrations (VIDEO)
Following his trip to Lesbos in April last year, the Pope took twelve Syrian asylum seekers, including six children, back to Rome. The symbolic gesture, which, he argued, was of a purely humanitarian nature and did not carry any political subtext came just a month after a breakthrough migrant deal was reached between Turkey and the EU.
The deal, which was highly praised at the time, made it far more difficult for Syrian refugees, stuck in migrant camps at Greek detention centers, to cross into mainland Europe, as Turkey pledged to take back all the rejected asylum applicants that came to Greece from Turkey in return for multi-billion aid, visa-free travel for Turkish citizens in the Schengen area and acceleration of Turkey's EU accession talks.
The Pope also appeared to take aim at the deal, arguing that its implementation has resulted in disregard to humanitarian principles, saying "it seems international agreements are more important than human rights."
.
Encouraging Europe and Italy, in particular, to welcome more refugees instead of devising new means of how to obstruct their arrival, the Pope argued that Italy is nearing its demise by rejecting asylum applicants given the country's low birth rate.
"We live in a civilization that is not having children, but also closes its door to migrants: this is called suicide,"he said.
Pope Francis, who is known as an outspoken advocate for refugee rights, has on numerous occasions spoken about the duty of the European nations to provide "a responsible and dignified welcome" to those escaping hardships of war and persecution, while berating the populist anti-refugee rhetoric that is gaining foothold in Europe.
"Europe finds new hope when she refuses to yield to fear or close herself off in false forms of security. Quite the contrary, her history has been greatly determined by encounters with other peoples and cultures; hers is, and always has been, a dynamic and multicultural identity," the pontiff said in March, addressing the heads of 27 EU member states as they were celebrating the 50th anniversary of the 1957 Treaty of Rome.