Zanetti nails it.
Australian taxpayers should not have to fund the lifestyle of this obnoxious dawa clown. Tell ABC chairman Justin Milne to cut her off: http://www.abc.net.au/contact/complain.htm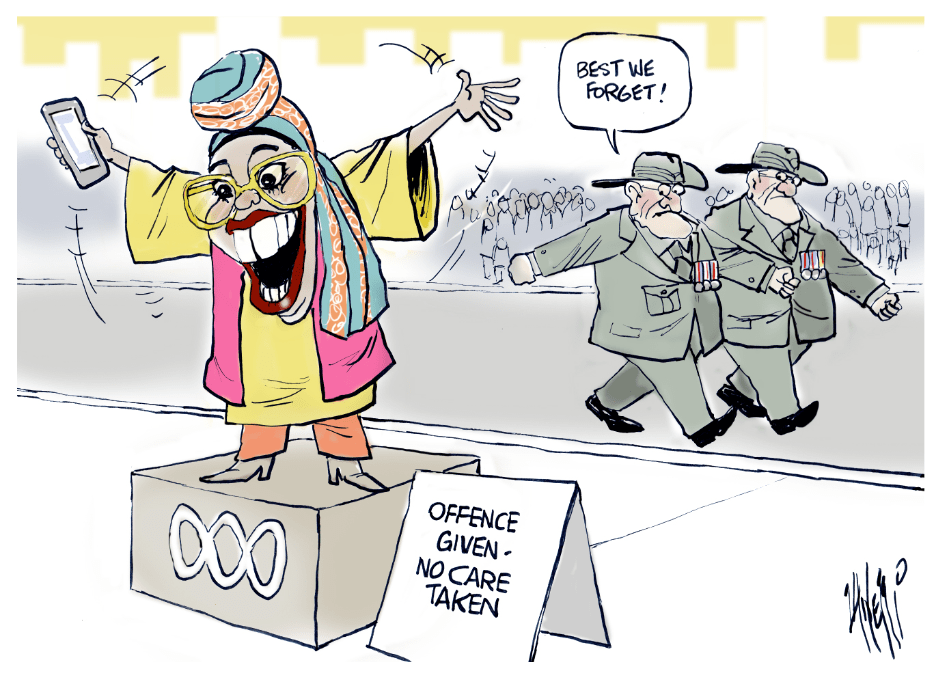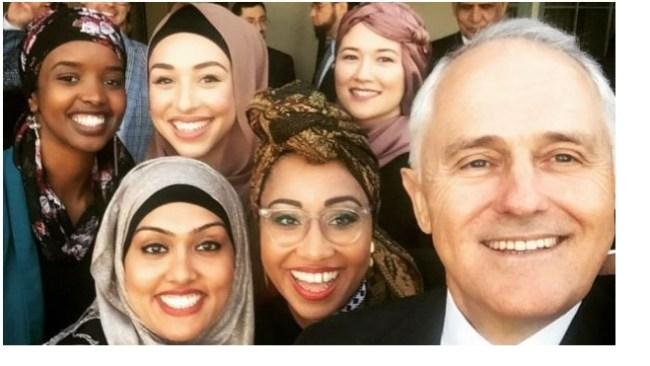 Malcolm Turnbull's selfie with Yassmin Abdel-Magied (centre).
Yassmin Abdel-Magied is the pet Muslim of politicians trying to show their own tolerance and to sell Islam. Prime Minister Malcolm Turnbull, for instance, has her on the Council for Australian-Arab Relations and had her on his top table at his Iftar dinner, where he took this selfie with her.
But now Abdel-Magied's defenders show their ignorance of what free speech means in the uproar of this Facebook posting on Anzac Day:
Here is Greens deputy leader Scott Ludlam demonstrating his cluelessness about free speech, confusing debate with censorship:

 Memo to Ludlum conservatives are attacking Abdel-Magied's Anzac Day comment but not using the law to have it banned. The first is using our free speech to criticise hers. It's called debate.
The second option – seeking to have comments banned by law – is the Left's favored tactic to ban debate. And that's the true sin against free speech.
No conservative I know is trying to have Abdel-Magied taken to court or the Human Rights Commission.
The only question that comes close to an infringement of her free speech is whether she really should keep her job as presenter at the ABC.
But the issue there is really whether using taxpayers' money to employ her (given not just her views but her rank inexperience) is actually a misuse of that funding. There could be no objection to having a private media outlet employ her, which is why no one says the media supporters sharing her views should also be sacked from the privately-owned media outlets that employ them.
There's another question here: should we really also have the Turnbull Government privileging the likes of Yassmin Abdel-Magied by putting her on advisory councils and subsidising her books? Again, conservatives are not seeking to ban her views, but to withdraw our own (taxpayers') money and platforms now used to promote them.
Let her use her own cash and that of her supporters. But, again, there is no suggestion that she should actually be banned.
Ms Abdel-Magied has demonstrated that she is unfit and lacks the judgement to build stronger Australian-Arab relations and as a result her appointment [on the Council for Australian-Arab Relations] should be terminated as a matter of urgency.
Nationals leader Barnaby Joyce:
You can't just sweep it under the carpet. It starts to become a sense that the culture of the ABC in some instances is at odds with the culture of Australia … you can't just have one of your paid presenters making a statement like that.
The ABC is supposed to ­support Australia, it's supposed to support Australian values and there's nothing more Australian, nothing more sacred, than the commemoration of Anzac Day. You've got to join Team ­Australia, you've got to accept our core culture, you've got to accept our fundamental values, and this idea that Anzac Day should be turned into some kind of crass political stunt is just appalling.
Think of how Foreign Minister Julie Bishop has promoted Abdel-Magied, with her department subsidising Abdel-Magied's book tour and appointing her to the Council for Australian-Arab Relations. And then this:
The Australian Women's Weekly remained silent on whether Abdel-Magied would still join the Foreign Minister and Lucy Turnbull on a high-profile panel judging its "women of the future".