Will we send cruise missiles into Islamic State bases in Egypt? No, that wasn't on Obama's to-do list, which is apparently guiding Trump's foreign policy at this point. The U.S. Embassy issued the usual pro forma condemnation, which accomplishes nothing except manifest the virtue of the one issuing it. Genuine action against those Muslim groups that have decimated the Christian populations of the Middle East is unlikely to be forthcoming. (RS)
Update: Death toll now up to 28
At least 13 people have been killed in an explosion at a church in northern Egypt, state media say.
The blast targeted St George's Coptic church in the city of Tanta in the Nile Delta.
A number of television channels said at least 40 people had been injured in the Palm Sunday attack.
The cause of the explosion is not yet known but Egypt's Christian minority has often been targeted by Islamist militants in recent years.
Provincial governor Ahmad Deif told the state-run Nile channel: "Either a bomb was planted or someone blew himself up."
A search is under way for any more explosives which could be in the vicinity.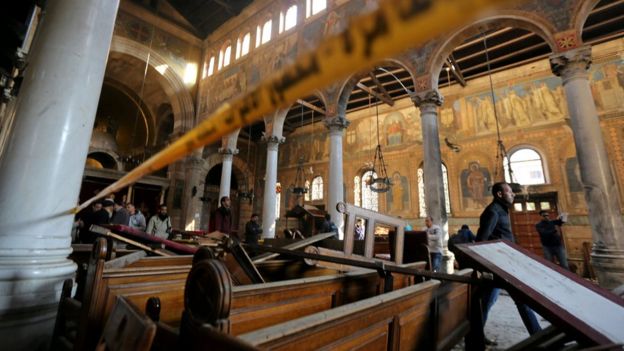 Image captionCairo's Coptic Cathedral was damaged by an explosion in December
Violence against Coptic Christians has risen in recent years, especially since 2013, when the military overthrew the elected president and launched a crackdown against Islamists.
Some supporters of ousted President Mohammed Morsi, who hailed from the Muslim Brotherhood, blamed Christians for supporting the overthrow.
In December last year, 25 people died when a bomb exploded at the Coptic cathedral in Cairo during a service.
And in February, militants from the Islamic State group warned of more attacks against Copts, who make up about 10% of Egypt's population.
The explosion occurred as Coptic Christians were celebrating Palm Sunday, one of the holiest days in the Christian calendar, marking the triumphal entry of Jesus Christ into Jerusalem.
On 1 April, an explosion outside a police training centre in Tanta injured 16 people.
---
What is the Coptic Christian faith?
The Coptic Orthodox Church is the main Christian Church in Egypt. While most Copts live in Egypt, the Church has about a million members outside the country.
Copts believe that their Church dates back to around 50 AD, when the Apostle Mark is said to have visited Egypt. Mark is regarded as the first Pope of Alexandria – the head of their church.
This makes it one of the earliest Christian groups outside the Holy Land.
The Church separated from other Christian denominations at the Council of Chalcedon (451 AD) in a dispute over the human and divine nature of Jesus Christ.
The early Church suffered persecution under the Roman Empire, and there were intermittent persecutions after Egypt became a Muslim country. Many believe that continues to this day.