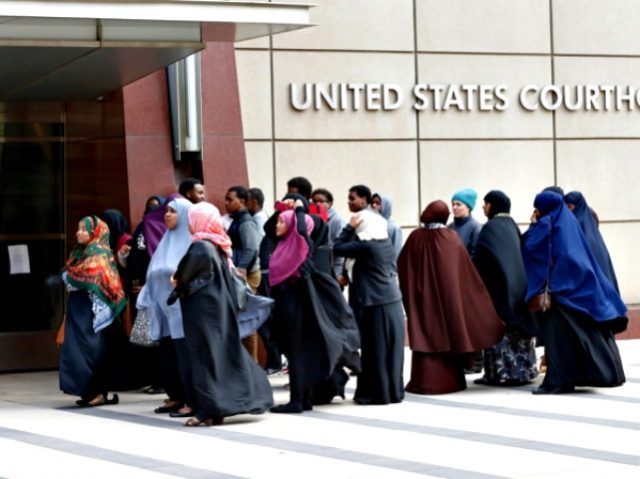 No idea how they're going to do that, but why are these savages in the U.S.? They clearly have no intention to ever become Americans.
Sweden:  

Swedish Muslim Association Risks Losing State Funding Over Misogyny
The Muslim Association of Sweden (SFM) may lose state support for inviting lecturers whose controversial statements could be interpreted as the promotion of misogyny. For instance, SFM speakers taught that women were not allowed to go out without permission, wear perfume or show skin. The SFM retorted that its own board includes women.
Earlier, the Swedish tabloid newspaper Aftonbladet revealed that a lecturer invited by the SFM taught that women were not allowed to leave home without the permission of their husbands, as well as they must not use perfume, show skin or wear colored dresses. In another lecture, an imam said that 12-year-old girls who do not cover themselves end up in hell.
These controversial, to say the least, statements, which were perpetuated in a later-removed video on the SFM's own YouTube channel and Facebook page, triggered a massive outcry in Swedish media and even provoked a condemnation from Prime Minister Stefan Löfven.
​"These statements are absurd. We are in Sweden, and here equality reigns. We may have reached perfect equality, but this should anyway be an equal country. Therefore, no man should tell any woman how she should dress or whether she may go out or not. This is completely absurd. This is not acceptable," Stefan Löfven was quoted as saying.
© REUTERS/ ZOHRA BENSEMRA
.
The SFM responded with a statement, stressing the role of women in the association, including female board members.
"The SFM has women on its board, arranges sister meetings and women's activities. The SFM also has many years of experience of having female employees in its projects and in its activities," the SFM said in a statement, venturing that its members are subjected to a "classic guilt-by-association scheme," which they claimed only applied to Muslims.
However, the public disapproval may result in the loss of state funding, which may prove detrimental for the Gothenburg-based nonprofit organization. In 2016, the SFM was handed a public subsidy of 535,200 SEK ($60,000) in addition to 150,000 SEK ($17,000) received from the city of Gothenburg. The National Agency for Youth and Civil Society (MUCF), the authority that paid off the SFM's grant, recently launched an investigation of the SFM's activities.
"We take it seriously that organizations which are not working actively enough to strengthen democracy in society are funded by taxpayers," MUCF official Lotta Persson told Aftonbladet.
The SFM applied for the money "to combat Islamophobia," which it perceives as "one of the biggest problems in Sweden." This rhetoric resonated well with the Swedish government's perennial quest to eliminate all kinds of discrimination in the Nordic country, which sees itself as champion of equality.
However, the SFM landed subsequently landed in hot water as it turned out that one of its hired speakers was none other than Sweden's arguably best-known jihadist Michael Skråmo, who repeatedly called on his fellow Muslims to join Daesh (ISIS/ISIL) and bomb their workplaces. Gothenburg native Skråmo converted to Islam, changed his name to Abdul Samad al Swedi and moved to Syria with his family.
​Terror researcher Magnus Ranstorp of the National Defense College previously voiced his surprise that the SFM had been awarded state grants.
"I see lots of question marks. We're talking about a group that invited hate preachers, whose Salafist orientation is in many ways the opposite of tolerance," Mangnus Ranstorp told the Swedish magazine Inblick.
The Muslim Association of Sweden is Sweden's largest Muslim organization, representing around 70,000 believers.