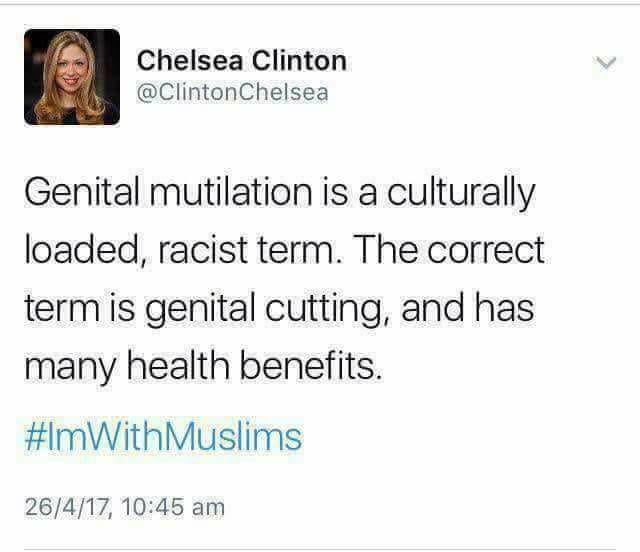 Michigan: Examinations reveal that Muslim doctor's claim she didn't perform female genital mutilation is false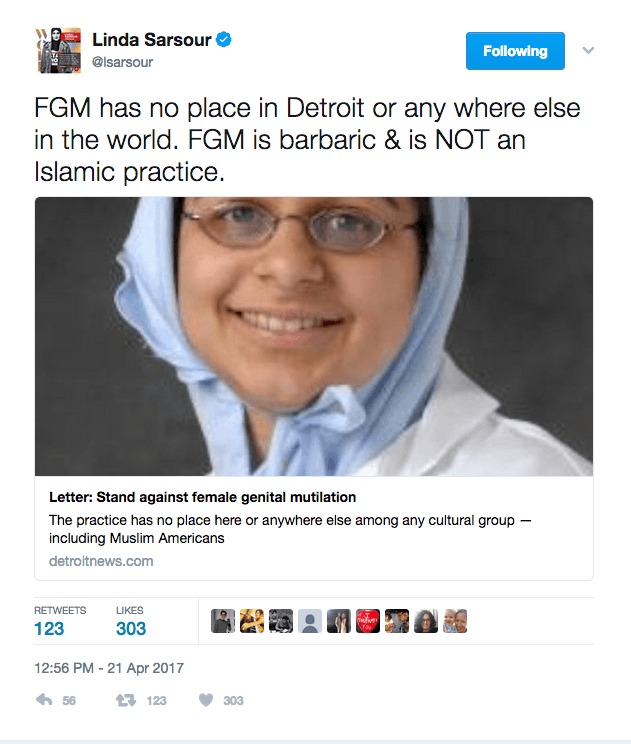 Robert Spencer
"The girls' parents have not been charged." Why not? Obviously they wanted this done to their girls. Jumana Nagarwala didn't steal into their homes in the dark of night and perform this barbaric procedure of her own accord. "Report: Girl's genital mutilation injury worse than doctor claims," by Tresa Baldas, Detroit Free Press
Michigan: Lawyer says doctors accused of FGM are "Muslims and they're being under attack because of it"
Dr. Attar's attorney Mary Chartier said: "I do believe that the government does not fully understand the religious practices of Dr. Attar and Dr. Attar's religion, and I think that's why we are in this courthouse today, and what we'll be fighting over for the next few months."
Indeed: the government is likely clueless as to the Islamic justifications for female genital mutilation. Chartier is getting right to the heart of the matter: apparently she intends to argue that female genital mutilation (contrary to constantly repeated establishment media myth) is justified in Islam, and that therefore Dr. Attar was just exercising his freedom of religion. If that is really what she intends to do, this will become a test case for the spread of Sharia practices in the U.S.: either Muslims will be allowed to violate existing U.S. laws under the rubric of the freedom of religion, or they will be called upon to obey U.S. laws even when those laws conflict with the teachings of Islam. If the court rules for the latter, the U.S. will have a chance to continue to exist as a free society. If the court rules for the former, it will be opening the door to all manner of jihad activity and Sharia practices that violate laws regarding equality of rights and equality of access to services, and no one will be able to say a word against the spread of Sharia in the U.S.
"They have a religious belief to practice their religion. And they are Muslims and they're being under attack because of it. I believe that they are being persecuted because of their religious beliefs and I do not make that allegation lightly," Chartier said….
No, they're "being under attack" for mutilating girls' genitals. But Chartier is right: female genital mutilation is indeed sanctioned in Islam. "Circumcision is obligatory (for every male and female) (by cutting off the piece of skin on the glans of the penis of the male, but circumcision of the female is by cutting out the bazr 'clitoris' [this is called khufaadh 'female circumcision'])." — 'Umdat al-Salik e4.3, translated by Mark Durie, The Third Choice, p. 64
Why is it obligatory? Because Muhammad is held to have said so: "Abu al- Malih ibn Usama's father relates that the Prophet said: 'Circumcision is a law for men and a preservation of honour for women.'" — Ahmad Ibn Hanbal 5:75
"Narrated Umm Atiyyah al-Ansariyyah: A woman used to perform circumcision in Medina. The Prophet (peace be upon him) said to her: 'Do not cut severely as that is better for a woman and more desirable for a husband.'" — Abu Dawud 41:5251
"Do not cut severely," but not "Do not cut."
That's why it is so common around the world. A Muslim cleric in Russia said that "all women should be circumcised." A Muslim cleric in India likewise urged that it be done. A Muslim cleric in Australia said that Islamic law permitted the practice. A leading U.S. Muslim jurist from the Assembly of Muslim Jurists of America (AMJA) said it was an "honor" in Islam. A marabout — a Muslim holy man — was arrested in France for having it done on his daughters. In the UK, there were 5,500 cases of FGM in 2016 alone. It is commonly claimed to be an East African problem, but 93% of Muslim women in Malaysia have suffered this procedure, and it is common in Indonesia. In one province in Iran, 60% of the women have suffered FGM.
It is certain to become increasingly common in the United States. And if Mary Chartier succeeds, it will become legal, as a matter of freedom of religion. This case bears close watching.
"Prosecutor: 'Brutal' genital mutilation won't be tolerated in US," by Mayra Cuevas and Sonia Moghe, CNN, April 26, 2017 (thanks to Charles):
(CNN)Two Michigan doctors and a medical office manager were indicted Wednesday by a Detroit grand jury in the first federal female genital mutilation case in the United States.
Detroit emergency room physician Dr. Jumana Nagarwala, internal medicine physician Dr. Fakhruddin Attar and his wife, Farida Attar, face one count of conspiracy to commit female genital mutilation, two counts of female genital mutilation and one count of conspiracy to obstruct an official proceeding.
Doctors Nagarwala, 44, and Attar, 53, also face one count of conspiracy to transport a minor with intent to engage in criminal sexual activity — a charge that carries a potential sentence of up to life in prison.
Both doctors also face one count each of making a false statement to a federal officer.
"Female Genital Mutilation has serious implications for the health and well-being of girls and women," said Daniel Lemisch, acting US Attorney for the Eastern District of Michigan.
"This brutal practice is conducted on girls for one reason, to control them as women. FGM will not be tolerated in the United States," the prosecutor said in a statement. "The federal government is continuing this investigation to ensure those responsible are brought to justice."
The defendants have not entered pleas, but attorneys for all three argue their clients are not guilty of all charges.
According to the indictment and a criminal complaint filed against Nagarwala, the investigation into Nagarwala and the Attars dates back to October of 2016. The FBI had received information that the banned procedure was being performed at the Attar's medical office in Livonia, Michigan, west of Detroit. Court documents do not indicate the source of the information.
Investigators saw two 7-year-old girls and their mothers arrive at the Burhani Medical Clinic, which Attar owns, after having traveled from Minnesota. Attar, his wife and Nagarwala were already inside.
Investigators said interviews with the girls and medical exams conducted after the visit to the clinic, revealed both girls had been victims of female genital mutilation — a painful surgical procedure to remove part of the clitoris or clitoral hood to suppress female sexuality.
Both girls, their parents and the three defendants are members of the Dawoodi Bohra Islamic sect, according to the criminal complaint.
According to the indictment:
— The three defendants had conspired to perform the procedure on girls under 18 years of age since 2005.
— Attar allowed Nagarwala to perform the procedure at his clinic after it was closed for the day. He was present at the clinic during the procedure, while his wife, Farida, assisted Nagarwala in the examination room.
— Attar and Nagarwala agreed to make false statements to law enforcement regarding whether the procedure took place.
— The three defendants told others not to speak about the procedure and to lie to federal investigators about the procedure.
— Attar and Nagarwala took steps to delete evidence.
— Nagarwala told investigators she had never been present or had knowledge that this procedure was being performed on children.
— Attar told investigators this procedure had not taken place at his clinic.
Attorney: Procedure is 'religious practice'
The Attars were scheduled to be in court Wednesday for a detention hearing, but after the indictment was released that hearing was postponed until May 3.
Dr. Attar's attorney Mary Chartier, who spoke to reporters after Wednesday's initial appearance, said her client is "not aware of any crimes committed at his clinic" and that "what happened at the clinic was not FGM."
"He was aware that Dr. Nagarwala used the clinic. He offered that to her and let her do that," Chartier said. Chartier said that Attar was never present in the examination room and that he never "met these girls."
Chartier said that at the heart of her client's defense is a misunderstanding over his religious practice. When asked to clarify what that practice was, she did not respond.
"I do believe that the government does not fully understand the religious practices of Dr. Attar and Dr. Attar's religion, and I think that's why we are in this courthouse today, and what we'll be fighting over for the next few months," Chartier said.
"They have a religious belief to practice their religion. And they are Muslims and they're being under attack because of it. I believe that they are being persecuted because of their religious beliefs and I do not make that allegation lightly," Chartier said….