Update:
Huge car bomb near German embassy in Kabul, scores killed
Kabul: The Australian Embassy in Kabul was put into lockdown after a powerful car bomb exploded in the centre of Afghanistan's capital. The blast sent clouds of black smoke spiralling over the centre of the city in an area near the presidential palace and foreign embassies, police said
At least 80 people were killed and 305 injured in the blast near the fortified entrance to the German embassy on Wednesday, a health official said.
Earlier reports:
Kabul bomb blast: Nine  20 dead, scores injured after explosion near embassies in Afghan capital
A powerful car bomb has exploded in the centre of Afghanistan's capital, sending clouds of black smoke spiralling over the centre of the city in an area near the presidential palace and foreign embassies.
More below the fold….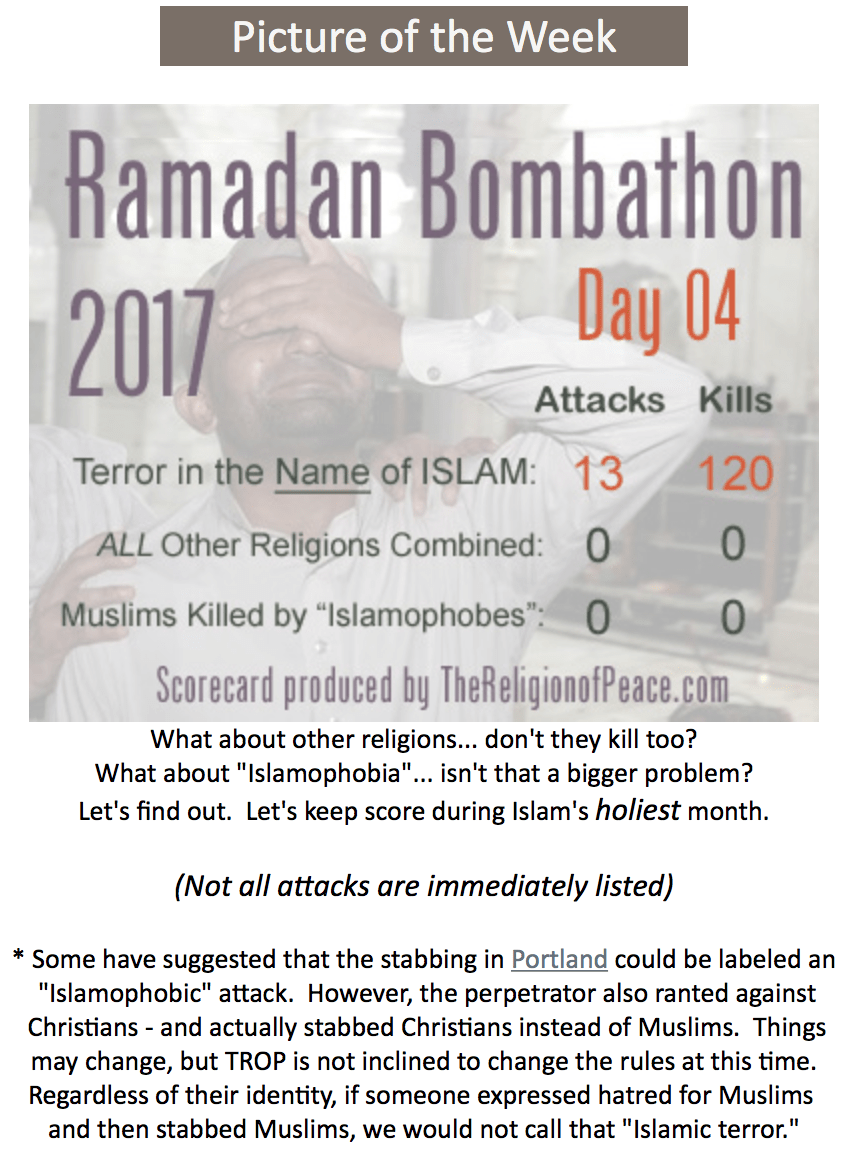 Related:
Afghanistan attack: At least 18 dead in suicide bombing on first day of Ramadan
No group has immediately claimed responsibility, but Taliban insurgents have stepped up attacks in the past month
.
Oh it's going to be a lovely Ramadan. Fox News: The death toll of a deadly nighttime bombing outside a popular ice cream shop in central Baghdad has risen to 31 as ISIS militants claimed responsibility.   Iraqi officials said families with children were enjoying a late-night snack after breaking
…Read More…
 .
Straight talking from Jennifer Oriel in The Australian.  Read it all.  Britain has been invaded. Whitehall has revealed that there are 23,000 suspected terrorists inside the UK. What it didn't say is that the British army reserve has just 29,940 active personnel. The ­implications are clear, but
…Read More…
 .
Morrissey, in a blazing FB post, and Janet Albrechtsen, in a blazing column at "The Australian" that has garnered over 1000 comments.. and counting. Both are worth reproducing, that they may be spread abroad. Morrissey, first.  On 23 May, the day after a Muslim human bomb detonated himself amongst
…Read More…
.
Three Muslim men were yesterday accused of plotting a deadly copycat terror attack on Westminster. The trio were allegedly secretly recorded discussing using explosives, guns, knives and vehicles for 'mass murder'. They are suspected of targeting key sites across London including
…Read More…From the Daily Mail
.
 The Manchester suicide bomber used taxpayer-funded student loans and benefits to bankroll the terror plot, police believe. Salman Abedi is understood to have received thousands of pounds in state funding in the run up to Monday's atrocity even while he was overseas receiving
…Read More…From The Telegraph
.
On Tuesday they couldn't praise Papa Abedi enough (lovely man, lovely voice, and the boy was so quiet and respectful and devout). But now the information about the family jihad cell and the network is coming out… From the Guardian and the Independent A mosque attended by Salman Abedi and members
…Read More…
Continued:
A spokesman for Afghanistan's health ministry said the blast had killed nine people and wounded 92 others.
The Secretary of the Department of Foreign Affairs and Trade, Frances Adamson, has told a Senate hearing that all of Australia's diplomatic staff in Kabul were "safe and had been accounted for".
"Our embassy is in lockdown," Ms Adamson said.
A Kabul police spokesman said several people were killed and wounded near the fortified entrance to the German embassy.
"It was a car bomb near the German embassy, but there are several other important compounds and offices near there too. It is hard to say what the exact target is," Mr Mujahid said.
The explosion shattered windows and blew doors off their hinges in houses hundreds of metres away.
There was no immediate claim of responsibility for the blast.
A spokesman for Taliban insurgents said he was gathering information.
The blast comes one day after a car bombing outside an ice-cream parlour in the Iraqi capital Baghdad, which killed more than 20 people including a 12-year-old girl from Melbourne.
Violence around Afghanistan has been rising throughout the year, as the Taliban push to defeat the US-backed Afghan Government and reimpose Islamic law after their 2001 ouster in a Washington-backed invasion.
Since most international troops withdrew at the end of 2014, the Taliban have gained ground and now control or contest about 40 per cent of the country, according to US estimates, though President Ashraf Ghani's government holds all provincial centres.
US President Donald Trump is due to decide soon on a recommendation to send 3,000 to 5,000 more troops to bolster the small NATO training force and US counter-terrorism mission now totalling just over 10,000.
The commander of US forces in Afghanistan, General John Nicholson, told a congressional hearing earlier this year that he needed several thousand more troops to help Afghan forces break a "stalemate" with the Taliban.
ABC/Reuters