Would it surprise you if their flowers were meant for the dead terrorists?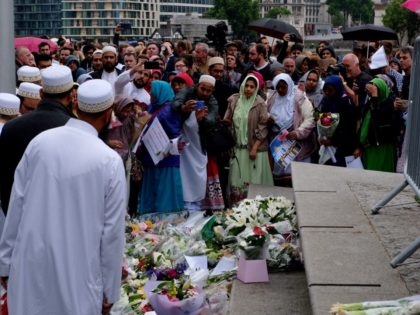 Thousands of Londoners gathered Monday in a park near London's Tower Bridge to express grief over the deaths of those killed by radical Islamic terrorists on Saturday evening.
The vigil, led by London mayor Sadiq Khan, saw a procession of Muslims given the opportunity to first, and separately, lay flowers at the scene.
While the group of men first laid flowers, other Britons and attendees were held behind barriers.
The group is believed to have been from the Bohra sect of Islam, perhaps best known for their adherence to the barbaric practice of female genital mutilation.
Mr. Khan was joined by several other major political figures including Home Secretary Amber Rudd of the Conservative Party and Labour Shadow Home Secretary Diane Abbott. Thousands of others also attended the event which started at 6pm in Potters Fields Park along the river Thames.
The Guardian reports:
More than 130 imams and Muslim religious leaders have said they will refuse to say funeral prayers for the perpetrators of Saturday's attack in London.
In a highly unusual move, Muslim religious figures from across the country and from different schools of Islam said their pain at the suffering of the victims and their families led them to refuse to perform the traditional Islamic prayer – a ritual normally performed for every Muslim regardless of their actions. They called on others to do the same.
Mayor Khan spoke at the vigil saying, "We stand together tonight to honour the memories of the innocent lives lost and the people injured in the barbaric attack on our city on Saturday night."
"London stands in defiance against this cowardly attack on our city, our people, our values and our way of life," he said adding, "as Mayor of London, I want to send a clear message to the sick and evil extremists who commit these hideous crimes. We will defeat you. You will not win."
Also in attendance were senior officials from the Metropolitan Police, British Transport Police, London Ambulance Service and London Fire Brigade.
Leaders of various faith communities took part in the vigil including the Archbishop of Canterbury Justin Welby, and others from the Jewish community and the Muslim communities.
Earlier in the day police revealed the identities of two of the attackers involved in the attack on Saturday. One of the men involved had been well known to the security services and had known links with notorious hate preacher Anjem Choudary.
The 27-year-old had even appeared in a Channel 4 documentary about radical Islamism entitled "the Jihadi's Next Door."