The Filipino police say that the perpetrator was a lone robber, not Islamic State jihadis. The Islamic State has claimed responsibility for the attack.
A Taliban spokesman recently explained: "Our fight is Jihad and an obligatory worship. And every obligatory act of worship has 70 times more reward in Ramadan."
The Islamic State no doubt believes that as well.
ISIS is opening up a third battlefront, this time in the southern Philippines
'Beyond Iraq and Syria, the Islamic State terrorises the southern Philippines…'
BEYOND Iraq and Syria, a third Islamic State battlefront has opened in the southern Philippines, bringing new conflict to the region by drawing militants from around the world to fight under the black flag of the caliphate.
At its core, the ideology of the militants does not differ from those who have fought decades-long Muslim insurgency, who operate under names such as Abu Sayyaf and more recently the Maute group.
However, their decision to rebrand to the Islamic State and move from jungle hideouts to open urban warfare is momentous.
In the last 12 days, more than 150 rebels, soldiers and citizens have been killed in Marawi City, on the major southern island of Mindanao, including eight workers who were executed, dumped off a bridge and branded "traitors" to ISIS.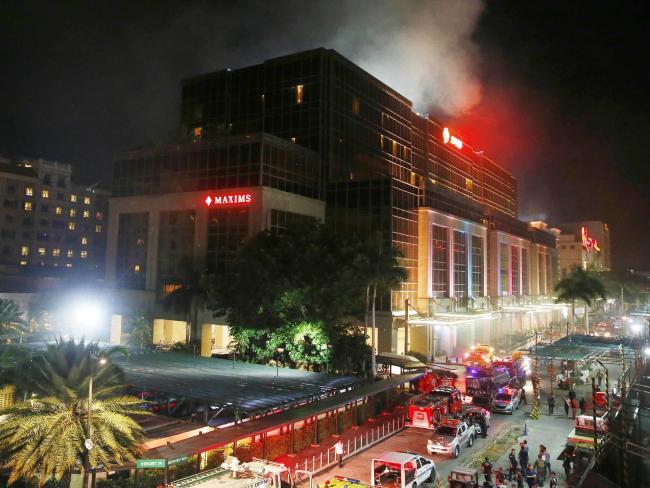 A NATION ON EDGE
The attack on a casino-resort in Manila by a masked gunman overnight on Friday was claimed by Islamic State but police said there was no evidence it was a terrorist act. It will nonetheless set the country further on edge.
President Rodrigo Duterte has declared martial law across Mindanao, a partially autonomous Muslim state. Even before the hotel attack, he was said to be considering putting the entire country under martial law, which now seems possible.
Australia is a heavy aid provider to the troubled south, recently announcing a $90m, nine-year project to educate children attending Islamic schools in an area that has become a no-go zone for foreigners.
Australian kafirs paying for Mohammedan "education". Who voted for this?
By joining forces and fighting under the name of Islamic State, the terrorists have extended an invitation to all who are fleeing Iraq and Syria, or to those in the neighbourhood who have not been able to get to the Middle East, to join them.
Philippines Solicitor General Jose Calida said the situation has changed distinctly from what previously was a bloody but mainly internal Filipino Muslim uprising.
"It has transmogrified into invasion by foreign terrorists who heeded the clarion call of the ISIS to go to the Philippines if they find difficulty in going to Iraq or Syria," he said.
SIEGE OF MARAWI
Though the Marawi City situation is being reported as "stable", vision has emerged of a Catholic priest, Teresito Suganob, pleading with Duterte to stop its assaults on the city. He is said to be held with around 200 parishioners.
"We are asking for your help to please give what they are asking for," Suganob said in a video message. "To withdraw forces away from Lanao del Sur and Marawi City, and to stop the air attacks, and to stop the cannons."
Footage obtained by Al Jazeera of a small number of child soldiers fighting for the Maute group would appear to confirm the worst excesses of Islamic State in the Middle East are being adopted within the region.
The Maute group, led by two brothers who have also sworn allegiance to Islamic State, are believed responsible for last year's bombing of a market in Davao City, killing 15.
For Duterte, the former mayor of Davao, and whose son is the current mayor, this makes it personal.
RAISING THE BLACK FLAG
The siege of Marawi City, in the eastern province of Lanao del Sur, began on March 23 when the military police acted on information that Abu Sayyaf leader Isnilon Hapilon had entered the city for meetings with the leaders of the Maute group, which also goes by the name Daulah Islamiyah.
Hapilon, who now calls himself Sheik Mujahid Abu Abdullah al-Filipina after swearing allegiance to Islamic State, carries a US$5m reward on his head from the US Department of Justice, who want him for the kidnapping and execution of US nationals back in 2001.
According to some accounts, fighting broke out when military police tried to serve a warrant on Hapilon, leading to insurgents to open fire on the military and to briefly seize control of Marawi, flying black flags from buildings and vehicles.
The Armed Forces of the Philippines responded with rocket strikes, leading to the evacuation of the city of 200,000.
The rebels first started flying the Islamic State flag three years ago, at the time the Sunni militant Abū Bakr al-Baghdadi declared his caliphate. It was considered grandstanding at the time, but no longer.
GROWING TERROR
Last year, Abu Sayyaf kidnapped and executed a German hostage, followed by two Canadians this year after ransom demands were not met.
Australian Warren Rodwell, who was released from 15 months' captivity in 2013 after his family raised almost $100,000 for his ransom, was held in a time before Islamic State existed.
Rodwell told News Corp this week that he had never heard the name Isnilon Hapilon during his captivity and was held by a small criminal gang that was trying to sell him to the terror group.
"I was being onsold to Abu Sayyaf," he said. "I got moved about 28 times during my captivity." He said the ransom business had been rewarding for Abu Sayyaf.
"They've made about $16m in the last five years from kidnapping," Rodwell said.
FOREIGN FIGHTERS
The southern region has historically proved porous to incursions of fighters and arms shipments island-hopping back and forth from Indonesia and Malaysia.
After fighters from the region joined the Taliban in battling the Soviets in Afghanistan in the 80s, and continued training in camps on the Pakistan border into the 90s, many returned and settled in the jungles of Mindanao and neighbouring islands to fight with the insurrection.
From there, terror groups such as Jemaah Islamiah were able to plot and send foot soldiers forth to plot or carry out bombing attacks in the Philippines, Malaysia, Singapore and Indonesia. Some of the Afghan vets were directly involved in Bali 2002.
With a long history of Indonesians and Malaysians being embedded with the Filipino extremists, it can be expected more will join them as they unite under the international flag of terror.
This means the insurgency will no longer be viewed as a parochial and localised struggle. Those Australians who have missed making the journey to Syria and Iraq will find they have multiple coastal access points to get to the fight zone; Indonesians and Malaysians will find it especially easy.
The Institute for Policy Analysis of Conflict says Bangladeshis and Burmese are a new factor in the Philippines. Bangladeshis have long associated with South-East Asian militants and trained together on the Afghan-Pakistan border.
There are almost 56,500 Muslim Rohingya refugees in Malaysia. The Institute says that Islamic State views them as "ripe for recruitment".
As Indonesia witnesses renewed intent by terrorists, Australia knows from tragic experience that its interests in the region will be high on the extremists' target list.
Originally published as Terror of IS looms on our doorstep