'A victim of Trumpism': Victorian MP Eideh livid after being denied US entry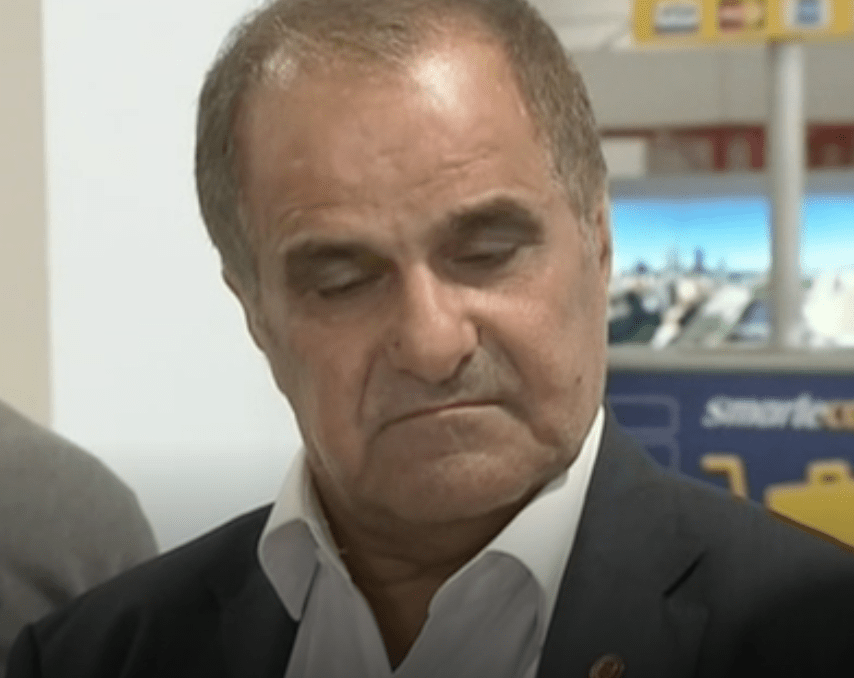 Victorian Labor MP Khalil Eideh doesn't believe his dual Syrian and Australian citizenship or his recent trips to Syria influenced a US decision to refuse him entry while on official parliamentary business.
Mr Eideh returned to Melbourne on Saturday after he was stopped from boarding a flight to the US from Canada 48 hours earlier.
"I've been discriminated against," the upper house MP told reporters at Melbourne airport.
"I'm very, very disappointed and frustrated."
WHY IS THIS MAN IN PARLIAMENT?
The question isn't why Eideh was banned from the US. It's why he wasn't banned from Victoria's Parliament.
Now:
A Lebanon-born Victorian MP who was denied entry to the United States is expected to land back in Australia on Saturday after his study trip came to an abrupt end.
Lebanon-born Khalil Eideh, who was on an official study tour with other MPs, was split from the group in Vancouver after a United Airlines staffer told him he was not allowed to board a flight to Denver.
The US Embassy wouldn't comment on the reasons behind the decision, but Mr Eideh signed a letter in 2002 professing loyalty to Syrian dictator Bashar Al-Assad.
It's understood Mr Eideh has also visited Syria, the homeland of his parents.
But I have long wondered why this man is in Parliament here.
Khalil Eideh came to Australia as a teenager in 1970, and is now the millionaire boss of Blue Star Transport and head of the Alawi Islamic Association of Victoria.
In February, Labor's national executive decided he was just what it wanted in State Parliament… But just who will he represent there: Victorian voters or the Syrian regime?
I must ask this after reading two extraordinary letters Eideh wrote to Syria, which sponsors terrorist groups, such as Islamic Jihad, and is accused by the United Nations of assassinating the former Lebanese prime minister Rafik Hariri last year.
In the first letter, sent in 2001, he introduces himself to Syrian officials as an "Arab Syrian citizen" and complains that "the Syrian influence in Melbourne, Australia, is completely absent and doesn't play any role in the Australian political arena".
He blames the then Syrian consul here and head of the Syrian Arab Association, Antonios Zaraybi, claiming the association "is weak and failing . . . in building relations with highly ranked Australian officials and leaders".
In contrast, writes Eideh, "it is through my work that I have built excellent relations with the highest-ranking Australian officials".
Indeed he has. Eideh counts as his friends Senator Kim Carr, a leader of Labor's Socialist Left, and Lindsay Tanner, a federal Labor frontbencher tipped to be the party's next deputy leader…
In his 2001 letter, Eideh writes that he lobbied Premier Steve Bracks to visit Syria, too. (Bracks in turn presented Eideh last year with an "Award for Excellence in Multicultural Affairs".)
Eideh adds that he nearly had then NSW premier Bob Carr come to one of his business functions, but was thwarted by a Lebanese-born Labor MP who, he warns, "strongly begrudge(s) the country of Syria".
This inside information seems to have pleased the Syrian regime, because a letter from Eideh the following year is addressed to the Syrian President personally.
This time he declares "the danger and threat from the Imperialist and Zionist is increasing on our Arabic world in general, and particularly on our Arab Syrian country".
He says that in such times "we owe our complete loyalty to and are working to protect Syria"…
And he finishes by telling the dictator Assad: "Loyalty, absolute loyalty to your courageous and wise leadership and we pledge to continue to be faithful soldiers behind your victorious leadership."
Eideh has told the Sunday Herald Sun these letters were indeed by him, but insisted "my first loyalty is to Australia".
He refused to take my calls yesterday, but through a mutual acquaintance told me … his tribute to the Syrian dictator was just the kind of "over-the-top" compliment common in the Middle East.
So perhaps Eideh was just paying lip service again when he gave a speech in 2002 — reprinted in a Sydney Arabic newspaper — addressed to President Assad's late father on the second anniversary of his death.
"Satan's brigades are getting ready to enslave the Arab world," he said then.
"We could see the light of your soul in the face of the martyrs, the heroes, the greatest of free Arabs — those who carry the flag of dawn from South Lebanon and Palestine." South Lebanon, of course, is controlled by the Hezbollah terror group sponsored by Syria.
This man is still in Victoria's parliament, while Senators Scott Ludlum and Larissa Waters have had to quit for unknowingly having dual nationality, and Senator Matt Canavan has resigned as Resources Minister after his mum signed him up as an Italian.
Something seems seriously askew.
Continued:
"I'm very, very disappointed and frustrated."
RELATED:
'He was completely confused': Victorian MP Khalil Eideh denied entry to US
Victorian MP Fiona Patten says the 'appalling' treatment of her colleague Khalil Eideh demands an explanation.
Mr Eideh, who was born in Lebanon to Syrian parents, was on an official study tour with other MPs when a United Airlines staffer in Vancouver told him he was not allowed to board a flight to Denver.
"There was no explanation whatsoever," he said.
"They told me 'unfortunately it's blocked, we can't let you in the plane'."
Mr Eideh said he had a visa for his US travels, and that US authorities had not raised any issues with him during the application process.
He does have family in Syria, and said he last visited the country over the Christmas break.
But he does not think US President Donald Trump's travel ban, which bars citizens of Sudan, Somalia, Iran, Yemen, Syria and Libya from travelling to the US, is behind his refused entry.
"It shouldn't. I'm not sure if that's the reason but that's unacceptable," Mr Eideh said.
"I'm representing the Australian people, the Victorian people … I was doing a job on behalf of the Victorian government."
The US Embassy is yet to comment on the reasons behind the decision, but Mr Eideh signed a letter in 2002 professing loyalty to Syrian dictator Bashar Al- Assad.
The letter, which was made public when Mr Eideh was preselected, was seeking to get the Syrian Honorary Counsel in Melbourne removed because he played a "divisive" role in the local community.
Senator Kim Carr, who met Mr Eideh at Melbourne airport, said he was "a victim of Trumpism".
"I find it an extraordinary proposition that a member of an Australian parliament, with a valid visa, travelling on an official passport, undertaking parliamentary work, can be stopped from entering the United States without
explanation," he said.
"Quite clearly Khalil has been a victim of Trumpism and what we're seeing here is the chaos that reigns in the United States."
The Labor party has asked Australia's embassy in Washington for an explanation for Mr Eideh's refusal.