At least 18 people hospitalised at the #ParsonsGreen station fire as Metropolitan Police continue investigation.
London Terror Attack: Second Bomb Found 
Update:
Brother of Parsons Green passenger hopes Islam is not blamed
The brother of a Parsons Green passenger has spoken out about the tube attack and says he hopes Islam is not blamed for attack as the faith condemns acts of terrorism and terrorism has no faith. ...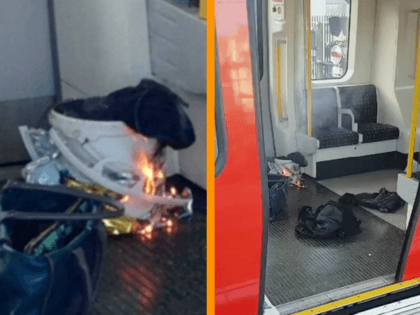 Metropolitan police confirmed that the explosion on a Parsons Green underground train is being treated as a "terror-related incident" with several burn injuries being reported by the media.
A manhunt is underway after an improvised explosive device failed to fully detonate on a London underground train, filling carriages with "acrid smoke" and injuring dozens.
Several witnesses and media have reported that passengers have suffered "facial burns" with NHS England and the Metropolitan Police confirming that 22 people are injured, mostly from flash burns, but none seriously.
The device was described as a white builders' bucket in a foil-lined bag with wires coming out of the side and fire from the top. Sources are reporting the device had a timer.
Police are currently searching for a perpetrator.
"London Tube: 'Improvised explosive device' detonated on rush hour train," by Laura Smith-Spark, Erin McLaughlin and Nina dos Santos, CNN, September 15, 2017….
Terrorism 'expert' on @SkyNews (who just happens to be a muslim) suggests that UK Foreign Policy might be at blame for #ParsonsGreen bomb
Trump's tweet on London attack draws ire from U.K. officials 
MSNBC producer offended that Trump called the terrorist a "loser".
Trump vows to phone May about the Parsons Green terror attack after she blasts his Twitter rant.
In other news:
A knife wielding (Musel-)man has attacked a French soldier outside a Metro station in Paris today while praising Allah.
Live updates below…
– 10:55 am BST: Former counter-terror chief: '100 per cent certain' incident was Islamist jihadist. –
Former counter terror chief Major General Chip Chapman told Sky News he believes that "you can almost certainly say this is in the Islamist Jihadist violence" stream of terror threats, as opposed to right wing extremism or Irish Republican dissidents.
Noting that "It seems to me this bomb at the moment malfunctioned", he drew parallels to the Boston "pressure-cooker device" used during the Boston Marathon terror attack.
Maj. Gen. Chapman said that instructions on constructing pressure cooker bombs can be found in Islamic State's Inspire magazine.
Saying he was "Absolutely 100 per cent sure" in his estimate that it was Islamist jihadist in nature, he said: "You don't have any examples of right wing extremists or Republican dissidents using these kinds of devices in confined areas."
– 10:40 am BST: Passenger describes "acrid smell", bucket device in an insulated bag, children running in panic –
A witness spoke to Sky News that an "acrid smell" passed through the train cars before mass panic and a stampede ensued leaving children travelling to school getting knocked over.
The witness described the device as a white "builder's bucket" in an insulated carrier bag with wires coming out of the side and flames out of the top.
He described the smell as chemical, rather than burning.
– 10:21 am BST: Met Police confirm – Incident being treated as a terrorist incident – 
– 10:15 am BST: Sky Sources – Incident being treated as a terror incident – 
Sky News sources are claiming the incident is now being treated as a terror incident.
– 9:56 am BST: Sky News sources say counter-terrorism are on the scene – 
Sky News reports that investigations are still being led by British Transport police but counter-terrorism police officers are on the scene.
Scotland Yard and intelligence are also monitoring.
– 9:35 am BST: Metropolitan Police confirm they are dealing with an incident at Parsons Green Station – 
London Ambulance confirms that they were called to reports of an incident at 8:20 am on Friday morning, with multiple resources sent to the scene including ambulances, hazardous areas response teams, and medics. Armed police are also on the scene.
A witness has tweeted images of a white bucket in a Lidl bag on fire, believed to be a device that may have caused the incident on the District line carriage.
– 9:25 am BST: Media reporting severe burns injuries –
The BBC is reporting from the scene that people have suffered burns, with Sophie Raworth recounting that she saw a woman taken to ambulance with burns "from top to toe". 
– 9:00 am BST: Metropolitan Police confirm they are dealing with an incident at Parsons Green Station – 
A Metropolitan Police spokesman said via Twitter: "We are aware of an incident at Parsons Green Tube station. Officers are in attendance. More info ASAP".
Richard Hall, who was on board the train, told Sky News that though he did not witness the incident, he noted a sudden mass screaming, shouting, and a crush of people who were running down the far end of Parsons Green platform. He said a woman who was also on the train told him a small bag went off in flames.
This story is developing…