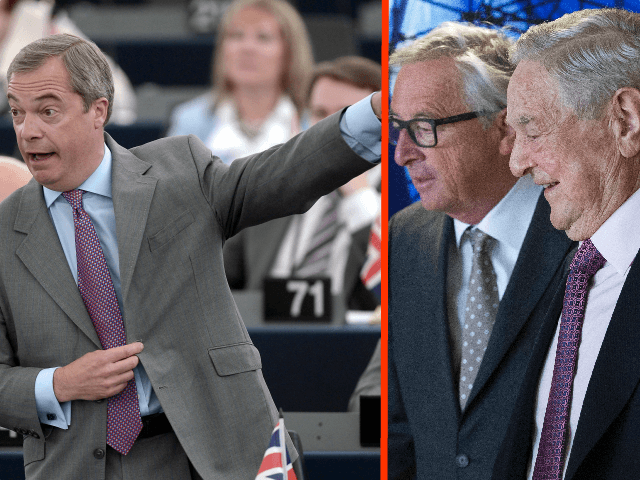 FREDERICK FLORIN/OLIVIER HOSLET/AFP/
Brexit campaign leader Nigel Farage has called out billionaire open borders campaigner George Soros and his "reliable friends" for collusion on a grand scale.
Speaking in a debate on the Paradise Papers in the European Parliament, the UKIP MEP pointed out that the financier had funded the exposé.
"I say this at a time when the use of money and the influence it may have had on the Brexit result or the Trump election has reached a level of virtual hysteria," he said.
"Just last week the Electoral Commission in the UK launched an investigation to find out whether the Leave campaign took offshore money or Russian money.
"This came about as a result of questions asked in the House of Commons by one Ben Bradshaw, somebody linked to an organisation called Open Society.
"I just wonder when we're talking about offshore money, when we're talking about political subversion, when we're talking about collusion, I wonder whether we're looking in the wrong place.
"And I say that because George Soros recently gave Open Society, his organisation, which of course campaigns for free movement of peoples and supports supranational structures like the European Union, he recently gave it 18 billion dollars.
"And his influence here, and in Brussels, is truly extraordinary."
George Soros has spent billions in the EU to undermine the nation state. This is where the real international political collusion is.
Farage: Soros and EU Allies Engaged in 'the Biggest Level of International Political Collusion in History'
In other news:
Hillary Clinton PERSONALLY Overturned US Visa Ban for MuBro Paladin  Tariq Ramadan Now Accused of Rape 
European Islamist scion Tariq Ramadan was banned from the U.S. by the Bush administration in February 2004 for his financial support of a charity that funded terrorist groups. In January 2010, then-Secretary of State Hillary Clinton overturned that ban. Clinton personally approved a visa for the controversial grandson of the founder of the Muslim Brotherhood.
Now, Tariq Ramadan is facing multiple accusations of rape and sexual assault of minors.
Hillary Clinton's visa for Tariq Ramadan was seen as part of the new Obama administration policy of embracing more hardcore Islamists.
The New York Times reported in 2010:
Six years after using the Patriot Act to revoke the visa of a prominent Muslim academic, the United States State Department reversed itself and said Wednesday that it would no longer bar the scholar from entering the United States.
The decision came in the form of an order signed by Secretary of State Hillary Rodham Clinton. It paves the way for the scholar, Prof. Tariq Ramadan, to apply for a new visa free of the authorities' former accusation that he had contributed money to a charity connected to terrorism.
Continued:
"Open Society boasts that they had 42 forty-two meetings last year with the European Commisision. They've even published a book of 'reliable' friends in the European Parliament and there are 226 names on that list — including yours, sir! I thought you'd find this interesting!" he told a heckling MEP.
"We even had last week [Guy] Verhofstadt lobbying on behalf of Mr. Soros, at the Conference of Presidents in a battle that is going on with Viktor Orbán, the Prime Minister of Hungary."
"If we're going to have a debate, and we're going to talk about full political and financial transperency, well, let's do it!
"So I shall be writing today to all 226 of you, asking some pretty fair questions:
"Have you ever received funds, directly or indirectly, from Open Society?
"How many of their events have you attended?
"Could you please give us a list of the meetings of all the representatives [you have met], including George Soros [himself]?"
"I think this parliament should now set up a special committee to look into all of this," he concluded.
"And I say this because I fear we could be looking at the biggest level of international political collusion in history."