Sweden in 1970:
Peaceful
Sweden 2017:
Rape capital of the world
16 bombs in just 1 month
55 no go zones
Massive increase in shootings
Military grade weapons found
Beirut safer than Malmö
Woman, 26, suffers life-changing injuries after acid was thrown in her face in Canary Wharf
Woman, 26, left with life-changing burns after acid attack in east London
It is believed the victim was targeted in Marsh Wall, near South Quay DLR station
Somali children in Norway are sent back to Quran school in Somalia. They are radicalized, taught to pray 'Let the West Burn'.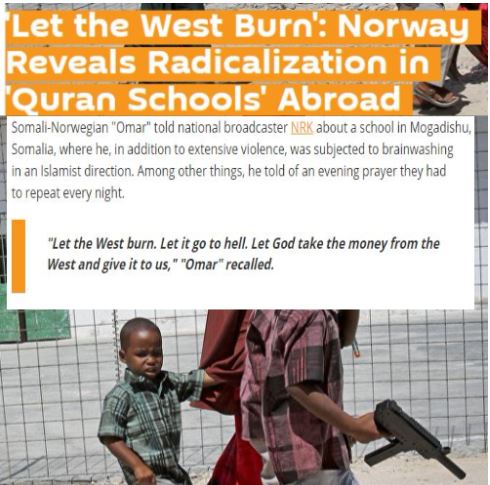 Swedish Gang Rapes: Hundreds Protest After Third Attack In Weeks Leaves 17-Year-Old Hospitalized
Zero Hedge
Hundreds took to the streets in the southern Swedish town of Malmo this week to protest the government's response to a three brutal gang rapes of teenage girls over a three week period – the most recent of which took place in a playground last Saturday and left a 17-year-old girl hospitalized. 
Authorities haven't disclosed the identity of the suspect(s) and have offered scant details of the attack – though it has been described by authorities as particularly brutal, with unconfirmed reports on social media claiming the victim had lighter fluid poured in her vagina and set on fire.
"We have been policemen for a long time, several of us, I have been working for 35 years, and we have not had such a thing before. You've really crossed a border, it's a very unusual treatment, says Inner Police Commander Mats Attin to SVT News Skene. –SVT (translated)
Attin adds that the 17-year-old victim was exposed to a "special ruthlessness," during the violent encounter, however he did not go into further detail. "We have received information from the public that we find very interesting. This is a horrendous crime," said Anders Nilsson who is leading the preliminary investigation.
Police say that there is no obvious connection between the incidents, which all took place between midnight and 3am, at playgrounds, in which the assailants were all young men and unknown to their teenage victims, reports SVT.  The DNA of the perpetrators has been sent off for analysis, with police hoping to receive answers during the Christmas holidays.
Swedish authorities initially told residents not to worry, however they changed their tune in light of mounting public outrage – telling local women "These predators focus on single women who move themselves outside, adding 'It's about common sense. We are not warning people not to be outside, but to think twice and maybe not walk alone late at night and instead go with others or take a taxi,' said Nilsson.
After a national backlash, Malmo police retracted their statement, with Mr Nilsson saying he had been 'clumsy' choosing his words.
Cordoned off playground in Malmo, Sweden where gang rape occurred

Police search playground black lights following gang rape on Dec. 16 
Location of recent rapes (Daily Mail)
The protesters in Malmo outlined a series of demands on the Swedish government – which prides itself on being feminist: tougher punishment for rapes, a Minster of Justice with competence in sexual violence issues and a National Police Commissioner 'who cares about women' – according to the Daily Mail.
Gang rapes were virtually unknown to Sweden before 1995, and rapidly rose with the tide of primarily Islamic asylum seekers from third world countries. In 2008, Sweden's Crime Prevention Council published a report on rape against people over the age of 15, which concluded "rapes with several perpetrators" (gang rapes) have increased sharply since the mid-90's. In 1995, there were 116 reported gang rapes in Sweden. In 2006, that had jumped to 553 – an increase of nearly 500% over ten years. 
Could it have something to do with immigration?

Annual asylum applications granted (bars) and reported rapes (line) in Sweden (source: Swedish National Council for Crime Prevention) 
One of the worst cases occurred in 2012, wries Swedish journalist Ingrid Carlqvist for the Gatestone Institute, when a 30-year old woman was raped by eight men in a housing project for asylum seekers, in the small town of Mariannelund. The woman was an acquaintance of a man from Afghanistan who had lived in Sweden for a number of years. He invited her to go out with him. She obliged. The Afghan man took her to a refugee housing project and left her defenseless. During the night, she was raped repeatedly by the asylum seekers and when her "friend" returned, he raped her too. The following morning she managed to call the police. Sweden's public prosecutor has called the incident "the worst crime of rape in Swedish criminal history."

(source, Swedish National Council for Crime Prevention)
Swedish politicians and authorities have tried to explain the rise in sex crimes by suggesting that perhaps Swedes have become more prone to report crimes, or because more sexual offences have been classified as rape. On the other hand – it has something to do with the fact that over 70% of migrants entering Europe are "men of fighting age," according to a Pew study.

72% of asylum seekers are men of fighting age (click to enlarge)
And what is Sweden's "Feminist Government" doing about crimes committed by asylum seekers when they're not mocking Donald Trump a week before wearing "liberating hijabs" on a trip to Iran?
For starters, a 'sex guidebook' kindly asking migrants not to rape the locals, and Anna Carlstedt – Sweden's Coordinator against Violent Extremism suggested last December that violent extremism in Sweden was a result of right-wing white power movement clashing with Islamic extremists.
Carlstedt said on Swedish Radio last year: I think there are several different types of hotbeds of extremism. What we see is that there is an interaction between them. It is true that Islamic extremism is growing, but this also results from the extreme right-wing white power movement.
Sweden's legal system uses the same mental gymnastics, apparently. In a 2013 incident which occurred in the Stockholm suburb of Tensta, a 15-year-old girl was locked up while six migrants gang raped her. The lower court convicted the six men but the court of appeals acquitted them because no violence had occurred, and because the court determined that the girl "had not been in a defenseless position."
How many Swedish women and girls need to be victimized in schoolyards and public pools before Swedish authorities wake up? No wonder the country is now known as the "rape capital" of Europe…