Update:
Israeli troops fly drones to drop tear gas bombs on Gazans during Land Day protests, having also killed 12 people and wounded over 1,000 protesters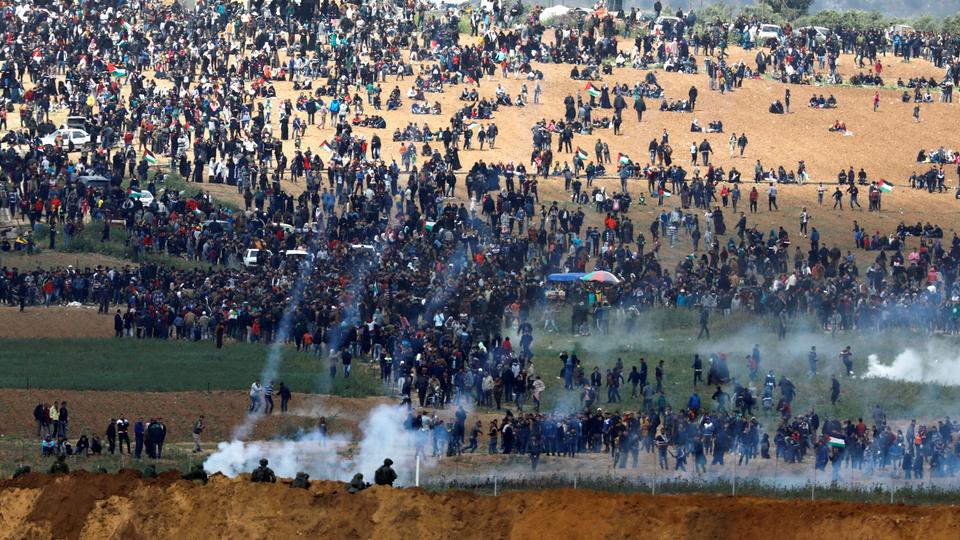 At least seven "Palestinians" have been killed and hundreds of others wounded during clashes with Israeli forces as thousands marched near Gaza's border with Israel in a major demonstration marking the 42nd anniversary of "Land Day."
Palestinians run from tear gas fired by Israeli troops during clashes in Gaza [Mohammed Salem/Reuters]
Hamas calls for 100,000 Muslims from Gaza to demonstrate along Israeli border
Hamas wants war with Israel. If it isn't now, it will come later.
"Hamas to Swarm Israel's Border, Sparking Fear of New 'Passover War,'" by Adam Kredo, Washington Free Beacon, March 29, 2018:
The Palestinian terrorist group Hamas is planning a mass demonstration along Israel's border on Friday, prompting fears of a new war with the Jewish state ahead of the Passover holiday, according to regional experts and U.S. officials who say they are closely monitoring the situation.
On the heels of a recent military exercise that observers described as "unprecedented," Hamas leaders have called for some 100,000 Gaza Strip resident [sic] to engage in six weeks of mass demonstrations along the Israeli border as Jewish families gear up for the Passover holiday, which begins Friday evening.
Regional experts closely tracking the situation say the demonstrations are meant as cover for a mass military campaign to swarm Israel's border and stoke violence against the Jewish state.
The situation is being closely monitored by Trump administration officials, who outlined concerns that Hamas could use civilian protesters as human shields as cover for attacks on Israeli forces.
Tension are high ahead of the mass demonstration, dubbed the Great Return March, with the United Nations already imploring Israel to not attack children or other civilians.
Officials with the U.N. Relief Works Agency, or UNRWA, a body routinely cited for its anti-Israel bias, have already endorsed the demonstrations, stoking further concerns the U.N. is setting the stage to blame Israel for any violence that could erupt. UNRWA has offered medical facilities to any Palestinian who may be injured during the weeks of protest.
State Department officials told the Washington Free Beacon that they are aware of the upcoming protests and will be tracking the situation closely.
"We are aware of calls by Hamas asking people to march along the Israeli border over the coming weeks," one U.S. official told the Free Beacon." We will monitor the situation and developments closely."
The State Department emphasized that it still considers Hamas a terror group and is aware of its routine use of human shields during terror operations.
"Our position on Hamas has not changed," the official said. "It is a designated Foreign Terrorist Organization. Any use of human shields is absolutely unacceptable."
Omri Ceren, a managing director at The Israel Project, a D.C.-based organization that works on Middle East issues, warned that Hamas is using civilian protests as cover for a massive military operation that could launch another regional war.
Evidence suggests Hamas has already prepared to flood Israel with armed assets during the demonstration and has even positioned equipment such as tractors to shift the ground and erect fortifications.
"Hamas is trying to trigger a Passover War and the U.N. seems eager to help them," Ceren said. "Hamas is preparing thousands of civilians to rush Israel's border, tear down the defensive fence, and provide cover as Hamas fighters flood into Israel."
While Israeli military officials have planned to use as little force as possible to control any violent eruption, things could get out of hand quickly, Ceren said.
"The Israelis will do everything possible to prevent escalation and avoid casualties, but this is the kind of thing that could go really bad really quickly," he explained.
"Meanwhile the U.N. is supporting Hamas and setting up Israel to get blamed for anything that happens to Hamas's human shields," Ceren said. "American lawmakers were already inclined to view the U.N. as biased and unhelpful when it comes to Israel and this can cement that view."…
Observers have been warning that Hamas is not seeking a peaceful protest, but a military campaign in the guise of civilian demonstration….