Toronto attack: rightwingers point to Islamist terror before police cite motive
Jason Wilson/  Thu 26 Apr 2018/ The Guardian (of course!)
"Whenever we have an incident like this, the cottage industry of Islam haters try to pin it on Islam and Muslims," he said. "Their goal is to demonize Islam and marginalize Muslims, and they'll seize on anything."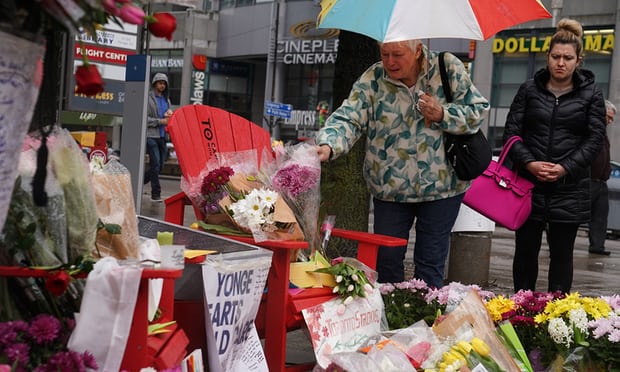 Canadian police have yet to identify the motive for the Toronto van attack in which 10 people were killed, but before the dead had even been counted, many rightwing commentators were rushing to depict the attack as Islamist terrorism.
Within minutes of the attack, Faith Goldy, an "alt-right" provocateur, tweeted that she was "en route" to the scene, from where she posted a string of videos suggesting that the attacker was Middle Eastern – despite official statements that he was white.
Goldy was previously a contributor to the far-right outlet Rebel Media, until she was fired for being too cosy with neo-Nazis during her coverage of the Charlottesville protests last year.
Straight after the attack, another Rebel Media contributor, the former Mail Online columnist Katie Hopkins, tweeted that the prime minister, Justin Trudeau, was "complicit" and a called him "terrorist shill".
Similar responses echoed across the far-right corners of the internet: Yasmine Mohammed, who runs anti-Hijab campaigns from her "Confessions of an ex-Muslim" blog, commented: "It's a pretty safe assumption [the attacker] is Muslim."
Police have yet to suggest any possible motivation for the attack, and the alleged perpetrator, Alek Minassian, reportedly has no strong religious affiliations.
But that didn't stop far-right commentators claiming that the attack had been carried out by Islamists.
Infowars's Paul Joseph Watson criticized Toronto's mayor, John Tory, who made a call for community solidarity. "A jihadist has just killed 9 people and the Mayor is already out virtue signalling," Watson tweeted.
Meanwhile, on the Infowars site, Alex Jones released multiple videos under a headline describing the attacker as an "Islamic man" and was already making familiar accusations that authorities were carrying out a cover-up.
Ibrahim Hooper, national communications director for the Council on American-Islamic Relations, said that this model of rightwing coverage had become routine. "Whenever we have an incident like this, the cottage industry of Islam haters try to pin it on Islam and Muslims," he said. "Their goal is to demonize Islam and marginalize Muslims, and they'll seize on anything."
Dan Cassino, a political scientist at Fairleigh Dickinson University who researches conservative media, said: "For commentators like these, coming out before the facts to blame an attack on Muslim is a no-risk proposition. If they're right, they can say that they knew the truth while everyone else was too afraid to call it what it was. If it isn't Islamic terrorism, they can call it a cover-up, and move on. Either way, they're the only ones telling their audience the truth."
As it became clearer that the attacker was not an Islamist, and may in fact have been inspired by a misogynist online subculture, many of the same commentators chose either to double down on their misidentification, or to muddy the waters with conspiracy theories.
Robert Spencer, who runs the "Jihad Watch" website, implied that an imposter had been substituted for the initial attacker, basing his claim entirely on the suspect's hairline in courtroom sketches.
And far from apologizing , Katie Hopkins suggested that the lack of any evidence of jihadist connection was because of a deceptive "Van Attack Comms Plan" that authorities were rolling out.
This rightwing rush to judgment, followed by a spray of exculpatory misinformation, has emerged as a pattern after attacks by single perpetrators. After six men were killed and 18 wounded in a 2017 attack on a mosque in Quebec city, many conservative and far-right outlets mistakenly identified the attacker as a Moroccan and a Muslim. Several continued to do so even after he had been identified as a white supporter of Donald Trump.
But however often they are proved to be wrong, rightwing peddlers of such fake news rarely seem to face any consequences – either from the outlets that host them, or their audiences, said Hooper.
"Their audiences want them to spin these conspiracy theories. It's a negative feedback loop."