Trump orders airstrikes against Syria
Trump Launches WW3 With Strikes In Syria
US President Donald Trump has authorised strikes against chemical weapons facilities in Syria in a joint operation with the UK and France. In a televised address from the White House, Mr Trump said: ' A short time ago, I ordered the United States Armed Forces to launch precision strikes on targets associated with the chemical weapons capabilities of Syrian dictator Bashar al-Assad.'
1. Is it certain that Assad's regime really used the chemical weapons? There is so much manufacture of atrocities in that region, it cannot be taken for granted that he has, especially since there is no clear benefit to him in doing so.
2. What is the endgame? The removal of Assad? No doubt Assad is a scoundrel, but what replaces him is likely to be worse.
3. Is it certain that the strikes will actually reduce the production of chemical weapons and end their use?
4. Every U.S. intervention in the Middle East has been disastrous, as they were based on false assumptions. Will this one be different?
Paul Weston: here is my take on the lies we are being told about Syria and Assad.
Strikes against Assad regime ordered by Trump with the support of France and the U.K. Cue pictures of Al Queda terrorist factions / white helmets celebrating.
Mattis admits he's "not clear" on what chemical agents were used in the attack last weekend, which says a lot about the rock-solid evidentiary basis the Administration is operating under here
Syrian air defenses 'shot down 13 of the missiles' fired in hour-long U.S-led attack on three weapons 'research centers' and military bases across Damascus and Homs
Syrian state TV says 13 missiles fired in US-led attack had been shot down
Missiles were shot down in the  Kiswah area south of Damascus, reports say
President Donald Trump said Friday evening he ordered precision strikes in Syria
In other news:
Here's Tommy, on fire:
White Genocide Project
"Kill All White Scum", "Allah Will Take All", "Mohammed Was Superior", "Khan Our Mayor One Love" – racist, Islamist grafitti covers Milton Keynes, England: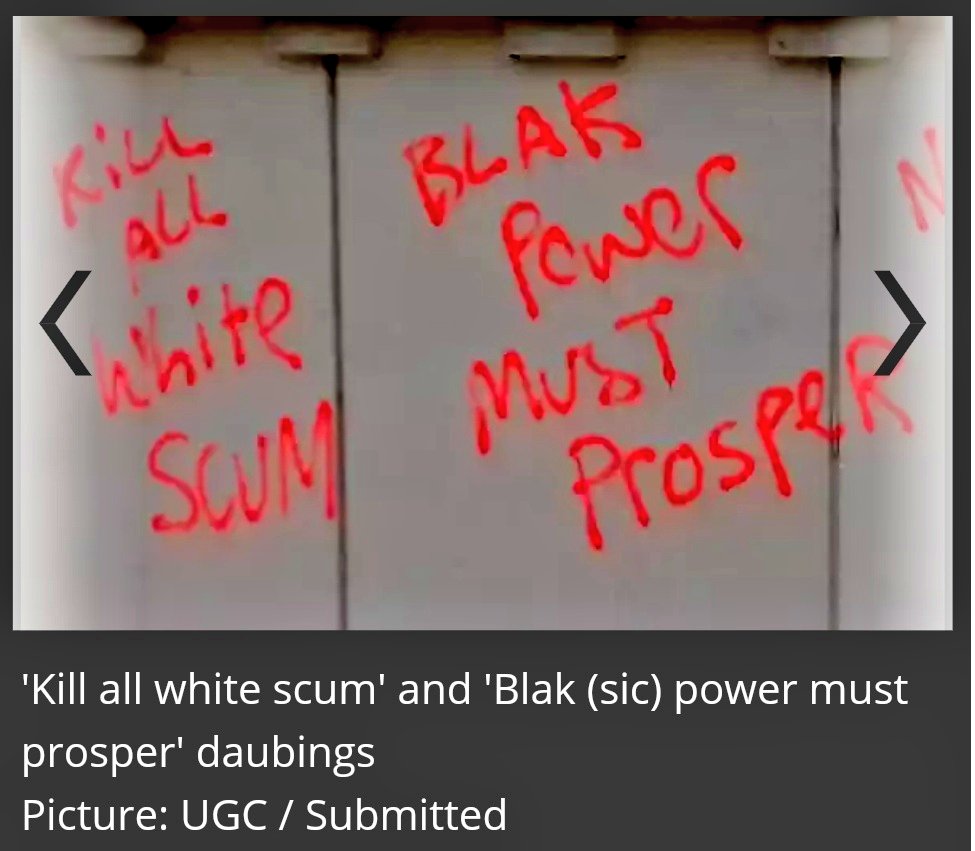 Stupid returns to normalize women's oppression and we get to pay for it. Well done Australian Broadcasting Communists…
Yassmin Abdel-Magied returns to the ABC with a fashion show about hijabs – but conservative MPs are quick to slam the taxpayer-funded program for promoting the 'oppressive symbol'
.
Hijabistas! with Yassmin Abdel-Magied will air on ABC iView from May 1
Six six-minute episodes celebrate Australia's Islamic headwear fashion scene
It marks her comeback to air on the ABC since her controversial Anzac Day post
 Conservative pollies Eric Abetz and Cory Bernadi called for the show to be axed.  Read more…
 Al Maggot lied about her reason for visiting the nation, deliberately got the wrong visa, and has done it before.
She lied about her reasons for being deported, pretending to be the victim of racism, when she was entirely responsible, and not some white Christian male scapegoat.
" 'Those who say the world is borderless are those who have the right colour passports – or birthplace,' she tweeted.
Waleed Aly, a Muslim, suggested Ms Abdel-Magied's deportation was symptomatic of more draconian immigration policies in the United States. "
The FACTS are she was "deported" for travelling there for PAID WORK on a TOURIST visa.
Do these professional whiners with immensely greater platforms and #privilege ever stop complaining about the freedoms and liberty they enjoy care of Christian culture?