Convert on leave from prison goes on allahuakbaring rampage: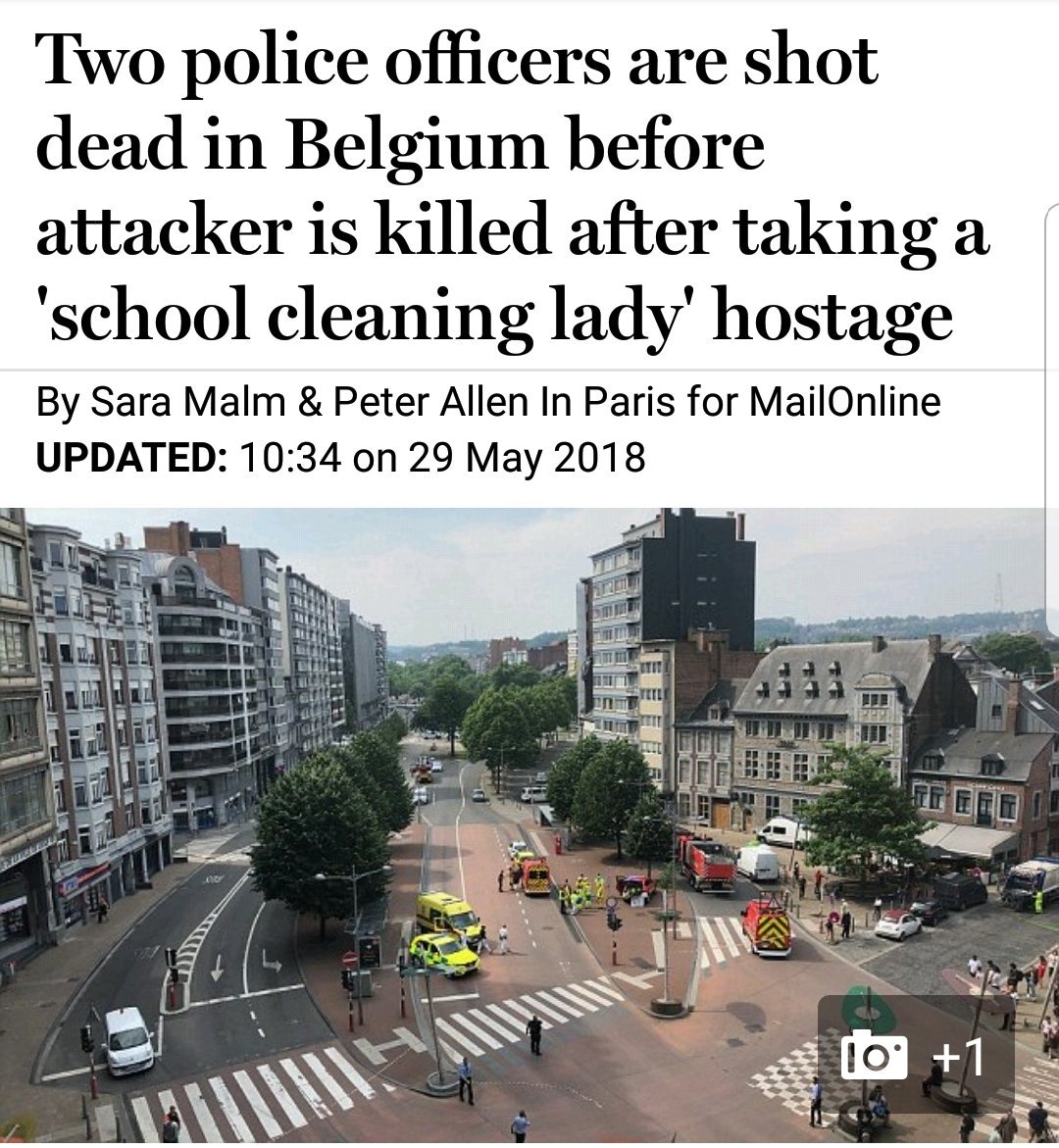 MOHAMMEDAN 'TERROR' IN BELGIUM
This place exported more fighters to join ISIS than any other western European country…..
Liege shooting – Gunman kills three women – including two cops – before taking cleaning lady hostage in Belgium attack
Terror police are now investigating the shooting in the eastern Belgian city of Liege
A 'RADICALISED' gunman shot dead two female cops with their own guns and killed another woman before taking a cleaning lady hostage in Belgium today.
The attacker was killed in a dramatic police shootout after the suspected terror attack in the eastern city of Liege.
Chilling images show the gunman, named as Benjamin Herman, wielding two handguns after killing his victims.
He is understood to have been on leave from prison at the time of the attack.
Gunshots were heard in the city shortly after 10.30am, local time near the Cafe des Augustins on Boulevard d'Avroy.
Two policewomen were among three people killed in Belgium on Tuesday when a man stabbed them, took their guns and shot them in what authorities have since deemed a terror attack.
It's believed the attacker had been stopped by the officers for a routine documents check close on the Boulevard d'Avroy.
A man, thought to be the suspect, lies on the pavement
The gunman has been named as Benjamin Herman, 36, from Rochefort, France, according to reports.
RTBF said the attacker was on leave from prison and failed to return to jail on Monday night.
The 36-year-old was known to the police for theft, damage to public property, drug trafficking and was thought to be violent, it is claimed.
He was also considered "unstable" and had no contact with his family, it was reported.
RTBF also reported that he is thought to have been "radicalised" in prison.
He managed to disarm one of the officers and opened fire, killing the pair and a woman in a car.
Catherine Collignon, a spokesman for Liege prosecutors said elite officers shot him dead at the school, and two were injured in the process.
"Two officers were hit and then the man went on the run," a local source said.
"He was seen running into the Waha secondary school, where he was said to have taken a female cleaner hostage," the source added.
Minutes later, anti-terrorist special forces police could be seen surrounding the area, which went into lock down.
"The gunman was then neutralised," said the source.
The school students and female hostage were not injured in the attack.
Belgium's anti-terrorist crisis centre was monitoring the situation, Interior Minister Jan Jambon said on Twitter.
Two other police officers had been injured, Belga news agency said.