Belgium:
Three photos of weeping police officers in this MailOnline article.
The attacker shouted 'Allahu akbar,' the Arabic phrase for 'God is great', several times during spree before he was shot down by a group of police officers, magistrate Wenke Roggen said.
No. 'Allahu akbar' doesn't mean 'God is great'. It means Allah is greater than your  God, kaffir.
Attacker stabbed officers Lucile Garcia and Soraya Belkacemi then used their guns to shoot them dead
Man named as Benjamin Herman then shot Cyril Vangriecken, 22, and took two women hostage in a school
Told one he would not harm her because she was a Muslim and to spare her tears for Palestinians and Syrians
31-year-old was then killed in a dramatic shoot-out with police in Liege, in which he shouted 'Allahu Akbar' 
Herman was on temporary release from prison for the 14th time when he carried out 'terrorist murder'
Reports say he converted to Islam in jail and Belgium's PM said he appeared in three reports on radicalism
But he wasn't on a list maintained by the main OCAD anti-terror assessment group, PM Charles Michel added
Officials today revealed Herman had killed an ex cellmate using a blunt instrument a day before the attack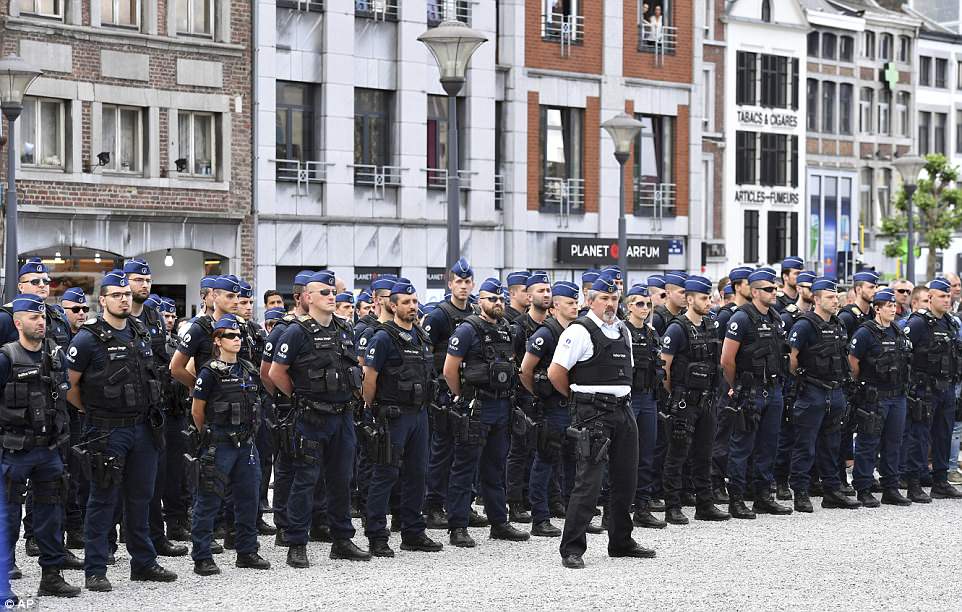 "Tearful police mourn slain colleagues of Belgian terrorist as it's revealed murderer's fourth victim was ex cellmate he clubbed to death 'after they carried out a jewellery robbery together' hours before Liege bloodbath," by Julian Robinson, MailOnline, May 30, 2018:
A terrorist who slaughtered three people on the streets of Liege while shouting 'Allahu Akbar' had clubbed his ex cellmate to death a day before the bloodbath after the pair carried out a robbery, it has been claimed.
The attacker, named as Benjamin Herman, knifed police officer Lucile Garcia, 54, and her colleague Soraya Belkacemi, 45, from behind before using their guns to shoot them dead.
After killing a passerby, he holed up in a school and took a woman hostage. Police eventually shot him to death.
Mr. Herman was on day release from prison when he committed his deadly crimes. The Belgian government is investigating the incident as a terrorist act.
Release of 40 radicalized prisoners a 'major risk' – French counter-terrorism prosecutor
"There is a major risk of seeing people who are not at all repentant at the end of their sentence come out of prison, who could even be more radical given their stay in prison," said Molins, who will soon leave his post after seven years as the head of France's counter-terrorism prosecution service.  (Source)
The release of the prisoners follows criticism of France's ability to keep track of those who are on the country's terror watch list, as some of them have gone on to commit terrorist attacks. For example, the man who killed one person and wounded four others with a knife in Paris earlier this month was reportedly on the list.
More from the Religion of Peace: