Update:
Some 20 rockets were fired at Israeli military bases by Iranian forces in southern Syria just after midnight on Thursday…
No Israeli injuries reported in attack; sirens blare in Golan Heights; Syrian army post comes under fire in Quneitra as tensions skyrocket on Israel-Syria border. (More below the fold)
"We will be instituting the highest level of economic sanction…America will not be held hostage to nuclear blackmail…We will not allow a regime that chants 'Death to America' access to the most destructive weapons on earth."
Obama didn't ship $1.7 billion to Iran because he cared about the four American prisoners or the Navy sailors. They were just icing on the yellowcake.
Obama allowed Iran to take over Syria, Iraq and Yemen to protect the nuke scam. He let the terrorists of the IRGC, which he had protected from sanctions in the Senate, humiliate our sailors while one of his minions, John Kirby, currently working as a CNN analyst where he's doing his part in the echo chamber to defend the deal, claimed that our Naval personnel weren't protected by the Geneva Convention.
(And that's from an administration which believed that the Geneva Convention protects terrorists.)
There's a lot of delusion going around. After repeatedly vowing to prevent Iran from obtaining nuclear weapons (with signature "If you like your health insurance, you can keep your health insurance" candor), President Obama, and his trusty factotum John Kerry, made an agreement that guaranteed Iran would obtain a nuclear weapon.
Obama ignores facts about Iran's nuke deal violations, says "debates in our country should be informed by facts"
"The reality is clear," Obama said. "The JCPOA is working – that is a view shared by our European allies, independent experts, and the current U.S. Secretary of Defense."
It's also a view that has been completely exploded by the evidence that Benjamin Netanyahu just presented of Iran's violations of the deal and attempts to build a nuclear weapon. Obama ignores all this, just as he ignored reality in proclaiming that Islam was a religion of peace. His Leftist alternative universe is intact, but it doesn't have anything to do with the real world.
"Obama Issues Statement on U.S. Iran Deal Exit: This 'Turns Our Back on America's Closest Allies,'" by Conor Beck, Washington Free Beacon, May 8, 2018:
Former President Barack Obama issued a rare public statement Tuesday following President Donald Trump's announcement that the United States would be exiting the Iran deal.
The Deal That Never Was
Angela Merkel says Germany, France and Britain will make every effort to ensure that Iran limits nuclear activity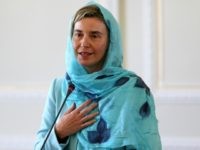 From the Religion of Peace:
Continued:
Some 20 rockets were fired at Israeli military bases by Iranian forces in southern Syria just after midnight on Thursday, with some of the incoming missiles being intercepted by the Iron Dome defense system, the army said, amid sky high tensions on the northern border.
There were no reports of Israeli casualties in the attack. An army spokesperson said damage was caused to Israeli military bases, but that it was "limited."
The Israeli army said the missile barrage was carried out by members of the Iranian Revolutionary Guard Corps' Quds Forces. This appeared to be the first time that Israel attributed an attack directly to Iran, which generally operates through proxies. The late night rocket barrage was also the largest attack, in terms of the number of rockets fired, in the seven years of the Syrian civil war.
Tehran has repeatedly vowed revenge after the T-4 army base in Syria was struck in an air raid — widely attributed to Israel — on April 9, killing at least seven members of the IRGC, including a senior officer responsible for the group's drone program.
Immediately following the Iranian attack at 12:10 a.m., Syrian state media reported that Israeli artillery fire targeted a military post near the city of Baath in the Quneitra border region, where Syrian regime forces were stationed.
Approximately an hour and a half later, the Hezbollah-affiliated al-Manar news outlet reported that Syrian army air defenses were responding to an Israeli air strike against a target southwest of Damascus.
Syria's state news agency said early Thursday that Syrian air defenses had intercepted "hostile Israeli missiles," and Syrian media later said the missiles were fired over southwestern Damascus.
The pro-Syrian government Al-Mayadeen TV said more than 50 missiles had been fired from Syria toward Israeli forces in the Golan Heights.
The Israel Defense Forces spokesperson confirmed that the army had retaliated to the alleged Iranian attack, but would not comment on the specific details.
"The IDF sees this Iranian attack on Israel with severity," said IDF spokesperson Lt. Col. Jonathan Conricus.
"This event is not over," he said.
Sirens blared across the Golan Heights throughout the exchange, sending residents into bomb shelters. The IDF Home Front Command called on residents to listen to security instructions as needed.
The spokesperson said the army was still sorting out many of the specific details related to the attack, such as which army bases were targeted, what types of projectiles were used, how many rockets were fired, from where they were launched, and how many were intercepted.
Iran's Supreme Leader Ayatollah Ali Khamenei on Wednesday harshly rebuked the United States' withdrawal from the Joint Comprehensive Plan of Action, or Iran nuclear deal, describing President Donald Trump's pullout statement as "vulgar and commonplace."