Iran: Protesters Chant 'Death to Palestine' in Tehran's Grand Bazaar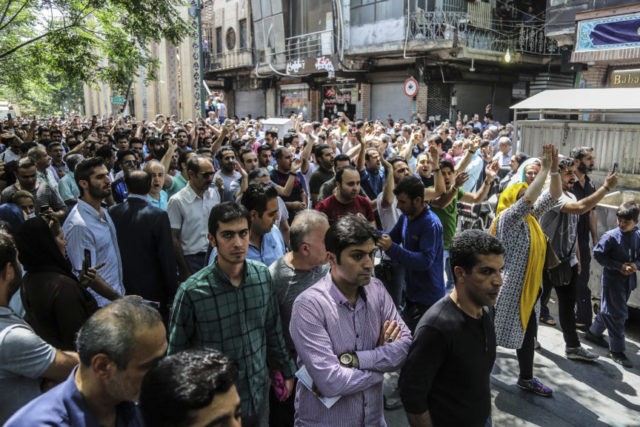 Iranian Labor News Agency via AP
Thousands of Iranians reportedly took to Tehran's historic Grand Bazaar on Monday, forcing its shutdown in protest over the Islamic Republic's decision to spend money on Iran's adventurism abroad instead of helping fuel its troubled economy at home, where over 40 percent of its population is unemployed.
According to the Associated Press, the demonstrations, which appear to be an extension of nationwide protests that began on December 28 and have continued for months – cameafter protests forced two major shopping centers for mobile phones and electronics to close in Tehran on Sunday.
Video of Iranians chanting "We don't want the mullahs" outside the Grand Bazaar spread over social media:
In what appears to be a stunning turn away from Iran's generally anti-Semitic stance, which is replete with chants of "Death to Israel" and "Death to America" – both long considered the "little Satan" and "great Satan" by the regime – Iranian protesters were chanting "Death to Palestine!"
Everyday Iranians have revolted against the regime's decision to finance wars and its revolutionary endeavors in places like Syria, Iraq, Libya, and Lebanon, and its support for the Palestinian people instead of its own struggling population.
Mohammedans & Mohammedanism

Oh yes, they do worship Muhammad. "Allah", the moon god of the ancient desert Arabs, is an unknown quantity. But Muhammed they know. And since every Mohammedan must emulate Muhammad, who are we to deny that they worship him?
"Nigeria: Muslims murder 86 Christians, burn 50 houses. Christians are being massacred in Nigeria but the Media ignores to avoid damaging Islam's image".
"The Fulani herdsmen, who are mostly Muslims, are committing genocide against Christians and non-Muslims in Nigeria".
"The Islamic persecution of Christians throughout the Middle East, Asia and Africa has become genocide".
Pali & Syrian Migrants Prosecuted for Sweden Synagogue Firebombing
Three migrants from Palestine and Syria have been convicted for attempted arson after attacking a synagogue in Sweden, following the announcement the U.S. embassy in Israel would move to Jerusalem.
.
The attack occurred in the city of Gothenburg in the south of the country last December, with a gang of a dozen masked men
throwing
firebombs at the building after an anti-Israel demonstration nearby
where anti-Semitic chants were heard.
Why "must Italy accept" a shipload of unassimilable African savages?
Update:
Italy caved!
The Danish container ship 'MAERSK' landed in the port of #Pozzallo (Sicily) in the evening with hundreds of illegal African migrants, after having  not been granted permission for several days.
The 'Alexander Maersk' waits off the coast of Sicily.
.
Danish minister for immigration Inger Støjberg says that Italy must accept migrants rescued by shipping company Maersk.
No. We will not always have Paris….