Four people have been struck by an allegedly stolen vehicle in Melbourne's CBD near Queen Victoria Market
The incident, which was not believed to be terrorism-related, happened on A'Beckett St near Queen Street.
WTF is the media so quick to deny the jihad before we even know a bloody thing about who the perp was?
Police are hunting for the driver who abandoned the car and fled on foot.

Victoria Police said they were investigating after the vehicle, a 2017 silver Toyota sedan, struck pedestrians on A'Beckett Street near Queen Street and Market Street just after 5pm.
The crashed car in A'Beckett Street.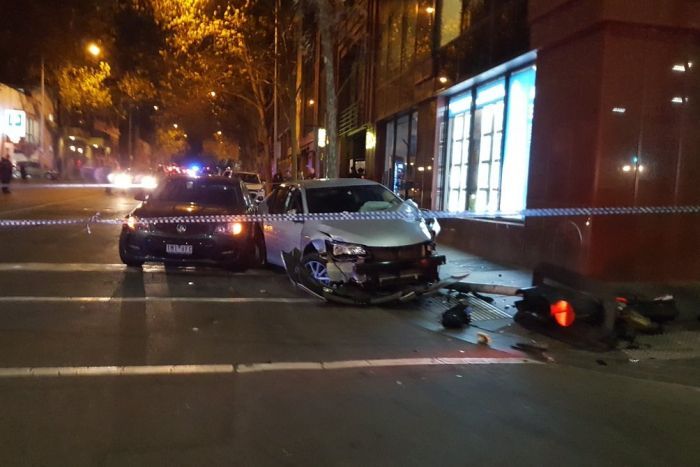 "The pedestrians are being treated for injuries, the exact degree of their injuries is unclear at this stage," a Victoria Police spokeswoman said.
Police helicopters are hovering low as they circle the north city.
Dave Thorne (pictured) alleges he was attacked by a gang of African teenagers thugs with a knife at a shopping centre in Melbourne's south-east.
.
"Allegedly". What kind of BS reporting is this?
.
Victorian.police have made their bed. Now they must lie in it. When one of their own. Suffers what the rest of Victorians put up with every day.
.
This is coming in a little late, but I hope will offer some insight into just how far awareness of the worrying state of affairs in Britain has spread.  The account that follows was written by a gentleman, personally known to me, who attended the rally in Brisbane, state capital of Queensland, Australia;
…Read More…
.
Sydney Criminal Lawyers along with  Soros sponsored GetUp! have begun a public attack on Peter Dutton, who have launched a campaign to unseat him in his seat of Dickson at the next election.