Update:
Tommy Robinson has reportedly been moved to a prison with a 71% Muslim population. Inmates were banging on cell walls last night shouting death threats. Protests were ignored.
Tommy's life is in danger.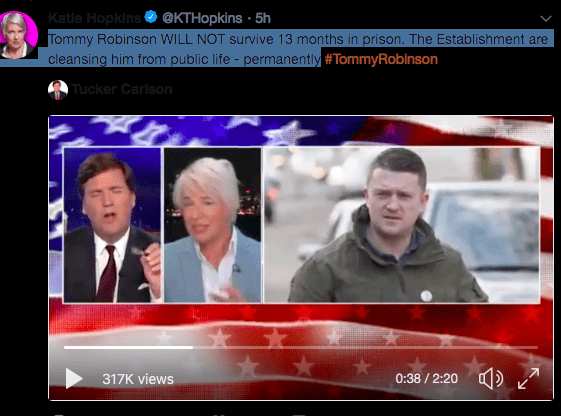 Tommy Robinson WILL NOT survive 13 months in prison. The Establishment are cleansing him from public life – permanently —Katie Hopkins
Here, from XYZ:
The alt news over the past couple of weeks has been dominated by the unjust and corrupt arrest of UK activist Tommy Robinson for the supposed crime of reporting on an ongoing trial of Asian rape gangs somewhere in what used to be known as Merry England.
On the weekend protesters in support of Robinson clashed with police outside Whitehall. It didn't go too well for the cops.
Napoleon had this sort of problem very early on when he was in the process of consolidating power. He stuck some cannon and a regiment at the gate and literally blew away the crowd of angry peasants who had been whipped up by his enemies and competitors for the keys to France. Problem solved.
Those in charge today either do not have the balls to do this or they literally have no balls at all, (hello Theresa May, you useless bint.) The English working class is beginning to wake up to this. But the interesting thing about the video is that a casual appraisal of the last section as the crowd moves on in the wake of the fleeing coppers reveals a surprising number of very obvious members of the middle class who are also in the crowd.
The Saxon may just be beginning to rage.
But it was a photo of the drama that struck me as being an accurate portrayal of where the boundaries exist as regards the coming holocaust.
The elite have been continuing the class war of the past 200 years while the rest of us have slumbered and wallowed in unprecedented amounts of wealth, goods and food that have never before existed in human history. While most of us slept they have sought to extend the class war through racial replacement of the unwelcome population to one more pliant and accepting of the scraps thrown by their betters.
But based on this, things are looking up.
Tommy Robinson was going to expose this:
A group of men  Paki Mustards who abused teenage girls in a vehicle they called the 's**gwagon' have been jailed for a total of nearly 90 years.
The men  Mohammedans- aged 36 to 48 – befriended vulnerable girls as young as 13 before plying them drink and drugs at 'parties' in Oxford.
The eight men rapist scumbags – branded 'predatory and cynical' by a judge – have now been jailed for between seven and a half and fifteen years each.
2 days later he is arrested. – child grooming gangs in England where state officials are involved in cover-up.
Met officer John Wedger says he was warned he would be silenced and "thrown to the wolves" if his findings ever got out.
Lord  PEARSON WARNS Home Secretary Sajid Javid  that he could face 'prosecution' over Tommy Robinson arrest treatment
UKIP PEER MALCOLM LORD PEARSON HAS WRITTEN TO THE HOME SECRETARY OVER THE ARREST OF TOMMY ROBINSON.
.
Lord Pearson sent a letter to Sajid Javid warning him over the treatment and safety of Mr Robinson while in Police custody.
He also warned Mr Javid that he will face 'prosecution' if Tommy is 'murdered'or injured while in prison.
UKIP leader, Gerard Batten confirmed the letter had been sent: "Tommy Robinson latest: UKIP Peer Malcolm Lord Pearson has written to Home Secretary Sajid Javid today saying: if Tommy is murdered or injured in prison he and others will mount a private prosecution against Mr Javid as an accessory, or for misconduct in public office."
It certainly is refreshing to see appointed Lords looking out for Mr Robinson.
His treatment and safety while in Police custody must not put his life at risk.
A judge has issued media ban on reporting on the details of Mr Robinsons case.