You can thank Hussein Obama for all this cultural enrichment.
Middle Eastern Refugees from Australia Who Need 'Mental Health' Treatment Being Resettled Across Five States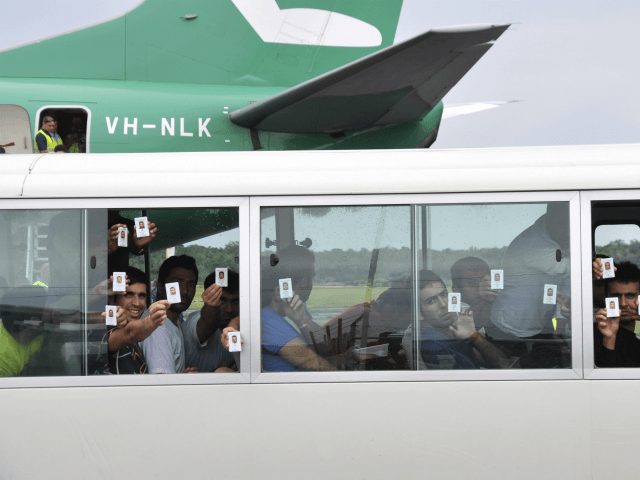 NEW YORK CITY, New York — Middle Eastern refugees who will need major mental health treatment are being resettled across five states in the United States, under an Obama-era immigration deal that President Trump has failed to shutter.
Former President Barack Obama signed the Australian-U.S. refugee deal during his last months in office — promising to take 1,250 Middle Eastern refugees off Australia's hands.
The refugees are being held in detention centers on Manus Island and Nauru Island and, despite Trump's original statement calling the deal "a dumb deal," the first group of roughly 50 of the mostly male, Middle Eastern refugees have already begun being resettled in the U.S., as Breitbart News reported.
The states who will be taking the refugees include Georgia, Oregon, Colorado, Texas, and Arizona, according to the Guardian. Under current federal law, states do not have to be notified before the federal government resettles foreign refugees in the region.
Refugee resettlement expert Ann Corcoran says the refugee deal is an "outrage," and that American citizens would be up-in-arms over it if the mainstream media reported accurately on the deal.
Breitbart News has covered the refugee deal extensively, exposing the mental health and public safety risk the foreign refugees may become to local American communities.
For instance, as Breitbart News reported, the vetting procedures of the foreign refugees – who are actually illegal aliens in Australia – are potentially a far stretch from the "extreme vetting" for refugees that Trump promised during his presidential campaign.
Among the refugees living in the Australian detention centers where the U.S. is choosing which foreign nationals to resettle are accused rapists and sexual predators.
In January, a refugee from Sri Lanka living in the detention centers raped an 18-year-old high school student multiple times after taking her to a nearby hotel, according to Loop. The girl tried to run away to a relative's home, but suffered so much blood loss from the brutal rape that she eventually fainted.
In another case in March, law enforcement officials confirmed that a 28-year-old Pakistani from the detention center had been charged with raping a 10-year-old girl, the Guardian reported.
Just a month later, refugees from the detention center were accused of trying to lure a five-year-old boy into the facility, causing an uproar in the local community about the danger the foreign nationals have become to children, as News Corp Australia Network reported.
Meanwhile, the foreign refugees will also need serious mental health treatment when they arrive in the U.S. in the various five states, as Breitbart News reported.
"We have single men, coming to the US from Sri Lanka and Iran and Afghanistan," Corcoran previously told Breitbart News. "They've been held in detention for four years. They're free once they get here. They'll be totally free. They're going to need mental help treatment."
While the U.S. will have to resettle the 1,250 refugees across communities, Americans will see no benefits to the deal. In exchange for resettling the refugees, roughly 50-60 Central Americans who are currently residing in Costa Rica, will be resettled in Australia.