There's an event scheduled with Lauren Southern and Stefan Molyneux  in Cairns tomorrow night for which I have tickets.  Thanks to the usual suspects the location cannot be disclosed until  shortly before the event.
Lauren Southern arrived in Australia wearing an 'It's okay to be white' T-shirt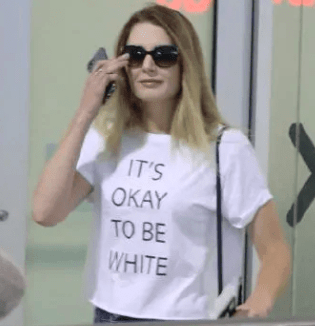 RIGHT-WING activist Lauren Southern has finally arrived in Australia — and hasn't wasted any time stirring things.
"I have criticised radical Islam, I have criticised the increasing blasphemy laws that are being brought into our societies. You won't see Christians violently attacking people for criticising their religion like you do with Islam, things like the Charlie Hebdo attack.
"It's scary because the more peaceful person loses out in these kind of battles. The government is always going to be far more afraid of the person who is going to commit violence, who will cause trouble for them."
Auckland
More than 100 people have turned out in Auckland to a free-speech rally calling for two controversial Canadian speakers to be allowed to address a meeting in the city.
Widow's plot to bomb holiday beaches
Today's 'Nothing-to-do-with-Islam' story: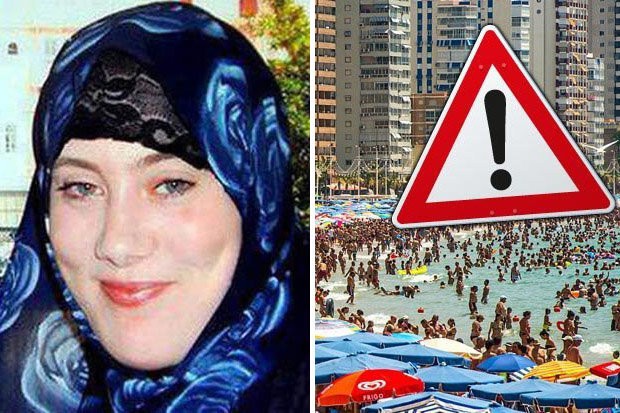 "The White Widow hates Britain and everything the West stands for. She has completely turned her back on her country and her former life."They added: "She has mentored dozens of female terrorists and favours white converts to Islam because she feels they attractsam less suspicion by the security services."She has convinced many female extremists that they need to sacrifice their lives if they want to be real servants to Islam. Lewthwaite preys on very vulnerable women who are easily manipulated.
"She surrounds herself with bodyguards and only trusts a handful of people – they are nearly all women, and that is why catching and killing her has proven so difficult."Now the race is on to execute the former soldier's daughter before she can create mayhem throughout Europe.Lewthwaite, who grew up in Aylesbury, Bucks, converted to Islam as a teenager and later married Jamaican-born fanatic Germaine Lindsay.

Continued:

Initially there were a few dozen people but more joined the crowd on Queen Street next to the Town Hall in central Auckland as the event went on.

Counter-protesters also attended the event, describing the Canadian speakers as far-right.

New Conservative Deputy Leader Elliot Ikilei said free speech was a right and Phil Goff did not control what he thought.

"Don't you dare tell me what I am allowed to hear and what I'm allowed to think," he said.

"I'll make my own decisions."

The organiser of the rally, Dieuwe de Boer, said he was really looking forward to the talk by Ms Southern and Mr Molyneux.

He said he organised the rally because he thought there would be a lot of support to have the council venue for the talk restored.

"[We don't want] to end up with a society where only one side with one particular set of views can be talked about," he said.

Stephen Berry from Act also spoke at the event in support of free speech.

A few protestors of the event who turned up to the rally said the event was concerning.

Joe Carolan from Unite Union said the people there were pushing their views under the guise of free speech.

"We have to take a stand immediately … if this movement persists then … [we] should be here to counter-protest," he said.

The Free Speech Coalition has raised $50,000 to take legal action against Auckland Council and to try and overturn the ban.

Rallies were also organised in Wellington and Christchurch today.