Australia:
Immigrants creating no-go zones, 6 year old boys in drag, transgender primary school teachers, African crime gangs, concrete 'anti-terror' bollards all over the city, vital national assets sold to China…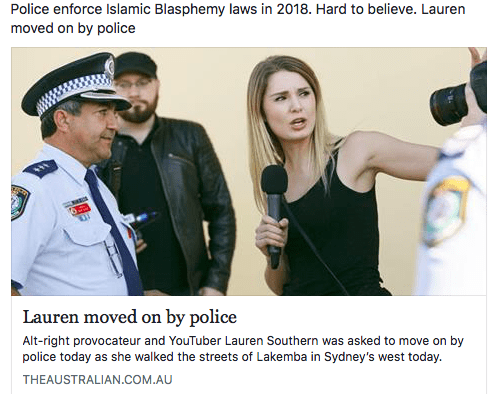 But "right-wing" speaking events (Lauren Southern) are the real threat to national security.
FIVE MORE MUSLIMS ON TERRORISM-RELATED CHARGES. YAWN
In just this past week we've had four court matters involving five Muslims accused of terrorism related offences. Five in one week. That is an extraordinary figure, yet it seems to have caused barely a ripple
"Religious Excremist" from Banglatrash admits she committed an act of terrorism
Woman accused of Islamic State-inspired stabbing attack refuses to stand for magistrate
THE tiny international student accused of an ISIS-inspired attack on a Melbourne man while he slept told police why she did it.
BANGLADESHI student Momena Shoma came to Australia under the guise of a student visa but was actually looking for an opportunity to commit murder in the name of Islamic State, court documents reveal.
The diminutive 24-year-old had been in Australia a week when she allegedly took a 25cm kitchen knife to her homestay host's neck as he dozed beside his five-year-old daughter.
The religious extremist, now 25, admitted to detectives she committed an act of terrorism and attempted to kill her host Roger Singaravelu, however, on Wednesday in court chose not to say how she wished to plead and refused to stand for a magistrate.
She is charged with engaging in a terrorist act and attempted murder.
In the interview with detectives after the February attack, which was tendered to Melbourne Magistrates' Court, Shoma said she had no reason to kill Mr Singaravelu other than it was the opportunity she needed to prove her jihadist ability.
She was enrolled in a masters of linguistics at La Trobe University but had been looking for a moment to attack someone since arriving in Australia.
Shoma told police she had been practising by stabbing a pillow during her stay with a different family earlier in the week but chose to attack Mr Singaravelu because, as he was sleeping, he was "very vulnerable".
"I wouldn't have hurt a rat … I just felt like if I don't do it I will be sinful, I will be punished by Allah," she said.
Mr Singaravelu said in a statement tendered to the court that the attack had traumatised his child and made him afraid to be in his own home.
Shoma had been staying with his family 48 hours and he had barely spoken 50 words to her when he woke up to "excruciating" neck pain.
"I saw (her) right next to me. She was on her knees with both of her hands on a knife that was in my neck," he wrote.
"I screamed at her 'what are you doing? Let go'.
"My daughter was screaming and crying she was shaking as she was so scared." Mr Singaravelu said Shoma was repeating the words "allah akbar".
He pushed her away, pulled the knife from his neck and fled with his daughter. The knife wound came close to his spinal cord but he is recovering and attended court on Wednesday.
Shoma told police Islamic State had been encouraging women to carry out jihadist attacks in the West and most of her interaction with the group was via Facebook.
"So I just felt obligated, and it was like a burden on me. Yeah, I just had to do it," she said.
Mr Singaravelu and his wife have hosted international homestay students for five years and never had any problems.
They are now suing the homestay agency AHM, which Mr Singaravelu says pressured them to take Shoma at late notice.
Shoma will next appear in the Supreme Court on August 8.