They should be shot on the spot. Together with these Mohammedan invaders from Iran, Pakistan & Morocco. There is no entitlement  to waltz into Europe & for these unassimilable savages. None. None whatsoever.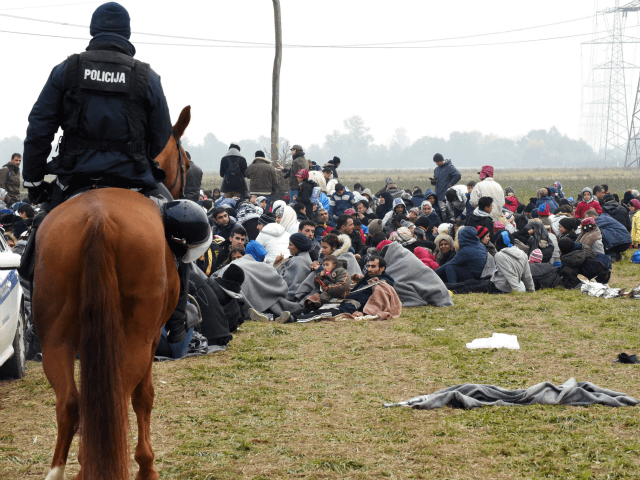 Accusing Croatian police of violence against illegal immigrants, mass migration activists have demanded officers disobey orders relating to border protection or else face increasing pressure from foreign NGOs.
Local media reports the Welcome initiative, representing hundreds of groups involved with assisting asylum seekers in the Balkan nation, claimed that while border patrol officers enjoy support from the public for their work minimising illegal immigration, police are carrying out a campaign of abuse towards third world migrants.
While border patrol officers have been praised for their work monitoring Croatia's frontier with Bosnia and pushing back illegal immigrants, with both endeavours enjoying wide public support, the NGO claims the people it unfailingly describes as "refugees" suffer persecution, physical and psychological violence at the hands of authorities.
"There is no doubt that Croatian police have perpetrated physical violence on refugees, and sexually harassed them," the open borders group asserted in a statement, claiming: "This has been confirmed by testimonies and reports from domestic and international NGOs.
Related:
Croatia Warns 60,000 Migrants Mohammedans Ready to Break Through into European Union 
Hungarian Govt Outlines 'Stop Soros' Legislation Criminalising NGOs Which Aid and Abet Illegal Migrants 
"Attempts to play down such practices by claiming that allegations against border police [of unacceptable behaviour] are a clear indicator that the force wishes to keep the truth of its systematic abuse of migrants suppressed," it said.
In order to improve the force's image, the Welcome initiative said officers must begin refusing to carry out orders related to border protection, so as to "expose the injustice and absurdity of policies aimed at shutting out people who are in need of security".
On Tuesday, Slovenian interior minister Boštjan Šefic urged Croatia to step up its border security, stressing that the figure of roughly 1,000 third world migrants crossing into its territory after entering the newest EU member state was unacceptable.
Noting that Slovenian police discovered a group of around two dozen illegal immigrants on Monday, Šefic warned his government would be forced to "take [border control] measures which would not only make things difficult for ourselves, but also for other [EU nations]".
Local media reports that the majority of migrants found by Slovenian authorities so far this week hailed from Pakistan and Morocco, appearing to contradict the NGO's claim that everyone crossing into Europe from the third world is fleeing conflict and persecution.
Bosnia and Herzegovina's immigration services announced on Wednesday that 6,000 illegal immigrants of those registered in the nation, or 60 percent, have crossed into Croatia so far this year, of whom around 3,200 were economic migrants from Pakistan.
Director of Bosnia and Herzegovina's foreign affairs service, Slobodan Ujić, said the country has seen an increase in problems since Serbia waived visa requirements for Iranian nationals.
"We have seen around 1,200 migrants from Iran enter illegally in the months since Serbia introduced a visa-free regime," he told local media. "There are five flights a week between Tehran and Belgrade and they abuse the visa-free scheme, discarding their identity documents and entering our territory in order to continue their travel to EU nations."