Seriously: you couldn't make it up.
Swedish children torch 80 cars to end holiday
Gothenburg
Two people have been arrested after gangs of masked youths smashed and set fire to 80 cars in riots at the end of the summer holidays in Sweden (writes August Graham). Stefan Lofven, the prime minister, compared the violence in Trollhatan and Gothenburg to a "military operation". Police and firefighters were pelted with rocks as they tried to put out the flames. Some of the gangs of schoolchildren are already known to police for terrorising estates.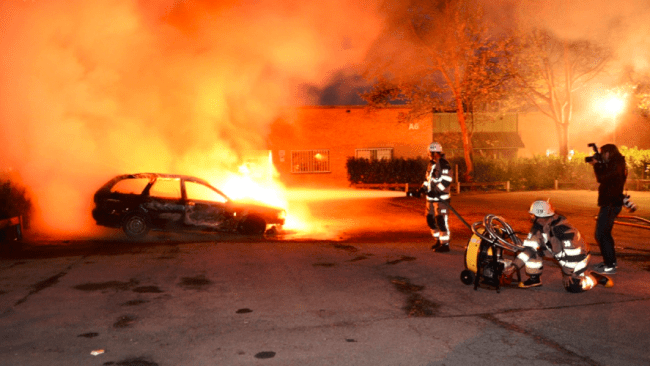 Must be something to do with insurance fraud. Yes, that's it.
Three people have been arrested, one of them in Turkey, following a coordinated car-b-que across peaceful and integrated Sweden.
But the motive behind these automotive incinerations remains a complete and utter mystery:
About 80 cars were set ablaze in the night from Monday to Tuesday, chiefly in Goteborg, and nearby Trollhattan, an industrial city. Fires were also reported on a smaller scale in Malmo, Sweden's third largest city …
Police believe the arson attacks were coordinated on social media but have no motive.
Sweden's national police said reasons for such fires are hard to establish and can have different motivations, including provoking authorities, hiding traces in connection with criminal activities and insurance fraud.
Such fires are "not a new phenomenon," Emil Eisersjo of Sweden's national police said. "There is a tendency for a hike in connection with the end of the school year, the beginning of the school year and in the winter when fireworks are on sale" ahead of the New Year.
Hmmm. Could there possibly be another factor? Perhaps we'll never know.
A 24-year-old Swedish woman has won a discrimination case against a business after her interview process was abruptly cut short when she refused to shake hands with the male manager for religious reasons.
Last year, the Muslim woman was attending a job interview for a company as an interpreter.
But when she declined to shake the hands of the male interviewer the recruitment procedure was cancelled.
The company was ordered to pay the women $6000 in compensation.