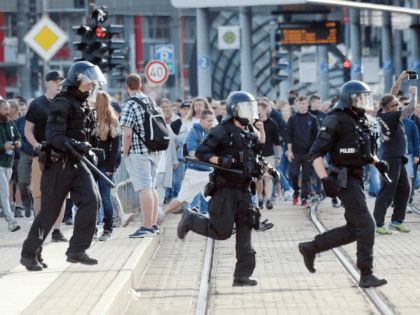 Fake news. The citizens don't 'riot', they demonstrate against the Merkel regime and the unassimilable African savages she 'invites' to rape & plunder the country.
Over 1,000 right-wing supporters spontaneously gathered in Chemnitz city centre on Monday following the fatal stabbing of a man, allegedly by migrants, with some attacking foreigners and yelling anti-migrant slogans.
It is vile to call concerned citizens who are being dispossessed of their birthright "right-wing supporters". These people have every right to protest.
The demonstration, which was largely organised by local football hooligan group Kaotic, came in reaction to a brutal stabbing of a 35-year-old local named Daniel who was attacked on Sunday while attending a street festival, Die Welt reports.
Police are still investigating the motive behind the attack which also saw two other Germans seriously injured, with two arrests, a 23-year-old Syrian migrant and a 22-year-old Iraqi, announced on Monday.
Following the attack, the anti-mass migration Alternative for Germany (AfD) organised a peaceful demonstration of around 100 people that saw no incidents of violence. AfD MP Markus Frohnmaier commented on the stabbing on Twitter writing: "If the state can no longer protect the citizens, people go to the streets and protect themselves."
"Today it is the citizens' duty to stop the death-bringing 'knife migration'! It could have been your father, son or brother!" he added.
In other news: