Theresa May Announces Support For South African 'No Compensation' Land Reform
Theresa May  imported millions of Mohammedan child rapists to Britain. Why would she care about Whites in Africa?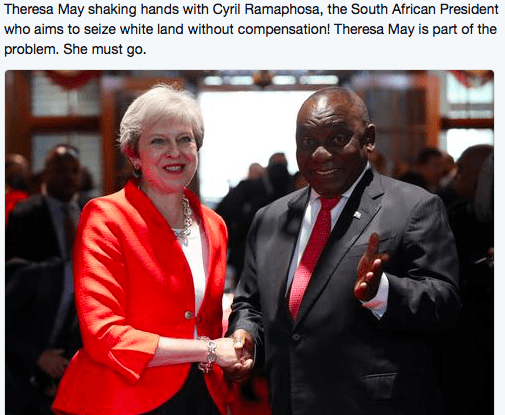 Theresa May shaking hands with Cyril Ramaphosa, the South African Thug in Chief who aims to seize white land without compensation. Theresa May is part of the problem. She must go.
UK Prime Minister Theresa May has announced her backing of the "controversial South African proposal" to strip farmers of their land without compensation as long as the process is done in a "legal" manner.
Stealing is not "controversial". Its not a "proposal", its a very real threat. It cannot be legalised. Its a crime.
The UK PM's support for the land reform expropriation without compensation, which is currently not possible and requires changes to the South African constitution to implement, came during her first trip to the African continent this week, Independent Online reports.
In a statement on Tuesday, Mrs May said: "The UK has for some time now supported land reform. Land reform that is legal, that is transparent, that is generated through a democratic process. It's an issue that I raised and discussed with President Ramaphosa when he was in London earlier this year. I'll be talking about it with him later today."
Gerard Batten, leader of UKIP, slammed May's comments saying: "Theresa May says she supports land reform in South Africa that is legal. Many countries in the world have taken actions which are 'legal', but that doesn't make them morally right."
"It is reprehensible that Mrs May is standing shoulder to shoulder with the leader of a country who enacts these racist policies. This government has no credibility whatsoever when it speaks of protecting human rights if it looks the other way when our supposed international partners commit abuses."
"White farmers are having their land taken away, they are being attacked and murdered for no other reason than they are white. It should be the duty of international leaders to speak up against what is a form of ethnic cleansing, not condone it by mealy-mouthed references to legality," he added.
Theresa May sees this as a dry run for a similar policy in Britain. Dispossessing whites of their homes to make them available for ever increasing numbers of non-whites? Coming to a town in Britain near you before very much longer. And don't bother about your rights – it'll all be perfectly 'legal' – the Con/Lab/Lib 'Parliament' will make sure of that.
The controversial land reform issue was most recently highlighted by U.S. President Donald Trump who made headlines writing on Twitter: "I have asked Secretary of State @SecPompeo to closely study the South Africa land and farm seizures and expropriations and the large-scale killing of farmers."
While some expressed outrage at the tweet, far-left Economic Freedom Fighters political party leader Julius Malema, a strong advocate for land expropriation without compensation and a major figure in SA politics, confirmed Trump's statement saying: "Through land expropriation, we are forcing white people to share the land which was gained through a crime against the humanity of black and African people."
"We must put it on record, unequivocally, that Donald 'the pathological liar' Trump, we are not scared of you and your USA or Western imperialist forces," the EFF head added.
Malema has been the subject of controversy himself in recent months. He was recently confronted over previous comments he had made saying he was not calling for "the slaughtering of white people, at least for now" during an interview with the Turkish Radio and Television Broadcasting Corporation.
"I am saying to you we have not called for the killing of white people' at least for now. " Malema said and added that white farmers and others who protested his comments were "crybabies".
Malema has also been accused of being involved in the brutal farm murders of white farmers in South Africa and was confronted about the matter on Twitter earlier this year giving the vague reply that he was "maybe, maybe not" involved.
The farm murders, known in Afrikaans as Plaasmorde, have become an epidemic since 1998 and became the focus of the documentary Farmlands by Canadian political commentator Lauren Southern, which sparked renewed interest in the subject earlier in 2018.