Nothing to see here, move on!
Globull worming is much worse than clergy raping their flock, or each other…
Chicago Cardinal: Global Warming, Migrants Are 'Bigger Agenda' than Sex Abuse
.
.
.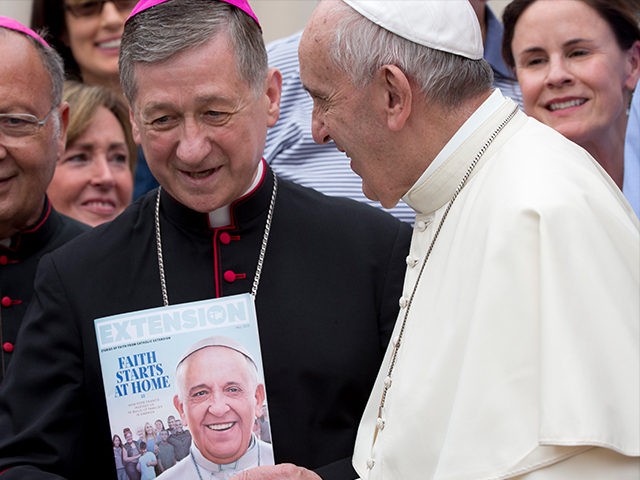 Cardinal Blase Cupich, the Archbishop of Chicago, has downplayed bombshell allegations that Pope Francis knowingly rehabilitated an abusive American cardinal, saying the pope has a "bigger agenda" to worry about, such as protecting the environment and migrants.
In a television interview with NBC News, Cardinal Cupich commented on a recent 11-page statement by Archbishop Carlo Maria Viganò, former papal nuncio to the United States, that alleges a series of misdeeds by high-ranking Catholic prelates, including Pope Francis himself.
"The pope has a bigger agenda. He's gotta get on with other things, of talking about the environment and protecting migrants and carrying on the work of the Church," Cardinal Cupich said.
"We're not going to go down a rabbit hole on this," he added.
Over the weekend, Pope Francis acknowledged having read the report but refused to comment on the accusations it contained.
On the papal plane returning from Ireland Sunday night, Anna Matranga from CBS News asked the pope whether allegations were true that the nuncio had explicitly informed him in 2013 of sexual abuse perpetrated by Cardinal McCarrick and subsequent sanctions imposed on him by Pope Benedict XVI, including restrictions on his travel and appearances in public.
"May I ask you whether these two things are true?" Ms. Matranga queried.
"I read that statement this morning," he said.
The pope encouraged journalists who were interested to read the report for themselves and draw their own conclusions, while adding: "I won't say a word about this."
When pressed by Ms. Matranga regarding the first time that he heard about the abuses committed by the former cardinal, the pope sidestepped the question.
"This comes out in the statement regarding McCarrick. Study it and then I will speak," he said.
Cardinal Cupich was also named in the report by Archbishop Viganò, and later released a statement expressing "astonishment" over allegations that former Cardinal Theodore McCarrick was behind his appointment as archbishop of Chicago.
In his communiqué, Archbishop Viganò referred to Cardinal Cupich as a man "blinded by his pro-gay ideology" who was appointed as archbishop outside of normal Church protocols because of the powerful backing of three influential cardinals, including McCarrick.
Cardinal Cupich denied being aware of having benefited personally from the patronage of Cardinal McCarrick.
"As to the issue of my appointment to Chicago as well as the question of episcopal appointments in general, I do not know who recommended me for the Archdiocese of Chicago," he said, "but I do know that Pope Francis, like his predecessors, takes seriously the appointment of bishops as one of his major responsibilities."
"Pope Francis has made it clear that he wants pastoral bishops, and I work each day to live up to that expectation in collaboration with many fine lay and religious women and men, my brother priests and brother bishops," he said.
In his NBC interview, Cardinal Cupich raised the specter of racism, suggesting that people who believe allegations against the pope "don't like him because he is a Latino."
What a cheap shot.