Importing African savages inflicts African conditions on native Melbournians. But wasn't that the plan all along?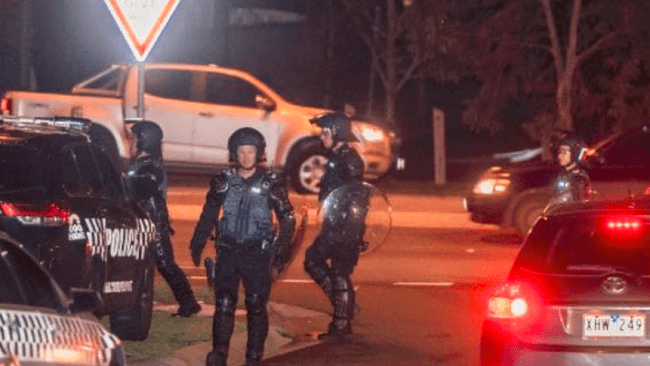 David Driscoll said he and his two daughters locked themselves inside as a large group of African youths "ran around the streets screaming" in frightening scenes in Melbourne's northwest last night.
"They were screaming, 'the police can't touch us, they can't do anything,'" he said.
And they were right:
North West Metro Commander Tim Hansen said police were yet to make any arrests following the night of trouble …
When asked why police who were present made no arrests, Mr Hansen said detectives were now going through CCTV and identifying several suspects.
The rioters were close enough to police that they were able to smash their cars with rocks, but instead of making any arrests at the time police are now looking at indistinct video footage.
Great work.
Speaking on ABC radio this morning, Mr Ashton stated that Victoria Police has "never said" there was not a problem with Sudanese gangs in Victoria.
"No one's said it's never been a problem, no one said it's not something we're trying to address … that's something that seems to have been fictionalised," Mr Ashton said.
It's been fictionalised by Waleed Aly, among others.
[Ashton] said the "traditional" label of a gang might make people think of people in leather jackets like in the New York street gangs of "West Side Story" — but groups of youths at the centre of recent violence in Melbourne were more "loosely" connected and organised through social media.
I'm pretty much certain that nobody in Melbourne is thinking about West Side Story. It's far more likely they're reminded of the bloodthirsty Hooligals:
YOUTUBE
South Sudanese community leaders say teens are being left to run riot because they are not being supervised at home and seek out trouble at night out of boredom.
South Sudanese community leaders don't seem very good at leading their community.