Afghan who posed as 'child migrant' goes on knife rampage through Paris. Arrested after injuring seven people:

Two Britons are among seven people injured as 'Afghan who posed as child migrant' goes on knife rampage through Paris before petanque players throw boules to disarm him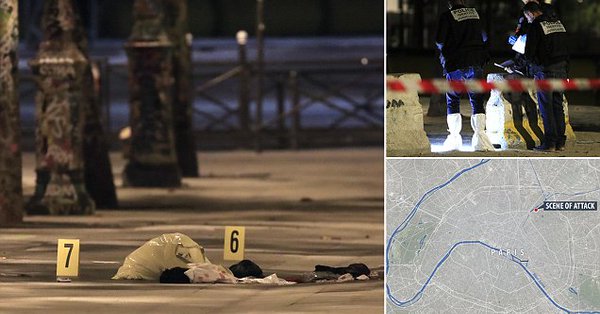 Man armed with knife and metal bar stabbed seven people in Paris rampage
Two Britons were among the injured, including one who was stabbed in the head 
Suspect is Afghan in his 30s but carrying child identity documents, source says
Officers said attacker targeted strangers but there is no terror link at this stage
In other news:
When did the Muslim Council of Britain become the voice of the majority?
Britain's leading Muslim organisation has called on the Home Office to refuse a UK visa to a prominent US evangelical preacher with links to Donald Trumpand a track record of Islamophobic and homophobic statements.
Franklin Graham, who has called Islam 'evil', is due to speak at a festival in Blackpool

Muslim group calls for preacher linked to Trump to be denied UK visa
Franklin Graham, the son of the evangelist Billy Graham, has been invited to preach at a Christian festival in Blackpool this month.
The preacher has called Islam "evil" and "wicked", claimed Hussein Obama's "problem is that he was born a Muslim" and said Satan was the architect of same-sex marriage and LGBT rights.
Chemnitz 'Nazi' in crowd was former communist activist
Cartoon of the Week
Afghan terrorist without link:
Two British tourists were among seven wounded after an Afghan man carrying child immigration documents went on a knife rampage through Paris.
The attacker, who is aged in his 30s, stabbed three people outside a cinema in the north-east of the city just before 11pm, fled, then stabbed four more before being arrested.
At one point petanque players threw metal boules at the man in an attempt to disarm him, hitting him four times in the head, but were unable to stop him.
'He is unconscious in hospital in Paris, and has not spoken since the attack, but he was carrying immigration documents issued to an Afghan minor,' said a source close to the investigation.
Officers said the man targeted strangers during his rampage but there is no link to terror at this stage.
French police officers at the scene where a man attacked and injured people in the streets
'It may be that he is an adult Afghan or Pakistani using the documents illegally,' the source added.
'One of the English victims was stabbed in the chest, while the other was also badly hurt. Both remain in hospital along with two others who are in a very serious condition.'
The attacker, who was armed with a knife and an iron bar, stabbed three people outside a cinema on the banks of a canal in the north-east of the city.
People playing petanque – a sport popular in France also known as boules – saw the attack and threw metal balls at the assailant.
He was struck in the head by about four of the balls but this failed to stop him and he fled, cornering the two British tourists before stabbing them.
'They were told, be careful, he has a knife. But they did not react. These tourists were then attacked,' a witness told Le Figaro.
Both were stabbed before a plain-clothes police officer intervened, and then a night patrol helped him arrest the man.
A British foreign office spokesman confirmed that 'two Britons were among the people targeted' in an areas close to the Gare du Nord, the Eurostar rail hub where high speed trains travel to London.
It is well known for its immigrant communities, many of them Afghan, sleeping rough as they try to get to the UK to claim asylum.
Some are minors travelling alone, although adults have been known to pose as children in the hope of getting priority treatment by the authorities.
A security guard at one of two cinemas on either side of the Canal de l'Ourcq said he saw a man who had already assaulted people being chased by two other men who tried to stop him.
'He had an iron bar in his hand which he threw at the men chasing him, then he took out a knife,' he told AFP.
A police investigation has been launched for attempted murder, according to a judicial source.
The victims were all rushed to local hospitals, where their conditions were described as 'serious but not life threatening'. The attacker is not thought to have been badly injured by officers.
A Paris police officer and vehicle at the scene where a man injured seven people on Sunday
It is the latest of several knife attacks France has seen in recent months, with terrorism being ruled out in most cases.
On August 23, a man stabbed his mother and sister to death and seriously injured another person in a town near Paris before being shot dead by police.
The motive for the violence remained unclear despite a claim by the Islamic State (IS) group that it was an attack by one of its fighters responding to the terror organisation's propaganda.
Authorities said the 36-year-old had serious mental health problems and had been on a terror watch list since 2016.
That attack came days after an Afghan asylum-seeker was arrested in town of Perigueux for a drunken rampage with a knife in which four people were wounded, one seriously.
Police said investigators had "very quickly" dismissed a terrorist motive after the August 13 incident.
And on June 17, two people were hurt in another southern town when a woman shouting "Allahu akbar" (God is greatest) attacked them in a supermarket with a boxcutter knife.
France has been on high alert following a string of jihadist attacks in recent years, often by people who have become radicalised or claim to have acted in the name of the IS group.
More than 240 people have been killed by Islamist extremists since a massacre at the Charlie Hebdo satirical magazine in Paris in January 2015.