Something to ponder:
Yesterday it was "final solution".
Today's outrage trigger warning is "don't monkey this up".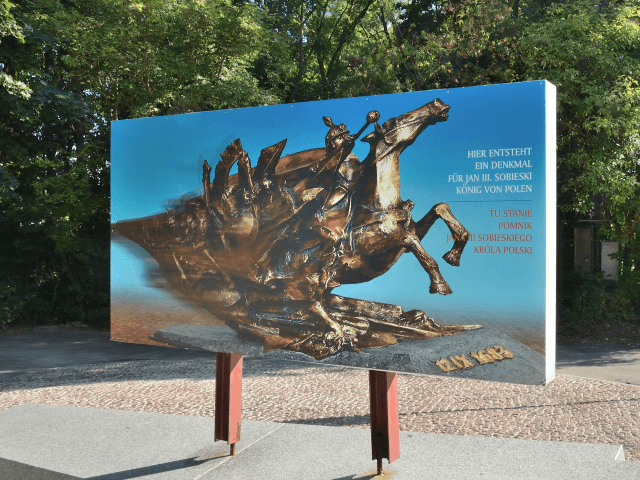 Polish MP Dominik Tarczyński has slammed the Far-Left government of Vienna after they cancelled the erection of a statue to commemorate the Polish King who saved the city, claiming the statue might offend Turks.
Mr Tarczyński, who made headlines in July after a combative interview with Channel 4 presenter Cathy Newman, spoke with Breitbart London following reports that the leftist coalition running the Austrian capital had cancelled the proposed statue of Polish king Jan III Sobieski, who broke the Turkish Siege of Vienna in 1683, claiming it may offend Turkish residents.
"What King Sobieski did was an act of defence; if not for Sobieski all Europe would be speaking Arabic — and if the Viennese want to speak in Arabic now, they are very welcome, but it's not going to change history. So please wake up, Austria, because history will not be changed," Tarczyński said.
The MP for Poland's governing Party for Law and Justice (PiS) also noted that his country had not given up on the legacy of Sobieski, saying: "We Polish saved Europe in 1683, and we're going to save it again in 2018 and 2019 when we have these European Parliament elections. We're going to save Europe, with Hungary and others."
Telling the Austrians to "wake up",  Tarczyński warned them that if they continued down the path of political correctness "you will not be free men; you will spend all of your lives — and your wives and your daughters will spend all of their lives — under an Islamic caliphate. Is this what you want?"
"If you do want it, go ahead — Poland will not allow you to falsify history. Our brave hussars stopped the Muslim army which was about to invade and take over in Europe; please remember that, and be thankful for that," he added.
The statue, according to Polish broadcaster Polskiradio, has already been completed and is waiting in Krakow to be shipped to Vienna. Czesław Dźwigaj from the Academy of Fine Arts in Krakow, who designed the statue, expressed surprise about the decision, saying there were not anti-Turkish themes or overtones in his work.
Currently, there is a small plinth on the Kahlenberg mountain where Sobieski led his troops to break the Siege of Vienna, which was intended to be the base of the proposed statue.
The plaque was vandalised by far-left extremists last year following a torchlight memorial to the anniversary of the ending of the siege organised by the hipster-right Identitarian Movement.
King Sobieski also made an appearance during U.S. President Donald Trump's visit to Poland last July when it was noticed that he was placed next to a painting of the king during official photo shoots with Polish President Andrzej Duda.
Rafe Heydel-Mankoo, an Anglo-Polish expert on European royalty, commented on the juxtaposition of  Trump and Sobieski, saying: "If President Trump now believes in NATO and seeks Turkey's cooperation in the region, he might want to downplay association with a king nicknamed 'The Hammer of the Turks'."
Since then Trump has done the opposite with regards to Turkey, applying strong pressure to the Islamist government to release American pastor Andrew Brunson from prison, where he is being held without trial.
Following sanctions in August, the Turkish lira has largely collapsed against the American dollar, fueling speculation of a possible financial crisis in Turkey.
Western Europe is giving up its culture to Muslims who see Europe as prey – Expert
No-go zones are already covering whole parts of Western European cities, security policy expert Jozsef Horvath told Hungarian daily Magyar Hirlap.
According to Horvath, "the main question today for European people is what kind of world we want to live in, to we want to give up our countries, cities, appartments inherited from our parents and grandparents, or do we want to protect them".
Regarding the upcoming Swedish elections he said that if there's no shift in Western European migration policies, in a few years Sweden can become the first European country with a Muslim majority.
He said that the Swedish and the Bavarian elections will be crucial for the future of our children.
Horvath stressed that the Arab Spring marked the beginning of a new era, but the West failed to react and get out of the mud of political correctness. He warned that after 70 years of peace in Europe, the moral has changed and according to statistics, only 15 % of men would spring to arms to protect their country.
According to Horvath, the attacks against women are ways of demoralisation and Western Europe hasn't been able to properly react to this danger. He said that Western European societies are giving up their culture and space to people who see Europe as a prey.